Last week, as Hurricane Dorian approached the Florida coast, President Trump held a press briefing where he showed a graph with extra markings that suggested that Alabama might be impacted by the hurricane.
Unfortunately for Trump, this path for Dorian — though initially considered a possibility in the National Weather Service models — was also considered very unlikely, and had been quickly dismissed from those models, making Trump's graph out-of-date when he showed it.
Since then the Democratic mainstream media has put out hundreds of stories claiming some sort of corruption on Trump's part for adding those extra markings. Trump has himself responded aggressively, defending his action and saying it was justified. The New York Times even reported — based on anonymous sources — that Commerce secretary Wilbur Ross had threatened to fire three people at the National Weather Service if they didn't issue a statement defending Trump.
Now, three former Democratic NOAA heads, D. James Baker (appointed by Bill Clinton), Jane Lubchenco (appointed by Barack Obama), and Kathryn D. Sullivan (appointed by Barack Obama), have issued a statement condemning Trump, claiming his actions are threatening the scientific integrity of these agencies.
The National Weather Service (NWS) has always been a model of scientific integrity, ensuring that weather science is not politically driven, regardless of the administration. But the recent misleading statements by President Donald Trump about a NWS hurricane forecast and cover-up actions by the National Oceanic and Atmospheric Administration (NOAA), its parent agency, have violated those norms.
Forgive me if I don't take very seriously this smug, self-righteous posturing by these former NOAA officials, all partisan Democratic Party political appointees. Scientific integrity suddenly means a lot to them when they can use it to attack Trump. However, when NOAA repeatedly tampered with its climate data for the past dozen years, and has provided no good explanation for that tampering, I don't remember these high and mighty officials, all in charge of NOAA at the time, commenting then about the importance of scientific integrity.
Trump is no saint here. He as a politician wanted to cover all bets, so he added Alabama in discussing Dorian's threat, even though his weather scientists considered that threat slim if nonexistent. He should have relied more on those scientists and not improvised.
For him however to be attacked relentless for this minor addition is absurd, since it is perfectly reasonable for weather scientists to get their predictions wrong, and as president Trump has a responsibility to try to prepare for all eventualities.
These NOAA critics are far less credible however. There are questionable things going on at NOAA in connection with its global climate dataset that requires either an explanation or a correction. This is a far more serious issue than whether a politician expanded the threat of a hurricane in one press briefing in order to cover his ass. The tampering threatens to discredit the entire NOAA climate dataset, making all research based on it untrustworthy. If these former NOAA officials really cared about scientific integrity, they would have taken action at NOAA to deal with this tampering, when they ran those agencies. They would have either gotten it stopped, or provided the public and the rest of the scientific community a reasonable explanation for it.
They did neither, proving that their sanctimonious statement today is nothing more than partisan politics. They don't care about scientific integrity. What they care about is defeating Trump, helping the Democratic Party, and enhancing the power of the Washington swamp.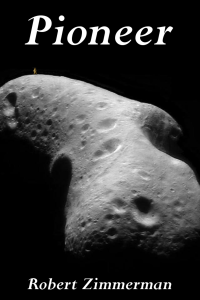 From the press release: From the moment he is handed a possibility of making the first alien contact, Saunders Maxwell decides he will do it, even if doing so takes him through hell and back.
Unfortunately, that is exactly where that journey takes him. The vision that Zimmerman paints of vibrant human colonies on the Moon, Mars, the asteroids, and beyond, indomitably fighting the harsh lifeless environment of space to build new societies, captures perfectly the emerging space race we see today. He also captures in Pioneer the heart of the human spirit, willing to push forward no matter the odds, no matter the cost. It is that spirit that will make the exploration of the heavens possible, forever, into the never-ending future. Available everywhere for $3.99 (before discount) at
amazon
,
Barnes & Noble
, all ebook vendors, or direct from the ebook publisher,
ebookit
. And if you buy it from
ebookit
you don't support the big tech companies and I get a bigger cut much sooner.