In 2018 the global launch industry turned a significant corner. While there have been strong signs in 2016 and 2017 that we were about to see the arrival of a boom, it was not until this past year that we finally saw the beginnings of this boom.
Below is my updated launch graph showing what was accomplished in 2018. To put what was done in context, the graph shows all launches by every nation and private company for each year beginning in 1980, with 1968 added to provide a sense of what the launch industry was like during the height of the Cold War space race.
Before reading further, however, it is worthwhile to review what I wrote in my 2017 launch industry assessment, written in January 2018. My assessment then, as well as my predictions, provide some worthwhile context for understanding what actually happened this past year.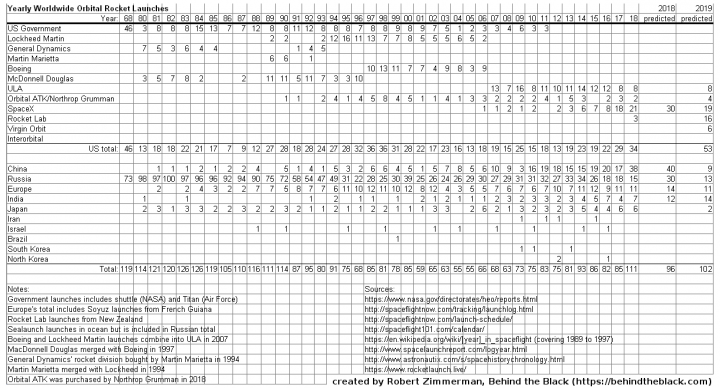 If you click on the graph you can see a larger more readable version.
The most significant achievement in 2018 is clearly China's rise as a space power. That nation had predicted it would complete 40 launches in 2018. That prediction turned out to be largely accurate. China completed 38 successful rocket launches, almost doubling its previous yearly launch record. It also fixed the issues with their biggest rocket, the Long March 5, laying the groundwork for the launch of their own space station. In addition, they launched Chang'e-4 to the Moon, aimed at being the first spacecraft to land softly on the Moon's far side. While this is not their first lunar lander/rover, it likely initiates a much more aggressive and fast-paced planetary program for the coming years.
Up until now China has been building the foundation for its space program. That foundation is now in place. I expect China's effort in the next few years to blossom, easily matching that of the United States, and in some ways outpacing it. For sure, their lunar exploratory program is far more coherent and well-planned. So is their space station effort, focused as it is in learning how to build and flying manned interplanetary spaceships. By the middle of the 2020s it will not surprise me if Americans suddenly discover that the Moon no longer belongs to us. China is likely to land their with humans before we return, and it will do it in a way that will allow it to stay.
SpaceX continues to shine. Though the company failed to meet its predicted 30 launches in 2018, the 21 one it did fly remains a spectacular achievement. The company set a new launch record for itself, the most launches in a year ever by a private company. It also successfully launched its Falcon Heavy rocket, presently the world's most powerful rocket, almost comparable to NASA's still unflown Space Launch System (SLS) but far more affordable.
There are indications that SpaceX's launch rate will ease in the next year or so. The high number of launches in 2017 and 2018 occurred partly to clear out a back-log of launch contracts. Even so, the company's success, both financially and in terms of engineering, has apparently laid the groundwork for it to move on to building a new reusable rocket, dubbed Super Heavy for the first stage and Starship for the second stage. This will be a heavy lift rocket more powerful that SLS, the space shuttle, the Saturn 5, or any rocket ever built previously. More important, it is being designed from scratch to be completely reusable. They are aiming have it operational in less than five years.
Should SpaceX succeed in this effort, and based on past performance I am very confident that it will, they will completely revolutionize space exploration. With the coming of completely reusable rockets, launch costs will truly plummet. As significant, their new rocket will allow giant payloads to reach orbit cheaply, something that has been impossible up to now. This fact will finally make possible the manned exploration of the solar system.
2018 saw the arrival of the smallsat rocket with Rocket Lab's success. This first smallsat rocket company now appears primed to begin regular launches, monthly at first and that twice monthly by the end of 2019. If all goes well, they expect to be churning out launches at almost a weekly pace in the coming years.
Moreover, this company's success heralds the coming of an entirely new subset in the global launch industry, tiny rockets designed to launch tiny satellites, for profit. In the next year expect Virgin Orbit to chime in with its first launches, with Vector to follow soon thereafter. In addition, Rocket Lab's success has also acted to attract significant capital investment for this new industry. There are many more small rocket companies that have gotten this money, and they will all be vying for a share in this launch business in the next few years. That competition will once again lead to a lowering of cost, which in turn will lead to a growth in the customer base. While it is to be expected that many of these new rocket companies will fail, I also expect there is going to be more than enough smallsat business to go around.
Other trends: While India failed to achieve its predicted twelve launches in 2018, its space program reached a new level of maturity in 2018. They now have two operational home-built rockets, the PSLV and the more powerful GSLV. They have also demonstrated in 2018 their ability to routinely put up commercial satellites for profit. This has allowed them to capture market share, and make them a major player in the growing launch industry.
India's space agency ISRO is predicting 14 launches in 2019. I expect them to get close to that number.
Russia's launch industry meanwhile continues its tragic decline.The fifteen launches it completed in 2018 is the lowest for that nation in more than a half century. While I have not compiled in detail the launch numbers for the 1960s and 1970s, the numbers shown for 1968 illustrate well Russia's typical launch rate during that time, beginning in the mid-1960s. In fact, the last time Russia's launch rate was as low as in 2018 was likely in the early 1960s, at the very beginning of the space age.
Nor does the future for Russia's space industry look bright. With only a handful of international commercial contracts, most of their launches in the coming years will be focused on their own needs and maintaining their manned presence on ISS. And while they are trying to build a new rocket and initiate operations at their new spaceport in Vostochny, the continuing corruption and quality control problems that have hampered their industry for the past decade continue, with no sign that they are getting control of them.
Overall, the world launch industry for the first time since the fall of the Soviet Union completed more than a hundred launches. And to repeat what I wrote last year in predicting that this would happen, these high numbers aren't "because of a lot of Soviet launches of out-of-date spy satellites, but because of the arrival of a diverse and very competitive international launch/satellite industry." This competitive launch/satellite industry is now what we have. Besides a robust Chinese and Indian effort, the competition from Europe and Japan continues. Moreover, the rise of private companies in the U.S. will continue, with the arrival of Virgin Orbit in 2019 and Blue Origin sometime in the early 2020s, to name just two.
Built on a foundation of many companies and nations competing, expect the launch numbers to continue to rise, setting new records on an annual basis.
Some things to look for in 2019:
Boeing and SpaceX will finally launch their manned capsules
The first private missions to the Moon
More flights of the Falcon Heavy
China's dominance to continue
Russia to continue to fade
I expected the first two predictions to occur in 2018, and neither happened. In the first case the launches were mostly delayed by an effort by NASA's bureaucracy to slow things down. I think that effort will run out of steam in 2019, and the first manned orbital capsules built and owned by private companies will finally fly.
The failure of the private lunar missions to fly in 2018 caused the Google Lunar X-Prize to shut down. However, several of the finalists remain posed to fly their missions, with the first being the Israeli non-profit SpaceIL, set to launch on a Falcon 9 rocket sometime in February. I fully expect the beginnings of a private planetary probe industry in 2019, partly encouraged by NASA's decision this year to use its commercial cargo/crew program model for future lunar missions. Instead of building spacecraft, the agency wants to hire privately built spacecraft on which it can fly its science instruments.
As for the Falcon Heavy, I have a nagging suspicion that the failure to launch a second time in 2018, combined with the company's decision to move past this rocket to build its Super Heavy/Starship instead, was because of serious engineering issues that SpaceX recognized during its first Falcon Heavy launch in February. It is for this reason that I would not be surprised if SpaceX experienced a launch failure on one of the two presently scheduled Falcon Heavy launches in 2019.
I hope I am wrong. Based on SpaceX's track record, it is more likely that they will get a handle on these issues and the rocket will become operational in 2019.
Finally, my graph above includes a column listing the predicted launches for 2019. Though this information came from several sources, it is not very complete. The numbers in some cases (China, Japan) are based not on actual predictions by the nation, but are simply the number of scheduled launches listed at Rocketlaunch.live. It is not unusual for these lists to be incomplete. In the case of China it is certainly incomplete, as that country should easily top 30 launches, not the 9 presently known to be scheduled.
I therefore expect the launch total for 2019 to be much higher, possibly as much as 120 launches. It is even possible that we might see more than 126 launches, breaking the record set in 1983 and 1984.
Thus, we should all expect an increasingly active and exciting 2019 in space. And this is really only the beginning. The rocket industry might have finally turned the corner in 2019 to become a truly robust competitive industry, it still has the straight-away before it. And that is where you really put the pedal to the metal.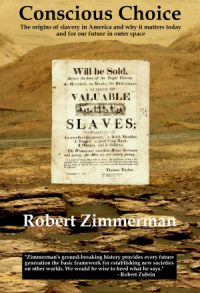 Now available in hardback and paperback as well as ebook!
From the press release: In this ground-breaking new history of early America, historian Robert Zimmerman not only exposes the lie behind The New York Times 1619 Project that falsely claims slavery is central to the history of the United States, he also provides profound lessons about the nature of human societies, lessons important for Americans today as well as for all future settlers on Mars and elsewhere in space.
Conscious Choice: The origins of slavery in America and why it matters today and for our future in outer space
, is a riveting page-turning story that documents how slavery slowly became pervasive in the southern British colonies of North America, colonies founded by a people and culture that not only did not allow slavery but in every way were hostile to the practice.
Conscious Choice
does more however. In telling the tragic history of the Virginia colony and the rise of slavery there, Zimmerman lays out the proper path for creating healthy societies in places like the Moon and Mars.
"Zimmerman's ground-breaking history provides every future generation the basic framework for establishing new societies on other worlds. We would be wise to heed what he says." —Robert Zubrin, founder of founder of the Mars Society.
All editions are available at Amazon, Barnes & Noble, and all book vendors, with the ebook priced at $5.99 before discount. The ebook can also be purchased direct from my ebook publisher, ebookit, in which case you don't support the big tech companies and I get a bigger cut much sooner.
Autographed printed copies are also available at discount directly from me (hardback $24.95; paperback $14.95; Shipping cost for either: $5.00). Just email me at zimmerman @ nasw dot org.