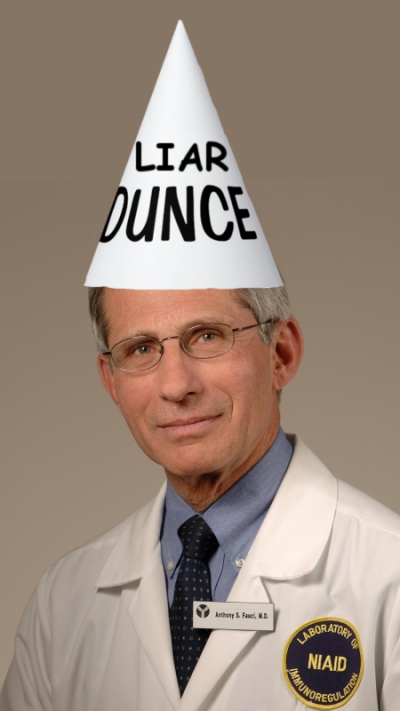 The man has been lying from day one.
Two stories this morning illustrate once again the utter dishonesty and untrustworthyness of the governments and scientists who have been promoting strict lockdowns and mask and vaccine mandates as a response to COVID-19.
First, the NIH yesterday admitted in a letter to Congress that it had funded the gain-of-function research at China's Wuhan lab, despite repeated blunt denials by it and former NIH Director Francis Collins and NIAID Director Anthony Fauci.
In a letter addressed to Rep. James Comer (R-KY), NIH Principal Deputy Director Lawrence A. Tabak cites a "limited experiment" to determine whether "spike proteins from naturally occurring bat coronaviruses circulating in China were capable of binding to the human ACE2 receptor in a mouse model." According to the letter, humanized mice infected with the modified bat virus "became sicker" than those exposed to an unmodified version of the same bat coronavirus.

[Lead scientists Peter] Daszak failed to report this finding, and has been given five days to submit "any and all unpublished data from the experiments and world conducted" under the NIH grant.
When Senator Rand Paul (R-Kentucky) had accused Fauci of funding this research, Fauci had not only denied it, he accused Paul of being a liar. In truth, it was Fauci who was lying in his testimony to Congress. Fauci and the NIH provided a foreign government funding to do secret biological weapons research that, in the end, was used to attack our country.
Fauci should be fired forthwith. Collins had stepped down on October 5th, probably because he knew this information was about to be released, proving he had been lying.
The second story is as egregious. It appears that the mask study that the Australian government has touted to impose mask mandates throughout their country is filled with so many basic errors and faulty research procedures that it should never have been published in the first place.

Victoria first made face masks mandatory outside the home in Melbourne during its second coronavirus wave in July 2020, but the Department of Health has been unable to provide any scientific research or studies upon which the decision was made.

Instead, the Department of Health directed news.com.au to a paper published in July this year by the Burnet Institute – an influential public health body which has come under fire in recent months for its alarmist predictions – as justification for the mandate which has resulted in thousands of dollars in fines for Victorians. The study claimed the mandatory face mask rule had turned the pandemic "almost overnight".

"There has been a lot of low-quality research that has come out in the pandemic, but for this to be used as a basis for a policy change is staggering," said Dr Kyle Sheldrick, a medical researcher and PhD candidate at the University of NSW. Dr Sheldrick was one of a group of independent scientists who recently highlighted major issues in a number of studies held up by proponents of the drug ivermectin to treat Covid-19. "To me it's very clear this has not had a close peer review, partly because of the serious and substantive issues, but [also] it just clearly hasn't been proofread," he said. "When I look at this particular piece of research, it is very, very low quality. I was staggered to see this was published by a major journal."

Another researcher, an eminent Australian clinician and scientist who spoke on the condition of anonymity, was equally scathing. "I agree, it's crap," he said. [emphasis mine]
The highlighted words remain true to this day. For more than a century, research had consistently found that masks were relatively useless in preventing the spread of viruses, and were generally counterproductive if used improperly. This was why health officials had routinely advised against the widespread use of masks, for decades.
Then, suddenly, around May 2020, government agencies worldwide dismissed that extensive research to claim masks will save us. When these governments were challenged, as Australia's was, they and their supporters in the science community quickly whipped up "studies" to disprove that past data, studies that have all proved to be poorly done or exceedingly unconvincing. If you read the full story at the link, you will see the incredibly shoddy nature of this particular Burnet study. For example:
The Burnet Institute study relied on images from the photo library of The Age newspaper showing Melbourne community settings to conclude that mask usage rose from 43 per cent to 97 per cent after the July 22 mandate came into effect.

Dr Sheldrick said it was "hard to think of a worse methodology to answer this question than just looking at which photos are collected by a metropolitan newspaper. …Even ignoring the fact that the photos were taken for an editorial purpose, that this is not a random sample, when you look at the actual data in the Excel spreadsheet it is stunning to me," he said.

The spreadsheet lists the date, time and location of 44 photos – 19 taken before the announcement, 18 after mask rule came into effect and seven in between. Nearly all of the photos in the before group were taken between 2pm and 4pm, while nearly all of the photos in the after group were taken between 8am and 12pm.

"Which just means the data set is useless," Dr Sheldrick said. "As a responsible researcher, I can't draw any conclusions from that. You could just as easily draw the conclusion that mask wearing is different in the morning and afternoon. If a student came to me and said, I'm going to compare these two sets of photos and draw some conclusion about whether a policy worked, you would send them away to think about it."

The second expert agreed. "If a student presented the photographic data it would be ridiculed," he said.
The article provides further examples.
And the Burnett paper is only just one in a long line of similar bad papers governments have cited to justify mask use.
Both stories illustrate one fact that runs through the entire Wuhan panic. From mask use to lockdowns to vaccine mandates to "only 15 days to stop the spread," the scientists and government officials who have demanded the strictest restrictions on the lives of ordinary people have been compulsive liars. They have also been wrong on almost every one of their edicts and claims.
When is the public finally going to rise up and tell these fools to go to hell?
Readers!
In order to remain completely independent and honest in my writing, I accept no sponsorships from big space companies or any political organizations. Nor do I depend on ads.
Instead, I rely entirely on the generosity of readers to keep Behind the Black running. You can either make a one time donation for whatever amount you wish, or you sign up for a monthly subscription ranging from $2 to $15 through Paypal, or $3 to $50 through Patreon, or any amount through Zelle.
The best method to donate or subscribe is by using Zelle through your internet bank account, since it charges no fees to you or I. You will need to give my name and email address (found at the bottom of the "About" page). What you donate is what I get.
To use Patreon, go to my website there and pick one of five monthly subscription amounts, or by making a one-time donation.

For PayPal click one of the following buttons:

If these electronic payment methods don't work for you, you can support Behind The Black directly by sending your donation by check, payable to Robert Zimmerman, to


Behind The Black
c/o Robert Zimmerman
P.O.Box 1262
Cortaro, AZ 85652