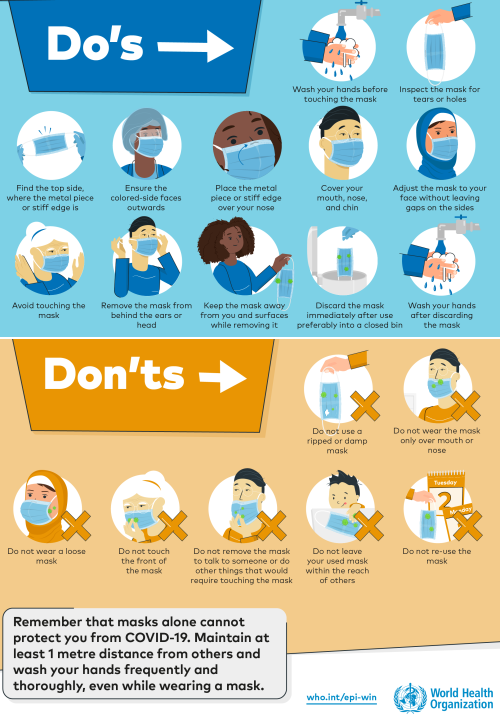 For the full images, go here and here.
Let us begin with the premise that wearing a mask properly, in the proper situations, will without doubt reduce the chances of someone transmitting COVID-19 from themselves to others. (This premise remains uncertain, but for the sake of this essay I will readily accept it.)
To be clear, the phrase "wearing a mask properly" is critical. You need to follow certain guidelines or you will not only fail to protect others, you will actually increase the chances that you will get the disease. To the right is the infographic provided by the World Health Organization (WHO) for the proper way to use a mask. It summarizes their full instructions.
The most important take-away one gets from these instructions is that the mask should be treated as something that starts out sterile and antiseptic, but with use will become infected with pathogens. This is why one must never touch the front of the mask with your hands. Every time you do so without washing your hands thoroughly beforehand you risk placing the virus itself on the mask, at the very place you breath.
Even if you exercise proper care to not touch the mask, over time the mask will become filled with moisture from your breath, and will thus become what I like to call a pathogen bomb. It must either be discarded or washed properly.
Do people follow these instructions? Of course not. I guarantee that in less than ten minutes of any conversation with anyone wearing a mask, you will see them touch it with their hands. People repeatedly use their hands to pull the mask down from the front when they decide they must lower it to make their words more clear, or because they finally need to get a clear breath.
Moreover, I have watched people reuse unwashed masks repeatedly. They put them on when they leave their car to go inside a store, then take them off afterward, only to put that mask on again at their next stop. In between I've seen people stuff the mask in their pockets, or leave it on the car seat next to them.
In general, the way almost everyone uses their masks is not sanitary, and likely increases the chances they are breathing more pathogens than if they were not wearing a mask at all. And as they do this, they are making themselves oxygen deficient, while rebreathing a lot more carbon dioxide, which at high levels can be poisonous.
But wait, there's more! WHO's instructions assume the masks used will be either a surgical mask or a good fabric mask, both designed to be worn to cover the mouth and nose snugly. Do people use such? Nope. I've seen people use all kinds of materials, including bandanas, improvised to provide a makeshift covering that achieves none of the stated goals.
In fact. the mandates requriing mask use routinely apply no standards at all. For example, the public order [pdf] requiring mask use in Tucson when you cannot maintain six feet separation includes no specification on the kind of mask you should wear.
Every person must wear a face covering that completely and snugly covers the person's nose and mouth when the person is in a public place and cannot easily maintain a continuous distance of at least six feet from all other persons.
You could use a section of chicken wire cut to fit snugly around your mouth and nose and you'd meet the order's requirements.
Nor is Tucson unique. The orders for Massachusetts [pdf], for Texas [pdf], for New Jersey [pdf], for Michigan [pdf], and Illinois are all the same. None provide any standard for a mask, requiring merely that citizens must wear some sort of "face covering."
The orders, which are typical of all the orders being issued by governors nationwide, also provide a whole range of exemptions (except for Illinois), such as if you have a medical condition that makes wearing a mask unhealthy. Moreover, the orders do not require anyone to carry documentation proving that medical condition. You simply have to say so, and everyone has to accept your exemption from mask wearing. (I would carry a copy of the government's executive order with you, however, just in case you are questioned.)
All of these orders make a range of unproven assumptions about masks that are simply not backed up by research. For example, the Democratic governor of New Jersey, Phil Murphy, got very angry when he was questioned about the rationality of his mask mandate.
"Let's cut that crap out," he added. "Let's stick to the basics and the facts, and we'll be a lot better for it."

…Murphy stressed, "there are certain things we absolutely do know about this virus. Social distancing matters," he said. "Face coverings matter. Washing your hands with soap and water matters. We know if you've got symptoms that you should stay home and away from everyone else. That matters. Outdoors is less lethal than indoors. Those are facts.

"So folks who tee off for some political point are irresponsible, and they're putting people's lives at stake," the governor concluded.
The problem is that when it comes to face coverings, we not only do not know for certain about their usefulness, we do know that if they are not used properly they are less than useless, and might be counterproductive. Murphy's order however provides no mask standards or guidance on their quality or use, making it less a medical document and more a political document designed mainly to prove his ability to boss everyone else around.
And Murphy is not alone. All the orders lack such standards, and thus illustrate their authoritarian nature that has nothing to do with science.
This is further illustrated by even more absurd requirements being suggested by other state health officials, based on no data at all. For example, the head of emergency management in Texas insists that people should even wear masks when they are in their homes.
Appearing on Fox News at Nine, Chief Nim Kidd insisted that people should wear masks indoors if they have potentially exposed themselves to the virus by being outside. "We still need people to wear the mask out in public, we still need people to keep social distance and isolation," Kidd said. "Ryan, the one thing I want to try to get across today is we need to do that when we're in our homes also."

"While we believe the community is doing a great job of following the rules when they are outside the home, we really need to be thinking about doing the same thing when we're inside the home," he added.
His demand matches the behavior of many citizens who wear their masks when they are alone in their cars or walking their dogs. I've even seen someone wear a mask during a Zoom session, even though he was alone at home at his computer! I wonder, who did he think he could give coronavirus to in this circumstance?
The logic of all this completely escapes me, as I am sure it will escape any rational and thoughtful individual. But then, these mask orders are in general irrational, and involve a whole range of irrational and thoughtless decision-making, by health officials, by governors, and by citizens. If anything, the mask appears to have become not a method for protecting public health but for exhibiting the ignorance of its user.
In sum, the entire mask charade reminds me of the following running gag from the 1960s television comedy series Get Smart. Then it was a satirical comedy. Now it turns out to be an instruction manual.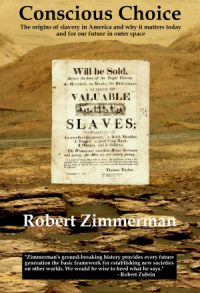 Now available in hardback and paperback as well as ebook!
From the press release: In this ground-breaking new history of early America, historian Robert Zimmerman not only exposes the lie behind The New York Times 1619 Project that falsely claims slavery is central to the history of the United States, he also provides profound lessons about the nature of human societies, lessons important for Americans today as well as for all future settlers on Mars and elsewhere in space.
Conscious Choice: The origins of slavery in America and why it matters today and for our future in outer space
, is a riveting page-turning story that documents how slavery slowly became pervasive in the southern British colonies of North America, colonies founded by a people and culture that not only did not allow slavery but in every way were hostile to the practice.
Conscious Choice
does more however. In telling the tragic history of the Virginia colony and the rise of slavery there, Zimmerman lays out the proper path for creating healthy societies in places like the Moon and Mars.
"Zimmerman's ground-breaking history provides every future generation the basic framework for establishing new societies on other worlds. We would be wise to heed what he says." —Robert Zubrin, founder of founder of the Mars Society.
All editions are available at Amazon, Barnes & Noble, and all book vendors, with the ebook priced at $5.99 before discount. The ebook can also be purchased direct from my ebook publisher, ebookit, in which case you don't support the big tech companies and I get a bigger cut much sooner.
Autographed printed copies are also available at discount directly from me (hardback $24.95; paperback $14.95; Shipping cost for either: $5.00). Just email me at zimmerman @ nasw dot org.