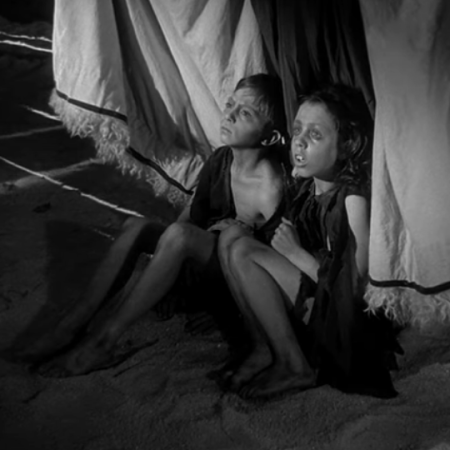 As noted by the Spirit of Christmas Present in Dickens'
The Christmas Carol, 'This boy is ignorance, this girl is want.
Beware them both, but most of all beware this boy.'
Only months and years after most Republican Party governors and politicians had lifted or halted all mandates requiring masks or COVID shots or social distancing, in the past week Democrats in numerous places have suddenly decided that masks and COVID shots and social distancing have suddenly become unnecessary or ineffective, and have canceled almost all their government-edicts mandating such things.
Simultaneously, the CDC late last week finally loosened its mask recommendations, no longer demanding that Americans wear masks indoors or in many other circumstances.
What none of these announcements mentioned was any evidence of any new scientific results to justify the new recommendations or the loosening of mandates. These changes were based — not on new scientific results — but on the fear-based opinions of politicians and health bureaucrats who for the past two years have consistently based their edicts and mandates solely on emotions and politics, not scientific evidence, and were repeatedly wrong every single time.
That they happened to be correct now is not because they are basing their actions on any new"science", but like a broken clock, even idiots can stumble on the truth once in awhile, by accident.
In this case however their stumbling is not entirely by accident. Polls have shown the public now sees through their lies and foolish mandates, and has had enough. These politicians and their minions in the CDC realized that if their mandates were not lifted now, the consequences for Democrats in future elections would be so horrible that even the worst projections appeared optimistic. To have any chance of saving their political hides in November the mandates had to end, now.
What must be emphasized again and again, however, is that in the past two years, none of the mask mandates were ever based on any science or research. Instead, these edicts were contrary to all research, which has for more than a hundred years shown that masks, even if worn properly, are ineffective in protecting you from viral infection. That research also showed that when worn improperly — which is how everyone wears their mask — masks are very unsanitary and likely to increase your chances of infection. (See my essay from July of 2020 outlining these basic and unchanged facts.)
As for the COVID shots, it has been clear since the summer of 2021 that they were not effective in protecting anyone from infection. Thus, the Democratic Party's continuing demand that everyone get the jab for employment and for entering businesses as a customer was thus nonsensical, and has been for many months. The Democrats suddenly realized that the public now knows this, and if Democrats didn't stop making believe the shots worked, they would find themselves very isolated and badly defeated in all future elections.
The real tragedy for our civilization however is not the last two years of economic collapse and loss of liberty, but the lost trust in science. The public no longer believes the proclamations of scientists, no matter how well based in facts those proclamations might be.
Scientists since the Renaissance had achieved an almost holy respect from the general public because for generations, scientists had put the search for truth above everything else. Every scientific "fact" had to be proven by independent research. Every theory had to be confirmed before accepted and then lauded by the scientific community. And when their theories turned out to be wrong scientists made it a point to immediately admit it.
Such honesty had built up for science an enormous reserve of trust. The public believed what scientists said because scientists were trustworthy. What they said was backed up by facts, or was rejected immediately when proven wrong.
No longer. That reserve of trust has been destroyed. It will take many years to rebuild it, if ever. The public now listens to any scientific pronouncement with great doubt.
And while skepticism and doubt is surely a healthy thing, too much skepticism can be equally bad. Should a real new deadly plague finally arrive in the coming years — something COVID never was — there is the real chance the public will not take it seriously when scientists declare its deadliness. "Nah, your just lying for power, like you did in the spring of 2020," the public will say. "Why should we believe you?"
I can see only one way to quickly restore this trust, but that will require some cold-blooded house-cleaning in all government agencies and academic institutions and among all politicians who had falsely declared the Wuhan flu was next plague. These corrupt and incompetent individuals must be removed, quickly and quite publicly.
Only then will the scientific community begin to regain the trust it has spent more than four centuries building.
And if not, things will only grow worse as we descend into a new dark age of ignorance and superstition and fear.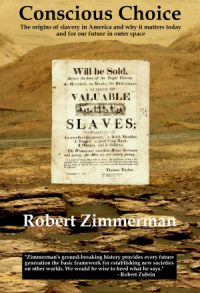 Now available in hardback and paperback as well as ebook!
From the press release: In this ground-breaking new history of early America, historian Robert Zimmerman not only exposes the lie behind The New York Times 1619 Project that falsely claims slavery is central to the history of the United States, he also provides profound lessons about the nature of human societies, lessons important for Americans today as well as for all future settlers on Mars and elsewhere in space.
Conscious Choice: The origins of slavery in America and why it matters today and for our future in outer space
, is a riveting page-turning story that documents how slavery slowly became pervasive in the southern British colonies of North America, colonies founded by a people and culture that not only did not allow slavery but in every way were hostile to the practice.
Conscious Choice
does more however. In telling the tragic history of the Virginia colony and the rise of slavery there, Zimmerman lays out the proper path for creating healthy societies in places like the Moon and Mars.
"Zimmerman's ground-breaking history provides every future generation the basic framework for establishing new societies on other worlds. We would be wise to heed what he says." —Robert Zubrin, founder of founder of the Mars Society.
All editions are available at Amazon, Barnes & Noble, and all book vendors, with the ebook priced at $5.99 before discount. All editions can also be purchased direct from the ebook publisher, ebookit, in which case you don't support the big tech companies and the author gets a bigger cut much sooner.
Autographed printed copies are also available at discount directly from me (hardback $24.95; paperback $14.95; Shipping cost for either: $5.00). Just email me at zimmerman @ nasw dot org.