With the war in the Ukraine now in the second half of its second year, with no clear outcome on the horizon, I thought it might be a good time to step back and look at what Russia's invasion has wrought, not just on Russia and the Ukraine, but on the rest of the world, now and possibly into the long term future.
My goal in this essay is to look at the forest, not the trees, and to do so in very broad strokes, based on my experience as a historian who has taken this approach in all my histories.
First however it is necessary to give a short update on the war itself. In my previous two updates in April and July I concluded that the war was devolving into a stalemate, much like the ugly trench warfare of World War I. Nothing has changed that conclusion in the two months since July, a fact that is starkly illustrated by the two maps below, originally created by the Institute for the Study of War (ISW) and modified and annotated by me to highlight the most significant take-aways.




The striped pink regions are regions that Russia captured in its 2014 offensive. The solid pink regions are the territories it has captured and still holds since this new invasion started in February 2022.
As these two maps show, neither side has been able to make much progress since last year. In fact, though there have been small changes in the territory each side controls, those changes are so inconsequential they are hard to spot.
First the Russians attempted a winter offensive from November 2022 to April 2023, and made only marginal advances. Then the Ukraine followed with its own offensive campaign, beginning in the late spring and continuing through to the present. While it has made some small gains south of the city of Zaporizhia in the past month, those gains have been slow, difficult, and as marginal as anything the Russians achieved previously.
So what does this stalemate suggest for the broad long term future?
Russia and the Ukraine
Based on recent actions, I cannot see either side achieving a decided victory. Instead, their actions since November 2022 suggest that each is maneuvering to establish control over the regions it expects to keep when a settlement is finally negotiated. All of Russia's offensive actions in the past year has been in the north, pushing west in an effort to reach the western borders of the Donetsk and Luhansk provinces. Meanwhile, the Ukraine's main offensive effort has been in the south, pushing to recapture the light pink region south of Zaporizha.
Neither had gotten very far, but the focus of each effort lays out a potential settlement, whereby Russia keeps the territories captured after 2014, plus the Donetsk and Luhansk provinces, while the Ukraine regains the territories south of Zaporizha, excluding the striped area of the Crimea. This settlement might not occur by negotiation, but by an eventual ceasefire that stablizes these borders, much as the ceasefire in Korea has locked the border for more than seven decades between the North and South.
My conclusion here assumes that both sides eventually pull back from aggressive action, as both did for almost a decade after Russia's 2014 invasion. There is no guarantee of that, however, especially because the Ukraine's blood is up following the 2022 invasion. It has repeatedly declared it will not stop fighting until it regains every foot of territory. If so, then the fighting could drag on for decades.
Russia and the World
For three quarters of a century, following World War II, Europe and the west focused its entire European foreign policy around defending Europe from an invasion from Russia. Despite the collapse of the Soviet Union in 1991, Russia was considered a viable military threat with the capability to sweep west and recapture control of the eastern European nations it had ruled during the Cold War.
The Ukraine War has now unequivocally told us that Russia poses no serious military threat at all. Its failure to conquer the Ukraine has revealed its military to be poorly run and corrupt, with a command structure that is so dishonest and disorganized and focused on power politics that it is unable to even form a coherent military invasion strategy. Moreover, Russia's military hardware has faired poorly against the Ukraine's, and worse, that hardware has now largely been destroyed.
Furthermore, Russia's economy has been shattered by this war. Not only has it lost billions in foreign trade, the war's cost is bankrupting the country while seriously damaging its infrastructure. While the Ukraine has also suffered, it is Russia that had had a reputation as a major power with a history of aggression. That reputation is now gone.
These facts should effect how the U.S. and Europe shape their foreign policy. The U.S. especially should consider reducing its military aid to Europe, since the threat from the east is largely defused. It still exists, but at a level that Europe should be able to handle mostly on its own, and in fact must.
Corruption in governments
The response of the government leaders in the West to Russia's invasion has revealed them to be as poorly run, as corrupt, as dishonest, as disorganized, and as dedicated to power politics as Russia. Though providing strong support for the Ukraine initially made some sense — when Russia was still perceived as a dangerous worldwide threat — that reasoning died almost a year ago when it was clear Russia could barely hold its own against its tiny neighbor, despite a sudden invasion with it holding all the cards.
And yet, western leaders have shown no willingness to change their approach in any way. Biden and Europe still want to pour endless funds to the Ukraine, in an manner this is almost mindless and uncontrolled, and suggests that much of that blind support is not for intelligent foreign policy considerations but to make a quick buck by sending money to big military contractors who respond by giving politicians big campaign donations. (In the case of Joe and Hunter Biden, the evidence increasingly suggests these payments have been direct bribes and pay-offs, but the difference really is petty.)
The rot of this corruption truly stinks.
Similarly, the aid to the Ukraine has clearly poisoned its own political structure. People forget that Zelinsky was originally elected as a reform candidate, a former actor and outsider who would move to clean up the obvious bribery and corruption that dominated the past govenrment. All of that faded with the war and the arrival of vast sums from the west.
In fact, this war has well highlighted the overall rot that now permeates most western governments. We can chortle about the corruption in Russia and the Ukraine, but we really have little to brag about. Our governments no longer seem to be run by an elite class of well-educated and thoughtful individuals, but a gang of uneducated mobsters whose only goal is obtaining power and wealth, at the expense of anyone who stands in their way.
The dark future
To have so many governments ruled by such a mobster class reflects very poorly on the populations who elected them. The west is still dominated by the republican form of representative government, with those in power chosen by the general population. That the general population has been chosing so badly for so long and across many nations suggests that it has become as bad as these mobsters, and actually prefers such people as its representatives.
Thus, this situation gives us glimpse at the overall sad state of western civilization. For two thousand years humanity made slow and painstaking progress, beginning with the rise of Christianity after the fall of the Roman Empire and reaching its pinnacle with the Age of Enlightenment. Throughout that time the central core of that rise was a strong moral framework based on the Old Testament and the Bible and the ethics it demands from each person. That moral framework, while advocated most forcefully by religious leaders, was gladly accepted by society as whole, including all of its secular factions.
That moral framework is now gone. We now stand on the brink of a new dark age, ushered in by a society that sometime in the last half of the twentieth century began to abandon those religious values, so that today it no longer has any moral standards at all. How else can one explain a culture that thinks it is okay to mulitate and castrate little children, while letting looters run wild in the streets?
Thus, the power-hungry gravitate to positions of power, supplanting a steadily shrinking class of the truly civilized and aided by a population that doesn't care any longer. Soon, it will be irrelevant whether that population cares or not, because the power hungry will grasp that power in its fist and wield it unmercifully. It will no longer ask for approval from the general population. It will grab, and hold, and never let go.
Can this dark future be prevented? Maybe, but it will take a dedication and a willingness to face sacrifices as brutal as the early Christians faced when the Romans fed them to the lions. And even if the civilized among us are willing to make that sacrifice, to recover our civilization is likely going to take generations. We likely facing at least one or two centuries of decline and collapse.
No matter. The fight for civilization must go on. How else is humanity going to eventually conquer the stars?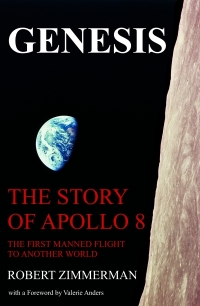 On Christmas Eve 1968 three Americans became the first humans to visit another world. What they did to celebrate was unexpected and profound, and will be remembered throughout all human history. Genesis: the Story of Apollo 8, Robert Zimmerman's classic history of humanity's first journey to another world, tells that story, and it is now available as both an ebook and an audiobook, both with a foreword by Valerie Anders and a new introduction by Robert Zimmerman.
The ebook is available everywhere for $5.99 (before discount) at
amazon
, or direct from my ebook publisher,
ebookit
. If you buy it from
ebookit
you don't support the big tech companies and the author gets a bigger cut much sooner.
The audiobook is also available at all these vendors, and is also
free with a 30-day trial membership to Audible.
"Not simply about one mission, [Genesis] is also the history of America's quest for the moon... Zimmerman has done a masterful job of tying disparate events together into a solid account of one of America's greatest human triumphs."--San Antonio Express-News