Our new dictators in government and its bureaucracies are now attempting to impose a new "normal" on society, demanding that everyone where a mask wherever they go in public. They claim this is to "slow the spread of COVID-19", but if you try to pin down the actual science that supports this claim, you will routinely have trouble finding it.
What you instead will find is that there is substantial peer-reviewed research that not only questions the usefulness of widespread mask use by the public in ordinary settings, but also notes serious health risks that can be caused by the masks themselves.
Today I want to take a look at the failure and absurdity of widespread mask use, using as my guide the very instructions given by the Mayo Clinic and the World Health Organization (WHO). What I am going to do is review these instructions, step-by-step, noting the absurdity of their expectations and the risks they scoff over so nonchalantly.
First, let's look at the claims made by the Mayo clinic:

Can face masks help prevent the spread of coronavirus disease 2019 (COVID-19)? Yes, face masks combined with other preventive measures, such as frequent hand-washing and social distancing, help slow the spread of the disease.
Yet, they fail to cite any studies showing this will work. In fact, a review of the literature finds no such studies. Or to quote this neurosurgeon,
As for the scientific support for the use of face mask, a recent careful examination of the literature, in which 17 of the best studies were analyzed, concluded that, " None of the studies established a conclusive relationship between mask/respirator use and protection against influenza infection." Keep in mind, no studies have been done to demonstrate that either a cloth mask or the N95 mask has any effect on transmission of the COVID-19 virus. Any recommendations, therefore, have to be based on studies of influenza virus transmission. And, as you have seen, there is no conclusive evidence of their efficiency in controlling flu virus transmission. [emphasis mne]
WHO itself is very clear about mask use. As noted in their video below, only those with symptoms and those caring for those who are sick need wear a mask. Everyone else should not bother, as "there is no evidence that they protect people who are not sick."
Moreover, note how both the Mayo Clinic and WHO insist that you need to combine mask use with frequent hand washing. What they are doing here is getting you to do something that is known to work, washing your hands. If you do that, the mask becomes irrelevant.
Next, the Mayo Clinic discusses the types of masks to use, telling everyone to avoid using certified surgical or N95 masks because this will cause a shortage for health workers, who really need them. At the same time they also admit that surgical masks, which are far more available than N95 masks, are unproven to work against COVID-19.
At this time, the U.S. Food and Drug Administration has not approved any type of surgical mask specifically for protection against the COVID-19 virus.
The small size of the virus's particles suggests that surgical masks won't be able to stop them.
The clinic then goes on to absurdly suggest the public use ordinary cloth masks instead. If they admit that surgical masks are not proven to work, then why should we waste our time using ordinary cloth masks? It makes no sense.
The Mayo Clinic also makes the entirely false claim that "countries that required face masks, testing, isolation and social distancing early in the pandemic seem to have had some success slowing the disease's spread."
Those countries, like South Korea, did not demand widespread mask use. They instead asked, like WHO, that only the sick wear them if they needed to go out, or the healthy who were in direct contact with the sick. They made no such demands on the general public.
All-in-all, their criteria for justifying mask use does not make any rational sense, is not based on any science, and in fact contradicts the science that presently exists.
Finally the clinic provides detailed instructions on using cloth masks. After you read these instructions carefully, do you really believe the general public is following these instructions properly?
Place your mask over your mouth and nose.
Tie it behind your head or use ear loops and make sure it's snug.
Don't touch your mask while wearing it.
If you accidentally touch your mask, wash or sanitize your hands.
Remove the mask by untying it or lifting off the ear loops without touching the front of the mask or your face.
Wash your hands immediately after removing your mask.
Regularly wash your mask with soap and water in the washing machine. It's fine to launder it with other clothes. [emphasis mine]
The Mayo clinic also admits that the masks should not be used on "anyone who has trouble breathing, or is unconscious or otherwise unable to remove the mask without help," and should also not be put "on children under 2 years of age."
The highlighted guidelines illustrate the absurdity of demanding that mask use be made ubiquitous. Expecting people to never touch their mask and to wash their hands every time afterward is simply unrealistic.
Moreover, it also appears from these instructions that using a mask for too long significantly increases the health risk. In fact, I suspect that no mask should be worn for longer than a half hour, at the most, before it must be washed or discarded. Longer than this and I would expect bad things to begin to accumulate there, threatening the health of the wearer as well as any around them.
Now let's take a look at WHO's instructions for using a mask. I haven't bothered to highlight anything because everything they say illustrates the unrealistic expectations of those demanding the use of masks by everyone for all time.
Before putting on a mask, clean hands with alcohol-based hand rub or soap and water.
Cover mouth and nose with mask and make sure there are no gaps between your face and the mask.
Avoid touching the mask while using it; if you do, clean your hands with alcohol-based hand rub or soap and water.
Replace the mask with a new one as soon as it is damp and do not re-use single-use masks.
To remove the mask: remove it from behind (do not touch the front of mask); discard immediately in a closed bin; clean hands with alcohol-based hand rub or soap and water.
Once again, is it realistic to expect these instructions to be followed by the general public? No. How often have you seen people pull their masks down to breath or to speak more clearly to others? Often. How often do people replace their mask? Rarely, because they usually wear them all day. Do people replace masks when they get damp? No I suspect not.
In conclusion, the demand that everyone wear masks in public settings appears to be a very bad idea, and one that should be firmly resisted by everyone, aggressively. These instructions exist for a reason, mostly because there is an expectation of bad things accumulating in a mask if it is used improperly.
For those with lung issues, such as asthma or diminished lung function, their use is an even worse idea. As noted by that neurosurgeon,
[Research has] found that about a third of the workers developed headaches with use of the mask, most had preexisting headaches that were worsened by the mask wearing, and 60% required pain medications for relief. As to the cause of the headaches, while straps and pressure from the mask could be causative, the bulk of the evidence points toward hypoxia and/or hypercapnia as the cause. That is, a reduction in blood oxygenation (hypoxia) or an elevation in blood C02 (hypercapnia). It is known that the N95 mask, if worn for hours, can reduce blood oxygenation as much as 20%, which can lead to a loss of consciousness, as happened to the hapless fellow driving around alone in his car wearing an N95 mask, causing him to pass out, and to crash his car and sustain injuries. I am sure that we have several cases of elderly individuals or any person with poor lung function passing out, hitting their head. This, of course, can lead to death.

A more recent study involving 159 healthcare workers aged 21 to 35 years of age found that 81% developed headaches from wearing a face mask.3 Some had pre-existing headaches that were precipitated by the masks. All felt like the headaches affected their work performance.

Unfortunately, no one is telling the frail elderly and those with lung diseases, such as COPD, emphysema or pulmonary fibrosis, of these dangers when wearing a facial mask of any kind—which can cause a severe worsening of lung function. This also includes lung cancer patients and people having had lung surgery, especially with partial resection or even the removal of a whole lung.
As I have written before, I will not wear a mask as demanded by our modern petty dictators. If I need to wear one, it will because I might be around a sick person, or I myself have become sick, as has been the practice for more than a century.
Otherwise, wearing a mask is nothing more than a feel-good empty gesture, imposed to instill fear and terror in everyone, while actually increasing the chances everyone will get sick.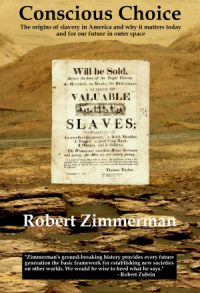 Now available in hardback and paperback as well as ebook!
From the press release: In this ground-breaking new history of early America, historian Robert Zimmerman not only exposes the lie behind The New York Times 1619 Project that falsely claims slavery is central to the history of the United States, he also provides profound lessons about the nature of human societies, lessons important for Americans today as well as for all future settlers on Mars and elsewhere in space.
Conscious Choice: The origins of slavery in America and why it matters today and for our future in outer space
, is a riveting page-turning story that documents how slavery slowly became pervasive in the southern British colonies of North America, colonies founded by a people and culture that not only did not allow slavery but in every way were hostile to the practice.
Conscious Choice
does more however. In telling the tragic history of the Virginia colony and the rise of slavery there, Zimmerman lays out the proper path for creating healthy societies in places like the Moon and Mars.
"Zimmerman's ground-breaking history provides every future generation the basic framework for establishing new societies on other worlds. We would be wise to heed what he says." —Robert Zubrin, founder of founder of the Mars Society.
All editions are available at Amazon, Barnes & Noble, and all book vendors, with the ebook priced at $5.99 before discount. The ebook can also be purchased direct from my ebook publisher, ebookit, in which case you don't support the big tech companies and I get a bigger cut much sooner.
Autographed printed copies are also available at discount directly from me (hardback $24.95; paperback $14.95; Shipping cost for either: $5.00). Just email me at zimmerman @ nasw dot org.