A new fad has sprung up among our power-hungry and very ignorant politicians and leftist press who are panicking over the Wuhan flu. It apparently has not been enough that they have successfully destroyed a thriving economy, put millions out of work, destroyed the airline, entertainment, sports, and restaurant industries, over a disease that, at best is nothing more than a slight blip in the overall death rate, and at worst will be comparable to similar past epidemics that we lived through without government-imposed panic or economic disaster.
No, destroying millions of lives has not been enough. They need to do more. They need to find more ways to squelch our freedom, nullify the Constitution and the Bill of Rights, and, to paraphrase Orwell, stamp a boot down on our faces, forever.
And in this case, they mean to do this, almost literally.
They are now beginning to demand that we wear masks at all times in public, in the mindless and stupid belief that this will somehow stop COVID-19 from spreading. Consider these stories:

These orders, which are only a few examples, are so out of order that it boggles the mind. The science on mask use remains very inconclusive. Some studies recommend them, especially during medical procedures. Other studies however reject them for widespread public use, noting that their general use will do no good, and in fact could do a lot of harm, helping to spread disease.
Which studies do you believe? I personally have no idea. What I do know however is that the science is uncertain, and thus, the uncertainty demands that the use of masks be left up to each individual. Let each person review the facts, as they see them, and make their own decision.
That is what you do in a free society. You respect the decisions of each citizen, and allow them to make that decision, freely. In a free society it is not the place of any elected official, or their bureaucratic minions, to impose such a requirement on everyone. Ever.
Moreover, these edicts are mindless and pointless. Even if masks were proven to be of some benefit, they in the end will do nothing to stop the spread of COVID-19. The virus is here, and it is going to spread through the entire population, no matter what we do. All we can do is slow that spread, but only temporarily, and without much effect.
In fact, the sooner the virus spreads to the younger healthy population that can fight it off with little problem and thus develop antibodies, the sooner we will succeed in protecting the more vulnerable older populations from the virus, denying it further hosts from which to spread to that older population.
None of these facts matter however to our new fascist generation of political leaders. It appears instead that many of them have decided they know best, and that they have the god-like power to impose their will on everyone else, by edict.
Well, I am here to tell those fascist politicians this: I will not wear a mask, and if you demand it of me you will have a revolution on your hands.
Nor is this all. Our corporate business community, which has worked hand-in-glove with these fascist politicians from day one of this panic, reinforcing the fear and panic by imposing their own rules of behavior without consulting anyone else, have now begun demanding that customers wear masks as well.
It began with Costco, which as of May 4 required all customers over the age of two to wear masks in their stores. The airline industry has now followed, mandating the use of masks for all customers.
Well, let those businesses hear from me now: I will not wear a mask, and if you demand it of me, you will lose my business forever.
I have already made this position very clear to Southwest Airlines, which I have been a loyal frequent flyer for almost twenty years. As of May 11th they have declared that all customers must wear masks. I called them, and told them in no uncertain terms that as of May 11th, I am no longer their customer. Nor will I fly on any other airline that makes this demand. They can go to hell. When they went along with the odious over-the-top TSA search restrictions back after 9/11, I cut back my flying significantly. I can end it just as easily.
Losing 96% of their business is apparently not enough for them. They want to drive it down lower.
In my own state, Arizona, Governor Doug Ducey (Republican in name only) has so far refrained from following the herd of the governors in Massachusetts, New Jersey, Colorado, and elsewhere. He has not yet imposed such an order.
If he tries it however he will find me just as defiant. He has no right, either scientifically, morally, ethically, or legally, to make such a demand, and I will not obey or submit. Nor do I believe I am alone in this. I think thousands of people will do the same.
He is now warned. As I said, if he tries it he will have a revolution on his hands, something neither he nor I want.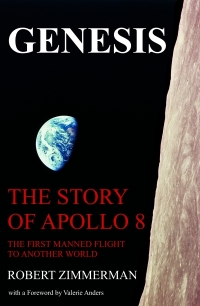 On Christmas Eve 1968 three Americans became the first humans to visit another world. What they did to celebrate was unexpected and profound, and will be remembered throughout all human history. Genesis: the Story of Apollo 8, Robert Zimmerman's classic history of humanity's first journey to another world, tells that story, and it is now available as both an ebook and an audiobook, both with a foreword by Valerie Anders and a new introduction by Robert Zimmerman.
The ebook is available everywhere for $5.99 (before discount) at
amazon
, or direct from my ebook publisher,
ebookit
. If you buy it from
ebookit
you don't support the big tech companies and the author gets a bigger cut much sooner.
The audiobook is also available at all these vendors, and is also
free with a 30-day trial membership to Audible.
"Not simply about one mission, [Genesis] is also the history of America's quest for the moon... Zimmerman has done a masterful job of tying disparate events together into a solid account of one of America's greatest human triumphs."--San Antonio Express-News