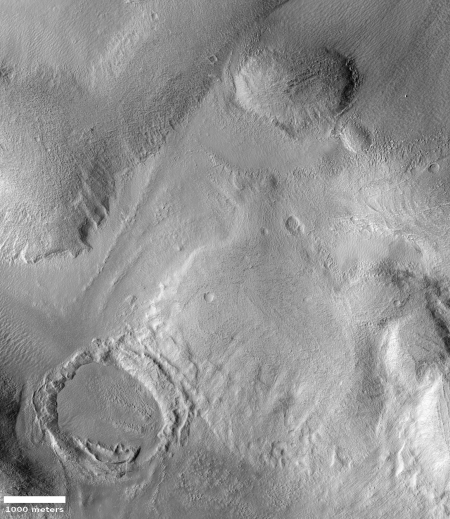 Click for full image.
About a thousand miles to the west of the candidate landing site for SpaceX's Starship spacecraft rises a massive mountain wall dubbed the Phlegra Mountains, rising as much as 11,000 feet above the adjacent lowland northern plains.
Phlegra Montes (its official name) is of special interest because of its apparent icy nature. Here practically every photograph taken by any orbiter appears to show immense glacial flows of some kind, with some glaciers coming down canyons and hollows [#1], some filling craters [#2], some forming wide aprons [#3] at the base of mountains and even at the mountains' highest peaks [#4], and some filling the flats [#5] beyond the mountain foothills.
And then there are the images that show almost all these types of glaciers, plus others [#6]. Today's cool image above is an example of this. In this one photo we can see filled craters, aprons below peaks, and flows moving down canyons. It is as if a thick layer of ice has partly buried everything up the highest elevations.
None of this has gone unnoticed by scientists. For the past decade they have repeatedly published papers noting these features and their icy appearance, concluding that the Phlegra Mountains are home to ample buried ice. SpaceX even had one image taken here [#3] as a candidate landing site for Starship, though this is clearly not their primary choice at this time.
The map below gives an overview of the mountains, their relationship to the Starship landing site, and the location by number of the images listed above.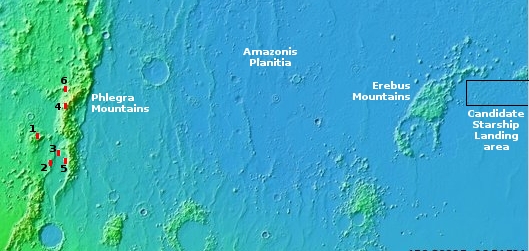 While the Phlegra Mountains might not be a first choice landing site because of the rough terrain, they certainly beckon as a soon-to-be-followed colony site. Not only will there be lots of relatively easy-to-access water, the mountains will likely harbor many resources of value, both for use by the colonists as well as for sale to others. Furthermore, their close proximity to the flat plains of Amazonis Planitia will make building a good spaceport nearby very easy.
Construction on these glaciers would use some of what we have learned building the science stations in Antarctica, though the habitable spaces will likely not be on top of the ice but below to protect people from radiation.
In the not to distant future I can see this location as Mars' second city, the place the first Starship settlers head to when the Erebus Montes site becomes too settled for these pioneers. Like the early American settlers of the Appalachian backwoods, as soon as their neighbor gets within hailing distance things might seem too crowded, and they will move on to better ground.
Readers!
In order to remain completely independent and honest in my writing, I accept no sponsorships from big space companies or any political organizations. Nor do I depend on ads.
Instead, I rely entirely on the generosity of readers to keep Behind the Black running. You can either make a one time donation for whatever amount you wish, or you sign up for a monthly subscription ranging from $2 to $15 through Paypal, or $3 to $50 through Patreon, or any amount through Zelle.
The best method to donate or subscribe is by using Zelle through your internet bank account, since it charges no fees to you or I. You will need to give my name and email address (found at the bottom of the "About" page). What you donate is what I get.
To use Patreon, go to my website there and pick one of five monthly subscription amounts, or by making a one-time donation.

For PayPal click one of the following buttons:

If these electronic payment methods don't work for you, you can support Behind The Black directly by sending your donation by check, payable to Robert Zimmerman, to


Behind The Black
c/o Robert Zimmerman
P.O.Box 1262
Cortaro, AZ 85652