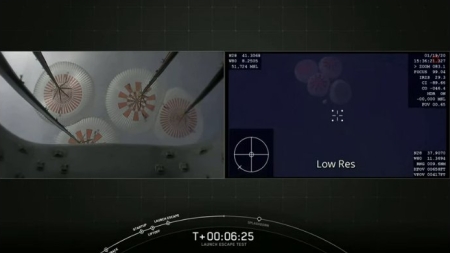 Crew Dragon soon after its parachutes had deployed
during the launch abort test.
The successful unmanned launch abort test by SpaceX of its crew Dragon capsule today means that the first manned flight of American astronauts on an American rocket in an American spacecraft from American soil in almost a decade will happen in the very near future. According to Elon Musk during the press conference following the test, that manned mission should occur sometime in the second quarter of 2020.
The ramifications of this manned mission however far exceed its success in returning Americans to space on our own spacecraft. NASA administrator Jim Bridenstine touched upon this larger context with his own remarks during the press conference:
We are doing this differently. NASA is going to be customer, one of many customers. I want SpaceX to have lots of customers.
Bridenstine is underlining the real significance of the entire commercial program at NASA. Unlike every previous manned space project at the space agency, NASA is not doing the building. Instead, as Bridenstine notes (and I recommended in my 2017 policy paper Capitalism in Space), it is merely a customer, buying a product built entirely by a private company. And while NASA is involving itself very closely with that construction, it is doing so only as a customer, making sure it is satisfied with the product before putting its own astronauts on it.
NASA also does not own this product. As Bridenstine also notes (and I also recommended in Capitalism in Space), SpaceX owns the product, and once operational will be free to sell seats on crew Dragon to private citizens or other nations.
This different approach also means that NASA is not dependent on one product. From the beginning its commercial crew program has insisted on having at least two companies building capsules — Dragon by SpaceX and Starliner by Boeing — so that if there is a launch failure with one, the second will provide the agency with redundancy.
Bridenstine was very clear about these points. He wants multiple manned spacecraft built by competing American capsules, both to provide the government with redundancy but also to drive innovation and lower costs.
SpaceX of course is the quintessential example of how to lower costs.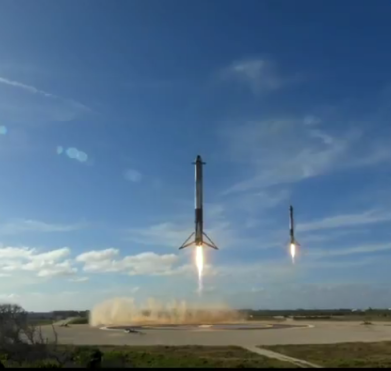 Two first stages land simultaneously during
first Falcon Heavy launch.
Its effort to develop reusable rockets in the past decade has slashed the cost for a rocket launch from about $200 million to $50 million or less, depending on circumstances. That cost is going to drop even lower in the coming years as they begin reusing a small number Falcon 9 first stages rather than building and discarding a new one with each launch. For example, the first stage used on today's launch abort was being flown for the fourth time, making it one of three SpaceX first stages that has flown that many times. In coming years SpaceX expects first stages to be reused far more than this, with the goal of a turnaround of less than a day.
A first stage comprises about 60% of the cost of a launch. The consequences of this high reuse by SpaceX will be that they will need to build very few first stages, lowering their costs dramatically. Since no one else has this capability, SpaceX will thus be able to undercut the price of any other launch company in the world, and yet maintain a far higher profit margin, extra money that they can funnel back into the company for further development.
Consider how this situation applies to selling seats on Dragon to private customers. The Russians have been charging about $20 to $30 million per seat to fly private citizens on their Soyuz rocket to ISS. Since both Dragon and Starliner can carry four astronauts each, and the American crew contingent on ISS has traditionally been about three, this means that both spacecraft will frequently have room for a private customer.
NASA will pay most of the cost for the launch, which means both SpaceX and Boeing will be able to charge cut-rate prices that will undercut the Russians. SpaceX however will easily be able to undercut Boeing, as it will be using reusable rockets whose individual launch costs will be far less. In fact, SpaceX will likely be able to launch an entirely private mission, without NASA's help, and charge its four private astronauts only about $10 million each and still make a profit. Very quickly the company will grab most of the orbital space tourism business from the Russians.
Moreover, if Russia and Boeing wish to remain in this business they will have to compete. They, as well as every other space-faring nation (China and India come to mind) will be forced to develop their own reusability. Eventually, the competition will force everyone to build their rockets and spacecraft like airplanes, with costs dropping as fast as computer memory has grown with time.
None of this factors in the possibilities suggested by SpaceX's effort to develop its completely reusable heavy lift rocket dubbed Super Heavy/Starship. According to recent comments by Elon Musk, each Starship is being designed to have a lifespan of 20 to 30 years with a cost of $2 million per launch. And for that money it will place more than a hundred tons in orbit, five times that of a Falcon 9!
The ramifications of all this are immeasurable. Because of SpaceX's push to lower costs, we appear to be on the cusp of making it possible for the human race to leap from planet Earth.
From an American perspective however this situation is even more profound. It appears that the United States is presently positioned to be the world's number one provider of manned space vehicles, capable of putting humans in space at the most affordable prices. As the human race begins the first exploration and colonization of the planets and asteroids, this fact is going to place this country in the dominant position of that exploration and colonization.
It also means that this country will have the opportunity to make dominant in those first colonies our principles of freedom, individual rights, free speech, rule by law, and democracy. This fact is probably the most profound consequence of SpaceX's success today. It increases the odds that untold generations in the future will have a chance to live under these humane conditions.
This is an opportunity that we in America must not miss. While it will benefit us here on Earth in ways unimaginable, the benefits it will bring to future generations cannot be measured.
We must take this chance by the hand and run with it.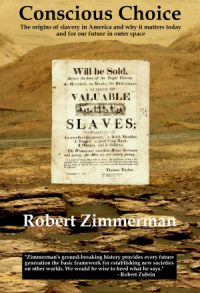 Now available in hardback and paperback as well as ebook!
From the press release: In this ground-breaking new history of early America, historian Robert Zimmerman not only exposes the lie behind The New York Times 1619 Project that falsely claims slavery is central to the history of the United States, he also provides profound lessons about the nature of human societies, lessons important for Americans today as well as for all future settlers on Mars and elsewhere in space.
Conscious Choice: The origins of slavery in America and why it matters today and for our future in outer space
, is a riveting page-turning story that documents how slavery slowly became pervasive in the southern British colonies of North America, colonies founded by a people and culture that not only did not allow slavery but in every way were hostile to the practice.
Conscious Choice
does more however. In telling the tragic history of the Virginia colony and the rise of slavery there, Zimmerman lays out the proper path for creating healthy societies in places like the Moon and Mars.
"Zimmerman's ground-breaking history provides every future generation the basic framework for establishing new societies on other worlds. We would be wise to heed what he says." —Robert Zubrin, founder of founder of the Mars Society.
All editions are available at Amazon, Barnes & Noble, and all book vendors, with the ebook priced at $5.99 before discount. The ebook can also be purchased direct from my ebook publisher, ebookit, in which case you don't support the big tech companies and I get a bigger cut much sooner.
Autographed printed copies are also available at discount directly from me (hardback $24.95; paperback $14.95; Shipping cost for either: $5.00). Just email me at zimmerman @ nasw dot org.