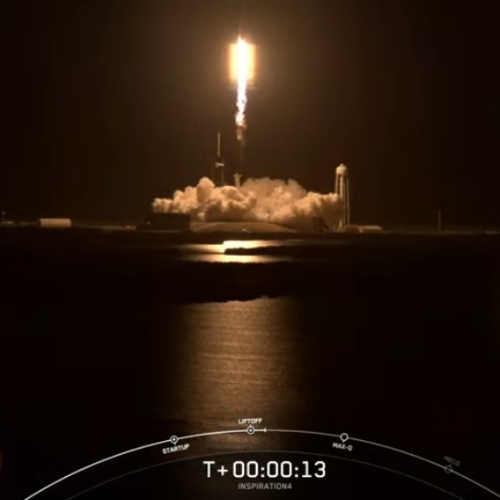 Capitalism in space: First the news: On September 15, 2021 SpaceX successfully placed four civilians into orbit using its Falcon 9 rocket and Dragon capsule.
Thus began the first private manned orbital mission in space, planned to last three days and reach an altitude of 595 kilometers or 370 miles, the highest any person has flown in space in decades.
The first stage, on its third flight, successfully landed for reuse. The Dragon capsule, Resilience, was on its second manned flight. The leaders in the 2021 launch race:
31 China
23 SpaceX
15 Russia
4 Northrop Grumman
The U.S. now leads China 34 to 31 in the national rankings.
Now the significance: There was one moment about five minutes after lift off that revealed the fundamental difference between this real flight into space and the short suborbital hops that Blue Origin and Virgin Galactic did in July.
The three most critical moments of any launch had just been completed. The first stage engines had cut off, the first stage had separated successfully, and the single upper stage engine had ignited. It was now lifting the capsule towards orbit, with the only major technical task left were its engine cut off and the separation of the Dragon capsule.
At that moment John Insprucker, principal integretion engineer for SpaceX and frequent host during its launch live streams, made a quick comment that was clearly meant to illustrate the vast difference in achievement between this flight and those two July suborbital flights. He said,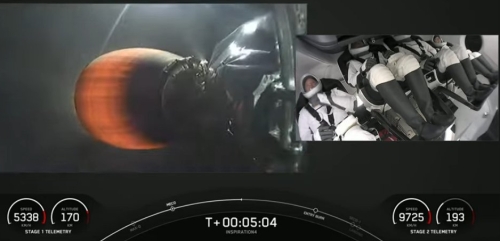 Dragon at 193 kilometers.
Also notice we're really up there now, well past 100 kilometers.
The rocket, as shown in the screen capture to the right, was at that moment at 193 kilometers altitude, almost twice as high as achieved by either suborbital flight. And while those hops were at five minutes already on wrapping up their flights, the Inspiration4 passengers on Dragon were only beginning their journey, planned to last another three days and reach an elevation of 595 kilometers, about six times higher than either Blue Origin's New Shepard or Virgin Galactic's VSS Unity.
In other words, Insprucker was gently hinting to the world: "This is a real spaceflight. Those were just quick joy rides."
And he was right. Neither New Shepard nor Unity can do anything to explore or settle the solar system. All they can do is give their passengers a quick thrill and the right to brag that for a few minutes they experienced weightlessness and got into space.
The Inspiration4 crew instead will actually be in space, for days, brought there by a rocket that can launch real payloads into orbit and make possible the initial exploration of the solar system.
The difference is fundamental. The former can't get us anywhere. The latter is actually doing so.
That this mission is for profit also means that the realm of outer space has finally been freed — at least for now — from the tentacled control of government. That control, while successful in beginning the exploration of space, has done little but stymie exploration since the 1970s. For the half century that followed humans have literally gone no where in space, with little technical innovation and no real efficiencies developed. Instead, a lot of money has been wasted going around and around the Earth for little gain. Even now the U.S. government is wasting billions on a rocket (SLS) that will never get us anywhere because it costs too much and simply can't launch frequently enough to accomplish anything.
For the past half century, the only answer to that government's bad decisions was to lobby to try to make it do something different. None of that lobbying or any of the big space program proposals put forth by presidents changed anything. The money continued to be wasted, with proposal after proposal and project after project dying stillborn.
We now have a better answer to government's failures. We can ignore it, and go into space ourselves, without their hindrance. The possibilities of that freedom are endless. Expect many more such flights, with each pushing the envelope of space exploration so that space customers can go farther and faster and with greater capability, as quickly as possible.
World government spent the last half century dithering in space. Freedom will put humans on the Moon and Mars in probably less than the next two decades. And it will do it for pennies on the dollar.
Whether this freedom to fly will last remains unknown. Our society no longer honors freedom or the right to challenge government. Worse, our government is now very powerful, and does not like its power threatened. This flight threatens that control. Do not be surprised if many in government and their pro-government allies begin to marshal their forces to squelch what SpaceX and many other private space companies now want to achieve.
Readers!
I must unfortunately ask you for your financial support because I do not depend on ads and rely entirely on the generosity of readers to keep Behind the Black running. You can either make a one time donation for whatever amount you wish, or you sign up for a monthly subscription ranging from $2 to $15 through Paypal or $3 to $50 through Patreon.
Your support will allow me to continue covering science and culture as I have for the past twenty years, independent and free from any outside influence.
Your support is even more essential to me because I not only keep this site free from advertisements, I do not use the corrupt social media companies like Google, Twitter, and Facebook to promote my work. I depend wholly on the direct support of my readers.
You can provide that support to Behind The Black with a contribution via Patreon or PayPal. To use Patreon, go to my website there and pick one of five monthly subscription amounts, or by making a one-time donation. For PayPal click one of the following buttons:

If Patreon or Paypal don't work for you, you can support Behind The Black directly by sending your donation by check, payable to Robert Zimmerman, to


Behind The Black
c/o Robert Zimmerman
P.O.Box 1262
Cortaro, AZ 85652


Or you can donate by using Zelle through your bank. You will need to give my name and email address (found at the bottom of the "About" page). The best part of this electronic option is that no fees will be deducted! What you donate will be what I receive.