Please consider donating to Behind the Black, by giving either a one-time contribution or a regular subscription, as outlined in the tip jar to the right or below. Your support will allow me to continue covering science and culture as I have for the past twenty years, independent and free from any outside influence.
NOAA today released its newest monthly update of the Sun's sunspot cycle and, as I do every month, I have posted the latest graph, with annotation, below the fold.
The sunspot numbers for December were not only startlingly low, they actually plunged to levels not seen since May 2011, at a time when the Sun is supposed to be approaching sunspot maximum and the number of sunspots is supposed to be increasing.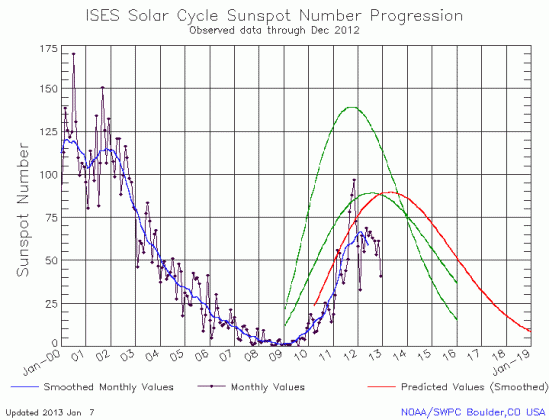 The green curves show the two original predictions of the solar scientist community from April 2007, with half the scientists predicting a very strong maximum and half predicting a weak one. Also shown now in red is the full curve of their revised May 2009 prediction, which NOAA has been truncating each month as the actual numbers come in. I have decided to show the full curve, since showing it all illustrates better how even this later prediction was wrong.
Meanwhile, on January 2 the solar scientists at the Marshall Space Flight Center once again lowered their prediction for the upcoming solar maximum, dropping their predicted peak sunspot number from 72 to 69. This is the fifth month in a row that they have changed their prediction, and the fourth in a row in which they have dropped it. Considering that we are now only a few months from when they say maximum should occur, their constant revision of their prediction suggests they really haven't the faintest idea what causes the solar cycle, and are merely guessing at what they think will happen.
The present graph again suggests — despite the predictions — that we have already seen maximum, and that it occurred in November 2011. However, don't bet on it! It is very possible for the Sun to spark back to life. For example, take a glance at the previous maximum on this same graph. The sunspot count peaked in 2000, then dipped, then rose again in late 2002. This same thing could happen again.
Moreover, the Sun this cycle has exhibited a two-faced phenomenon, whereby one hemisphere has been very active while the other has not. It is this split personality that partly caused the monthly ups and downs seen in 2010 and 2011. The Sun rotates about once every 27 days, which means that the two contrasting hemispheres should be visible on alternative months.
In fact, we might be seeing this happening right now. December might have been a weak month for sunspots, but January so far is pounding them out. If the high numbers seen in the last week continue, I would not be at all surprised if we see a jump in sunspots when the next graph comes out in early February.
Nonetheless, even if that happens, the numbers of sunspots continue to be paltry, lower than we've seen in a hundred years. Some solar scientists have even predicted that this is a harbinger of a coming Grand Minimum, where we will see no sunspots for decades. And when that has happened in the past, things on Earth get cold, for reasons that as yet are not completely understood.