It is that time again, buckos! Yesterday NOAA released its monthly update of the Sun's sunspot cycle, covering the period of April 2013. As I have done every month for the past three years, I have posted this latest graph, with annotations to give it context, below the fold.
For the second month in a row the Sun's sunspot output increased. The result is that April 2013 saw the most sunspot activity in more than a year, since December 2011.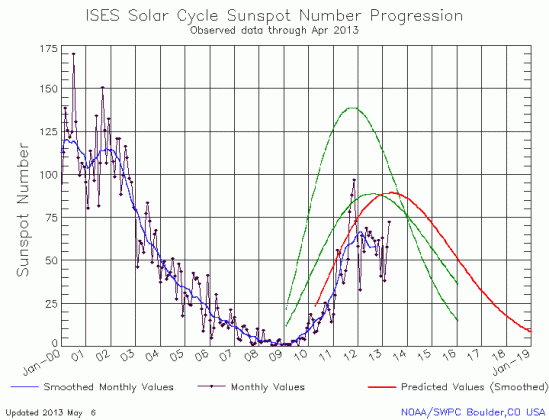 To give the data some context, I have added the curves as predicted by the solar science community. The green curves in the graph show the communities two original predictions from April 2007, with half the scientists predicting a very strong maximum and half predicting a weak one. The red curve is their revised May 2009 prediction.
Despite this increase in activity, sunspot production is still way below predicted levels. However, the increase does suggest that the recent prediction by some solar scientists that we might see a second and final peak to the solar maximum later this year might turn out to be right. Then again, that prediction isn't based on any theoretical understanding of the Sun. It merely notes that double peaks have occurred in the past, and might occur again in the future. The Sun could just as well decide it has had enough of sunspots, and proceed directly to its next minimum. We shall see.
Meanwhile, for the third month in a row the solar scientists at the Marshall Space Flight center did not change their prediction for the solar maximum, the first time they have held to a prediction for this long since the fall of 2011. From September 2011 through the beginning of 2013, they would routinely revise their prediction on a monthly basis, coming up with predicted sunspot numbers for the solar maximum ranging from 59 to 99.
The Marshall scientists do not archive their predictions. Instead, they simply change their webpage each time they change the prediction. Thus, the only reason we know that these predictions have changed so often is because I have been tracking them as they happen. Below is a screen capture of their webpage from last month.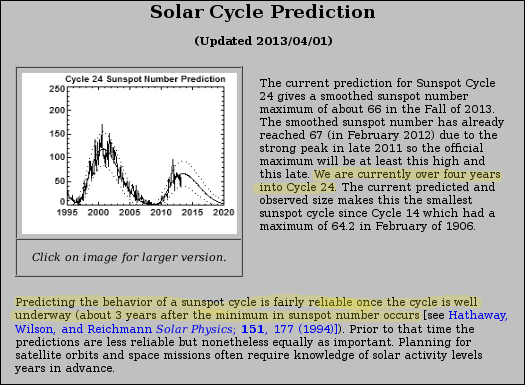 This screen capture is from April 26, 2013, and is identical to their present prediction.
I have highlighted in yellow two sentences from their webpage because they inadvertently illustrate just how much guesswork lies behind these predictions. In the first paragraph they note that we are now four years into this solar cycle, the start date being when solar minimum actually occurred. In the next paragraph they state that their prediction should become fairly reliable "3 years after the minimum" occurs. The problem is that for the past year and a half, when they are supposed to have been able to reliably predict the upcoming maximum, they were instead changing their prediction monthly with a wide range of numbers.
I wonder if they have been reading their own webpage. Likely not. When they finally do, however, and see this absurd contradiction, I expect them to quickly change it and dump it down the memory hole. Thus, my screen capture now for all to see.
Readers!
Please consider donating to Behind the Black, by giving either a one-time contribution or a regular subscription, as outlined in the tip jar below. Your support will allow me to continue covering science and culture as I have for the past twenty years, independent and free from any outside influence.
Your support is even more essential to me because I keep this site free from advertisements and do not participate in corrupt social media companies like Google, Twitter, and Facebook. I depend wholly on the direct support of my readers.
You can provide that support to Behind The Black with a contribution via Patreon or PayPal. To use Patreon, go to my website there and pick one of five monthly subscription amounts, or by making a one-time donation. For PayPal click one of the following buttons:

If Patreon or Paypal don't work for you, you can support Behind The Black directly by sending your donation by check, payable to Robert Zimmerman, to


Behind The Black
c/o Robert Zimmerman
P.O.Box 1262
Cortaro, AZ 85652