Please consider donating to Behind the Black, by giving either a one-time contribution or a regular subscription, as outlined in the tip jar to the right or below. Your support will allow me to continue covering science and culture as I have for the past twenty years, independent and free from any outside influence.
On Sunday NOAA posted its monthly update of the solar cycle, showing the Sun's sunspot activity in March. I am posting it here, with annotations to give it context, as I have done since 2010.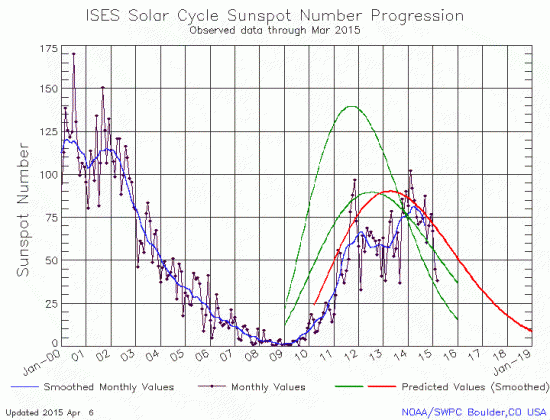 The graph above has been modified to show the predictions of the solar science community. The green curves show the community's two original predictions from April 2007, with half the scientists predicting a very strong maximum and half predicting a weak one. The red curve is their revised May 2009 prediction.
In February the Sun's sunspot activity plunged, dropping way below the prediction of the solar science community. In March that plunge continued. Even though activity had seemed to track that prediction through most of 2014, the overall levels were always less than the prediction. The sunspot numbers for the past two months have simply made this fact obvious once again, dropping to levels almost as low as those last seen in 2011, before the onset of the solar maximum.
That the ramp down at this time is so precipitous is especially intriguing, as historically the ramp down from previous solar maximums has been slow and steady. It is once again evidence that the Sun is doing things that solar scientists have never yet had the opportunity to observe.