On Monday I attended and gave a presentation at the one-day annual conference of the Center for New American Security (CNAS) in Washington, D.C., in conjunction with the space policy paper I am writing for them, Exploring Space in the 21st Century.
CNAS was founded ten years ago by two political Washington insiders, one a Democrat and the other a Republican, with a focus on foreign policy and defense issues and the central goal of encouraging bi-partisan discussion. For this reason their policy papers cover a wide range of foreign policy subjects, written by authors from both political parties. The conference itself probably had about 1,000 attendees from across the political spectrum, most of whom seemed to me to be part of the Washington establishment of policy makers, either working for elected officials, for various executive agencies, or for one of the capital's many think tanks, including CNAS.
I myself was definitely not a major presenter at this conference, with speakers like Vice President Joe Biden, Senator Lindsey Graham (R-South Carolina), and Senator Joe Reed (D-Rhode Island). I was part of a panel during one of the lunch breakout sessions, where approximately one third of the attendees came to have lunch while we spoke about space. I only had ten minutes to speak, and used that time to outline (1) the influence SpaceX is having on the entire launch industry and (2) the vast differences in cost, development time, and results between the Orion/SLS program and commercial space. Not surprisingly, the aerospace people from the big established companies appeared to be somewhat uncomfortable with what I had to say, though the Airbus people liked it when I made it clear I thought that the U.S. should allow foreign companies to compete for American business, including government launches.
Their discomfort was best illustrated by the one question asked of me following my talk, where the questioner said that I was comparing apples to oranges in comparing a manned capsule like Orion, intended to go beyond Earth orbit, with the unmanned cargo capsules like Dragon and Cygnus, that only go to ISS. I countered that though I recognized these differences, I also recognized that the differences were really not as much as the industry likes to imply, as demonstrated for example by SpaceX's announcement that they plan to send Dragon capsules to Mars beginning in 2018. After all, a capsule is still only a capsule. The differences simply did not explain the gigantic differences in cost and development time.
I added that Orion compares badly with Apollo as well, noting that Apollo took about a third as long to build and actually cost less. I doubt I satisfied this individual's objections, but in the end I think future policy will be decided based on results, not the desires of any one industry bigwig. And in this area Orion/SLS has some serious problems. I hope when my policy paper is released in August it will have some influence in determining that future policy.
My overall impression of CNAS, the speakers, and the people who attended was somewhat mixed. Having lived in the Washington, D.C. area from 1998 to 2011, when I attended many such conferences, I found that things haven't changed much in the last five years. Superficially, everyone was dressed in formal business suits (something you see less and less elsewhere), and they also got to eat some fancy food at lunch.
On a deeper level my impressions were also mixed.

The good news was that I thought the bi-partisan nature of CNAS to be very positive, allowing for some thoughtful and open-minded discussion. It also meant that, unlike the almost poisonous partisan atmosphere of Washington that we see in the mainstream media, the atmosphere at this conference was quite congenial.
The bad news was that my impression of the topics discussed and the conclusions reached was that this still was a Washington crowd very much caught up in its own bubble and very unaware of the public's anger and fury, caused by the many bad decisions that have been made in Washington in the past few decades.
For example, when Joe Biden came out to speak the entire audience immediately stood and gave him a standing ovation, which to me seemed somewhat absurd. Then, Biden gave a typically boring and incoherent politician's speech, stringing together a series of platitudes that when taken separately might each sound nice and agreeable, but when run together made no sense at all. I wondered how many people in this audience of supposedly sophisticated policy makers realized how incoherent Biden's speech was.
Similarly, Senators Graham and Reed appeared together on a panel, moderated by Washington Post associate editor Karen DeYoung, to discuss national security and defense issues. Both senators were adamant that the U.S. military was suffering badly from sequestration, and that both were going to aggressively work to get the next Congress to end that budget control measure. Graham even went so far as to say that he would accuse anyone who disagreed with him on this issue to be "an A-hole."
At no time did the Post moderator think it necessary to note the reasons why conservatives in Congress forced sequestration and how it has actually helped to partly restrain the federal government's out-of-control budget. Nor did that reporter ever ask for any specifics from either senator on the actual harm sequestration was actually doing. Instead, it was assumed by her that the position of these two senators was correct and did not need questioning or further justification.
I noticed this pattern all day during all the presentations. The speakers and their audience had a whole range of Washington-centered assumptions about policy, and nothing that was happening in the wider nation was going to change their minds about those assumptions. In the Middle East they offered a range of reasonable tactical proposals for dealing with ISIS without once considering the wider problem of Islam itself. In discussing Asian policy they saw no option but to accept the Trans-Pacific Partnership deal negotiated by Obama. In discussing energy policy, human-caused climate change was always a given. And in discussing any budget issue, such as sequestration or an increase in funding for the military, the problem of the vast federal debt was never considered.
Nor has Trump's success as a candidate made them wonder or question their assumptions. Instead, his name was generally mentioned with derision or contempt (most often by Republican Senator Graham), followed by scattered laughter from the audience.
While I might actually agree with many of Graham's conclusions about Trump, unlike Graham I also recognize that Trump is no fool, that he has proposed some worthwhile policy proposals, and that the reason he won the Republican nomination is because the public is very unhappy with many of the policy decisions being made by the very people at this conference. The public is aware of the wider issues, and wants their government to consider them.
Rather than ask why Trump has been successful, however, this crowd was ready to dismiss him, and the people who voted for him. To give another example, consider the first panel, "The Case for Inclusivity", where four national security leaders expounded the importance of guaranteeing gender equality in the workforce, even on the battlefield. At one point one of the panelists noted that some of the gender policies that Hillary Clinton created in the State Department during her tenure as Secretary of State are now permanent and will never go away, no matter who gets elected in the future. Neither the rest of the panel nor the audience saw anything worrisome about this statement. In fact, it appeared to me that they clearly supported it.
So much for democracy and following the wishes of the electorate.
What will this elite community do should Trump win the presidency and start demanding that they do things differently? Will they recognize that we are a democracy and work with him, the elected choice of the American people, or will they resist because he isn't the politician they wanted and wants to institute policies they disagree with?
I don't want to make it sound as if everyone at this conference was unreasonable or close-minded. As I noted already, I was impressed by the effort being made by CNAS to work out bi-partisan solutions to the country's most important national security questions. Their policy papers, six of which I have now read, are thoughtful, pragmatic, and fair-minded. The problem is that they are mostly written from this moderate establishment position, which unfortunately prevents them from considering the conservative perspective that is outside that framework. It was that perspective that was central to the election victories in Congress in 2010 and 2014, and is why the two most dominate Republicans running for President were outsiders Donald Trump and Ted Cruz. That this Washington community seems so unaware of it, even after these political events, is very problematic.
Thus, I fear that the culture of Washington is becoming increasingly hostile to and insulated against the choices of the American electorate. I fear that they will one day soon decide to team up with the politicians they like to use the concentrated power we have given them in Washington to reject those choices, even to the extent of tossing out the Constitution and the democratic legal system that made the United States once the freest and wealthest nation in the history of the human race.
I hope I am wrong. I pray that I am wrong. I think we might very well find out in the coming year.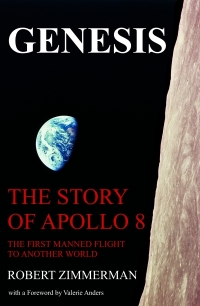 On Christmas Eve 1968 three Americans became the first humans to visit another world. What they did to celebrate was unexpected and profound, and will be remembered throughout all human history. Genesis: the Story of Apollo 8, Robert Zimmerman's classic history of humanity's first journey to another world, tells that story, and it is now available as both an ebook and an audiobook, both with a foreword by Valerie Anders and a new introduction by Robert Zimmerman.
The ebook is available everywhere for $5.99 (before discount) at
amazon
, or direct from my ebook publisher,
ebookit
. If you buy it from
ebookit
you don't support the big tech companies and the author gets a bigger cut much sooner.
The audiobook is also available at all these vendors, and is also
free with a 30-day trial membership to Audible.
"Not simply about one mission, [Genesis] is also the history of America's quest for the moon... Zimmerman has done a masterful job of tying disparate events together into a solid account of one of America's greatest human triumphs."--San Antonio Express-News