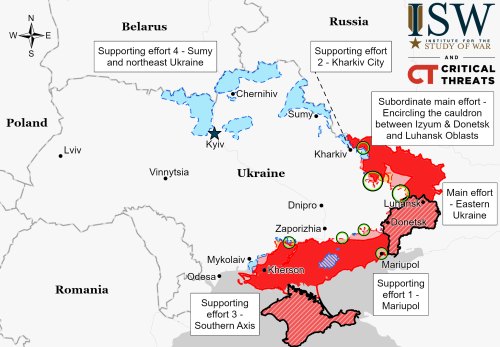 The Ukraine War as of May 5, 2022. Click for full map.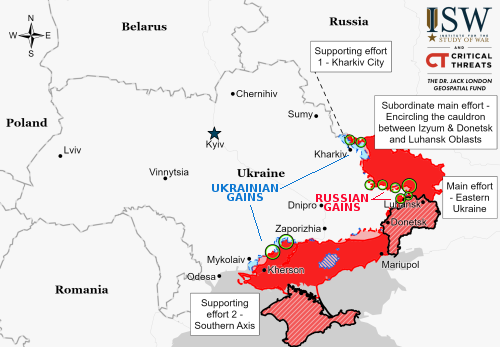 The Ukraine War as of June 6, 2022. Click for full map.
With more than three months of fighting since Russian began its unprovoked invasion of the Ukraine in late February and a full month since my last update on May 6th, it is time to do another follow-up to get a clear assessment of the war.
The two maps to the right are simplified versions of those produced daily by the Institute for the Study of War (ISW). For their full interactive version go here. The top map comes from its May 5th assessment, while the bottom map comes from its assessment on June 6th. The red hatched areas are regions Russia captured in 2014. The red areas are regions the Russians have captured in this invasion and now fully control. The pink areas are regions they have occupied but do not fully control. Blue regions are areas the Ukraine has recaptured. The blue hatched area is where local Ukrainians have had some success resisting Russian occupation.
Though the changes since early May are small, they make clear that the war's battlelines have now become very clear. While Russia is very slowly but successfully taking ground in the center regions of its invasion, the Ukraine has been just as slowly but successfully retaking territory at the invasion's outer edges.

Russia's relatively small gains in the past month appear to confirm earlier assessments that its overall war-making assets are limited. Its losses at the fringes confirm this, as it apparently does not have enough men and material to hold those fringe regions while also gaining territory at the center. Meanwhile, the Ukraine has shown that its military strength, while unable so far to recapture significant territory, is strong enough to limit Russian gains while pushing back successfully in areas where the Russians have been forced to reduce its strength in order to shore up its central campaign.
This assessment has been confirmed by military experts in both the U.S. and the United Kingdom. The UK's ministry of defense stated on June 3rd that while the Russians have successfully gained the initiative in that central campaign, "achieving tactical success," it has not been able to generate much momentum. Meanwhile an analysis by the Rand Corporation released today has a more pessimistic assessment of the Russian effort.
Russia has failed to achieve its strategic goals in the first hundred days of the war and Ukraine need not cede substantial territory to end it, William Courtney, adjunct senior fellow at Rand Corporation, told CNBC's "Capital Connection" on Monday. … "Over 100 days, the Russians have pulled back their aims at least tactically, perhaps not strategically, quite a lot. The original goal was to seize three major cities: Kyiv, Kharkiv and Odessa. Russian troops had to withdraw from Kyiv and Kharkiv. And [they] have not been able to get close to Odessa," said Courtney, who also served as U.S. ambassador to Georgia and Kazakhstan.
All signs now point to a long and brutal struggle. While it is expected by many expects that Russia will declare victory once it completes its capture of the eastern sections of the Ukraine, the Ukraine's leadership has also made it clear it has no incentive to stop fighting at that point.
We should therefore expect this war to grind on for many more months, with little sign of victory for either side.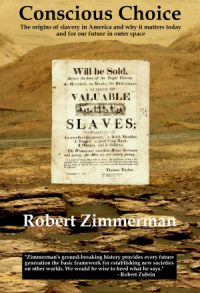 Now available in hardback and paperback as well as ebook!
From the press release: In this ground-breaking new history of early America, historian Robert Zimmerman not only exposes the lie behind The New York Times 1619 Project that falsely claims slavery is central to the history of the United States, he also provides profound lessons about the nature of human societies, lessons important for Americans today as well as for all future settlers on Mars and elsewhere in space.
Conscious Choice: The origins of slavery in America and why it matters today and for our future in outer space
, is a riveting page-turning story that documents how slavery slowly became pervasive in the southern British colonies of North America, colonies founded by a people and culture that not only did not allow slavery but in every way were hostile to the practice.
Conscious Choice
does more however. In telling the tragic history of the Virginia colony and the rise of slavery there, Zimmerman lays out the proper path for creating healthy societies in places like the Moon and Mars.
"Zimmerman's ground-breaking history provides every future generation the basic framework for establishing new societies on other worlds. We would be wise to heed what he says." —Robert Zubrin, founder of founder of the Mars Society.
All editions are available at Amazon, Barnes & Noble, and all book vendors, with the ebook priced at $5.99 before discount. The ebook can also be purchased direct from my ebook publisher, ebookit, in which case you don't support the big tech companies and I get a bigger cut much sooner.
Autographed printed copies are also available at discount directly from me (hardback $24.95; paperback $14.95; Shipping cost for either: $5.00). Just email me at zimmerman @ nasw dot org.