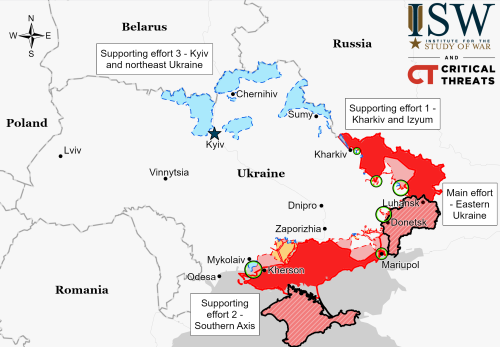 The Ukraine War as of April 9, 2022. Click for full map.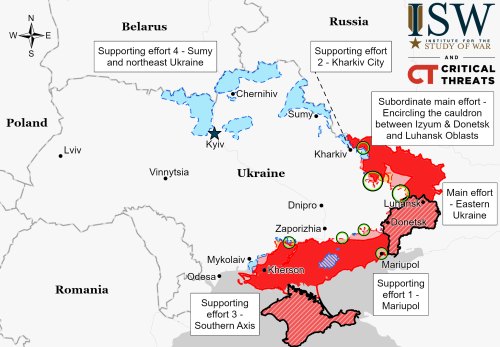 The Ukraine War as of May 5, 2022. Click for full map.
Since my last look at the state of Russia's invasion of the Ukraine on April 7, 2022, not much as happened, as indicated by the two maps to the right, both simplified versions of maps created by the Institute for the Study of War (ISW).
The red hatched areas are regions Russia captured in 2014. The red areas are regions the Russians have captured in this invasion and now fully control. The pink areas are regions they have occupied but do not fully control. The tan areas the Russians claim to control but the control remains unconfirmed. Blue regions are areas the Ukraine has recaptured. The blue hatched area is where local Ukrainians have had some success resisting Russian occupation.
Russia has now completely shifted its military resources from the north to the eastern parts of the Ukraine. As a result it has had some success firming up its control over the regions it had invaded to the north and east of the Donetsk and Luhansk regions it had grabbed in 2014. Yet, these gains were only in areas Russia had already occupied. In the past month it has almost entirely failed to invade or capture any additional territory.
Meanwhile, the Ukraine has begun to have some success in retaking territory around the city of Kharkiv. It also successfully pushed back an advance Russia attempted to the west of Donetsk. Moreover, despite repeated expectations that the full occupation of the city of Maripol would be completed a month ago, that occupation is still not complete, with resistant forces still fighting heavily in one area and thus tying up Russia forces for far longer than expected.
The May 5th assessment by ISW said this:
Russian forces continued ineffectual offensive operations in southern Kharkiv, Donetsk, and Luhansk Oblasts without securing any significant territorial gains in the past 24 hours. The Pentagon assessed that Russian forces have not been able to make further advances due to their inability to conduct offensive operations far from their ground lines of communication (GLOCs) along highways, as ISW previously assessed, and muddy terrain. … Russian forces are reportedly suffering losses in stalled attacks along the Izyum axis, with the Ukrainian General Staff reporting that elements of the 4th Tank Division and the 106th Airborne Division withdrew to Russia after sustaining heavy losses in the past several days.

Russian forces conducted unsuccessful attacks in Lyman, Severodonetsk, and Popasna, and maintained shelling along the line of contact in Donetsk and Luhansk Oblasts. Russian forces also used thermobaric munitions against Ukrainian positions in Lyman and are unsuccessfully attempting to leverage massed artillery fire to break through Ukrainian defenses.
The overall trend seems to favor the Russians. Whether it can gain more territory is unclear, but it seems that except for one area near Kharkiv it is firming up its control on the territories grabbed in early March. The question now remains: Can Russia expand its invasion, or can the Ukraine push back and force the Russians back?
Right now it looks like neither can do either, and the situation shall remain bogged down for the near future.
Readers!
In order to remain completely independent and honest in my writing, I accept no sponsorships from big space companies or any political organizations. Nor do I depend on ads.
Instead, I rely entirely on the generosity of readers to keep Behind the Black running. You can either make a one time donation for whatever amount you wish, or you sign up for a monthly subscription ranging from $2 to $15 through Paypal, or $3 to $50 through Patreon, or any amount through Zelle.
The best method to donate or subscribe is by using Zelle through your internet bank account, since it charges no fees to you or I. You will need to give my name and email address (found at the bottom of the "About" page). What you donate is what I get.
To use Patreon, go to my website there and pick one of five monthly subscription amounts, or by making a one-time donation.

For PayPal click one of the following buttons:

If these electronic payment methods don't work for you, you can support Behind The Black directly by sending your donation by check, payable to Robert Zimmerman, to


Behind The Black
c/o Robert Zimmerman
P.O.Box 1262
Cortaro, AZ 85652