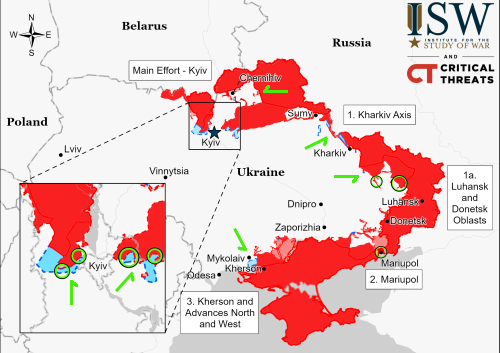 The Ukraine War as of March 31, 2022. Click for full map.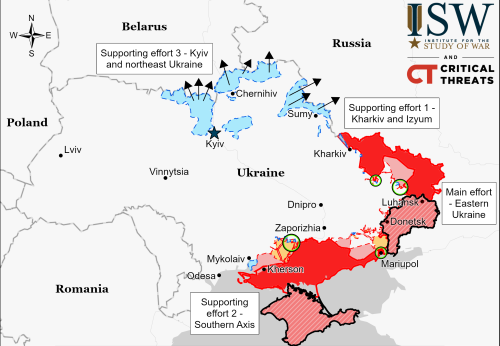 The Ukraine War as of April 7, 2022. Click for full map.
In the last week the situation in the Ukraine changed quite radically. Last week there were hints that the Ukrainians were beginning to push back successfully against the Russians, but those gains appeared small and were uncertain.
These small gains in late March are indicated by the green arrows on the first map to the right, a simplified and annotated version of the map provided on March 31, 2022 by the Institute for the Study of War (ISW). I strongly advise my readers to read their reports to get a fuller understanding of the overall the war situation. Anecdotal reports from either side do not tell you much.
The second map, published today by ISW and once again cropped and simplified by me to post here, shows starkly the retreat of Russian forces in the past week. The blue areas indicate regions now controlled by the Ukraine, with the arrows indicating the fast exit of Russian forces. The hatch-marked red areas surrounded by a black border are regions of the Ukraine captured by the Russians in 2014. The solid red areas are areas they captured in the past month and appear to still hold. The light red and tan areas are regions the Russians have entered but do not yet control with certainty.
The Russian effort to take the Ukraine entirely has clearly failed. Its gains after a little more than a month of battle are now shrinking. It has fled from Kiev so that the entire north and west of the country are no longer under attack. Though its military now claims Russia has finally taken central Mariupol in the south — after weeks of fighting — that capture is still not complete, with large sections of the city still outside of Russian control.
Meanwhile. the focus of the war shifts to the south and east, as both countries redeploy forces there. According to today's ISW report:
Russian forces are cohering combat power for an intended major offensive in Donetsk and Luhansk oblasts in the coming days. Ukrainian civil and military officials continued to warn local residents to evacuate prior to a likely Russian offensive. Russian forces will likely attempt to regroup and redeploy units withdrawn from northeastern Ukraine to support an offensive, but these units are unlikely to enable a Russian breakthrough. Russian forces along the Izyum-Slovyansk axis [circled areas just north of Luhansk] did not make any territorial gains in the last 24 hours. Russian forces are unlikely to successfully capture Donetsk and Luhansk oblasts if Russian forces in Izyum are unable to encircle Ukrainian forces on the line of contact in eastern Ukraine.
The next week will tell us whether Russia can successfully shift its effort to this region, or whether the Ukrainian forces can push back and force more Russian retreats, possibly retaking all of Russia's gains in the past month and even possibly pushing back into territories taken in 2014.
Readers!
In order to remain completely independent and honest in my writing, I accept no sponsorships from big space companies or any political organizations. Nor do I depend on ads.
Instead, I rely entirely on the generosity of readers to keep Behind the Black running. You can either make a one time donation for whatever amount you wish, or you sign up for a monthly subscription ranging from $2 to $15 through Paypal, or $3 to $50 through Patreon, or any amount through Zelle.
The best method to donate or subscribe is by using Zelle through your internet bank account, since it charges no fees to you or I. You will need to give my name and email address (found at the bottom of the "About" page). What you donate is what I get.
To use Patreon, go to my website there and pick one of five monthly subscription amounts, or by making a one-time donation.

For PayPal click one of the following buttons:

If these electronic payment methods don't work for you, you can support Behind The Black directly by sending your donation by check, payable to Robert Zimmerman, to


Behind The Black
c/o Robert Zimmerman
P.O.Box 1262
Cortaro, AZ 85652