The uncertainty of science: Regular readers of Behind the Black will know that I have made it very clear I consider the requirement to wear a mask by government officials to be an incredible and inappropriate overreach of their authority, partly because they don't have that legal right, and partly because the science is very uncertain, with some studies strongly suggesting that the mask could have serious negative health effects.
Still, the science remains uncertain. Because of this uncertainty, it seems to me in a free society, where everyone respects the idea of freedom, wearing a mask must be left up to each individual.
Sadly, the social justice warriors of our society no longer believe in freedom, and will try to shame and discredit you if you say publicly you will not wear a mask. In the past week I have had two friends tell me bluntly that they will never again be in the same room with me, because they insist that everyone should wear a mask in public, all the time. (This saddens me because I had considered them friends, and it appears those friendships are now over.) One even said "Not wearing a mask in public or with people who are not your immediate family is a true sign of disrespect for others, to put it mildly."
The context of that last quote is important. It had been triggered because I had sent out a request on our local caving listserv, looking for carpool buddies for a cave trip, and wanted everyone to know that I do not wear a mask, and that I also did not want people in my car wearing them, based on my reading of this research. I said this specifically so that those uncomfortable with my position would not be surprised by my position later. I was leaving the choice up to each person.
That wasn't enough for these petty dictators. I must obey them, or I clearly intend to infect old and sick people with COVID-19 and am evil.
That same person at first refused to read the research link above, which was a nice summary of many peer-reviewed science papers outlining the ineffectiveness and potential dangers of too-much unsterilized mask use. Instead, he researched the writer to see if he could discredit him. When he discovered that the writer was not part of the modern liberal orthodoxy, his work could now be ignored. That I even cited him also meant that I personally was now "fully discredited."
This is a typical modern close-minded debate tactic. The facts and data mean nothing. If we find we disagree with the politics of the writer, all their work and the data they gather can be discounted, forever.
Later he did read it, after probably realizing he had over-reacted. He then stated that the cited peer-review papers were all old, and therefore that justified discounting them. He did not cite newer peer-reviewed research, however, suggesting instead I read this op-ed by an AI data scientist, one of a hundred academics demanding that everyone wear masks, and that the government should require it.
That AI data scientist makes some good points, but once again, the science is uncertain, and I can demonstrate this by simply citing a different op-ed published today, written by a neurosurgeon who argues that the effectiveness of masks is unproven, that they do pose some known health risks, and that they should not be used. He also makes some good points. He is also an actual doctor, so it seems reasonable to give his opinion more weight.
Either way, it remains a he-said-she-said debate. In such a situation the individual must take personal responsibility, and be left to make the decision, for themselves. To require everyone to use masks, all the time, by force of law, is not only tyrannical, it is bluntly irrational.
And then there is the historical context of mask use. Until the revolution in medicine in the 1800s no one ever wore a mask. Then scientists learned the value of disinfection and sterility during surgical procedures. Wearing a mask in these situations made good scientific sense, especially because the mask was well-designed, sterilized, and properly used for only a short period.
For the general population, however, the idea of wearing a mask all the time was considered absurd. How could one live that way? Moreover, it was recognized that children needed to get infected to many diseases that had no cures in order to build up their immune systems. When young they can fight the disease off, and then be immune, having antibodies. If they don't get those antibodies when young, however, when they are older they will be much more vulnerable to the disease. It went without saying therefore that to force children to wear masks all the time would have guaranteed that their immune systems would grow up weak, and would leave them as adults far more vulnerable to diseases of all kinds.
This was why people would hold chicken pox parties to get their kids infected. Everyone knew that the chicken pox was harmless to kids, but deadly to adults. Give the kids a mild sickness early and you help them grow up strong.
And you also help them grow up brave. Such an approach taught them that life carries risk, but if you face it with courage, those risks are often not that scary. Confront those risks, and you will come out ahead far more often, and in the process have the chance to achieve great things. Hide in your room, and you will accomplish nothing, and lead a very sad life.
I prefer the courageous approach. I'd rather risk dying of COVID-19 then live my life in fear, afraid of my own shadow. In fact, if you live your life in fear you really are already dead.
Live bravely, and you will have the chance of achieving greatness. Just take a look at my website banner at the top of this page. Those were not fearful men.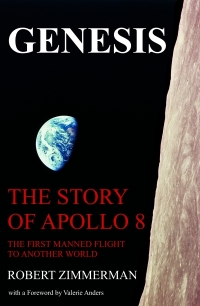 On Christmas Eve 1968 three Americans became the first humans to visit another world. What they did to celebrate was unexpected and profound, and will be remembered throughout all human history. Genesis: the Story of Apollo 8, Robert Zimmerman's classic history of humanity's first journey to another world, tells that story, and it is now available as both an ebook and an audiobook, both with a foreword by Valerie Anders and a new introduction by Robert Zimmerman.
The ebook is available everywhere for $5.99 (before discount) at
amazon
, or direct from my ebook publisher,
ebookit
. If you buy it from
ebookit
you don't support the big tech companies and the author gets a bigger cut much sooner.
The audiobook is also available at all these vendors, and is also
free with a 30-day trial membership to Audible.
"Not simply about one mission, [Genesis] is also the history of America's quest for the moon... Zimmerman has done a masterful job of tying disparate events together into a solid account of one of America's greatest human triumphs."--San Antonio Express-News