Late last night NOAA released its monthly update of the Sun's sunspot cycle, covering the period of March 2013. As I have done every month for the past three years, I am posting this latest graph, with annotations to give it context, below the fold.
While the Sun's output of sunspots increased in March, it did not do so with much vigor, with the numbers still far below all predictions while also showing an overall decline since a single strong peak in October 2011.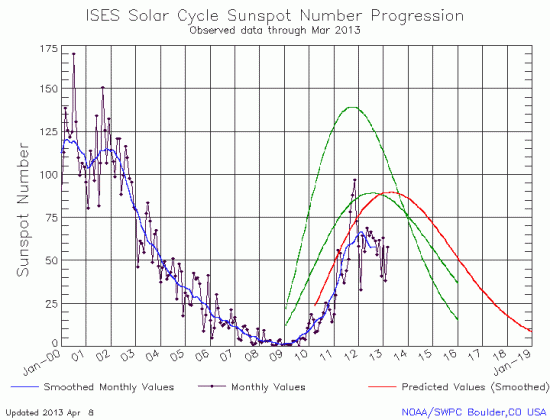 For reference, the green curves in the graph show the two original predictions of the solar scientist community from April 2007, with half the scientists predicting a very strong maximum and half predicting a weak one. The red curve is their revised May 2009 prediction.
The slight increase last month allowed the scientists at the Marshall Space Flight center to keep their prediction unchanged for the solar maximum, only the second time in eight months they have not revised and lowered their prediction. As I noted last month, since January 2012 these scientists have changed their prediction 20 times, with numbers ranging from 59 to 99. These numerous changes and their wide range so close to the actual maximum illustrates quite clearly how little they really know about the sunspot cycle and how much they are actually guessing.
The Sun could still wake up. The solar scientist community is still calling for a second peak to occur this coming fall, resulting in a double-peaked maximum. As far as I can tell, however, the only evidence they have to justify this prediction of a second peak is that in past maximums the Sun has sometimes produced a double peak. They might be right, but to my mind this isn't science but wild-eyed gambling, no different really than predicting that, just because someone else once won the lottery in the past, I might win it too!
Either way, the solar maximum will soon be over, and we will begin the steady ramp down to solar minimum and to no sunspots. The question then will be this: Will the solar cycle shut down, as it did in the 1600s, and produce another Grand Minimum lasting decades, as some solar scientists are predicting? Or will sunspots come back, and the Sun return to its days of high activity as seen through most of the 19th and 20th centuries?
Stay tuned, buckos, since an inactive Sun has also been accompanied by cold global temperatures. If the sunspot cycle shuts down, you might need that heavy winter coat, even if you live in a presently warm climate!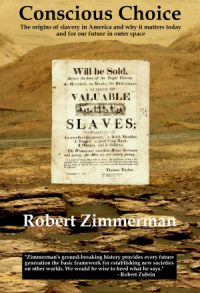 From the press release: In this ground-breaking new history of early America, historian Robert Zimmerman not only exposes the lie behind The New York Times 1619 Project that falsely claims slavery is central to the history of the United States, he also provides profound lessons about the nature of human societies, lessons important for Americans today as well as for all future settlers on Mars and elsewhere in space.
Conscious Choice: The origins of slavery in America and why it matters today and for our future in outer space
, is a riveting page-turning story that documents how slavery slowly became pervasive in the southern British colonies of North America, colonies founded by a people and culture that not only did not allow slavery but in every way were hostile to the practice.
Conscious Choice
does more however. In telling the tragic history of the Virginia colony and the rise of slavery there, Zimmerman lays out the proper path for creating healthy societies in places like the Moon and Mars.
"Zimmerman's ground-breaking history provides every future generation the basic framework for establishing new societies on other worlds. We would be wise to heed what he says." —Robert Zubrin, founder of founder of the Mars Society.
Available everywhere for $3.99 (before discount) at Amazon, Barnes & Noble, and all ebook vendors, or direct from the ebook publisher, ebookit. And if you buy it from ebookit you don't support the big tech companies and I get a bigger cut much sooner.