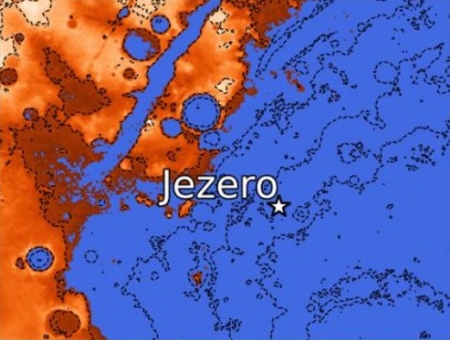 It is now time for today's virtual report from the non-existent 51st annual Lunar & Planetary Science conference, cancelled because of the terrified fear of COVID-19.
Unlike the previous three days, the bulk of the abstracts for presentations planned for today are more what I like to call "in-the-weeds" reports. The science is all good, but it is more obscure, the kind of work the scientists will be interested in but will generally hold little interest to the general public. For example, while very important for designing future missions, most of the public (along with myself) is not very interested in modeling studies that improve the interpretation of instrument data.
This does not mean there were no abstracts of interest. On the contrary. For today the most interesting sessions in the conference program centered on Mars as well as research attempting to better track, identify, and study Near Earth asteroids (NEAs).
The map above for example shows the location of Jezero Crater, where the rover Perseverance will land in 2021, under what one abstract [pdf] proposed might have been an intermittent ocean. The dark blue indicates where the topography suggests that ocean might have existed, while also indicating its shoreline. If it existed in the past, Perseverance might thus find evidence of features that were "marine in origin." This ocean would also help explain the gigantic river-like delta that appears to pour into Jezero Crater from its western highland rim.
There were a lot of other abstracts looking closely at Jezero Crater, all in preparation for the upcoming launch of Perseverance in July, some mapping the site's geology, others studying comparable sites here on Earth.
Other Mars-related abstracts of interest:

A new crater census [pdf] on Mars finds that surprisingly more craters are found in some areas of the northern lowlands than in many places in the so-called cratered southern highlands.
Computer modeling suggests [pdf] that glaciers will behavior differently in Mars' lighter gravity, thus producing features unlike what one would expect on Earth.
The Near Earth asteroid reports were equally intriguing. For example, one abstract [pdf] took a look at the ejection events that have been discovered at Bennu, finding that these events could explain the shapes of both both Bennu and Ryugu, with their thick equatorial ridge and pointy north and south poles.
Particles ejected from the mid-latitudes got into sub-orbital trajectories which tend to land nearer the equator. Particles launched from the poles migrate lower towards the equator, and particles launched near the equator tend to stay there
A different abstract [pdf] proposed that these ejection events might be caused by the stresses caused by the hot-cold temperature swings on Bennu.
We find that the magnitude of stresses induced via thermal cycling is sufficient to drive thermal fatigue in Bennu's boulders, and that layered boulder morphologies observed are consistent with fatigue-driven exfoliation. We also find that the predicted sizes and speeds of particles that may be ejected during exfoliation events are consistent with observed particle ejection events at Bennu, indicating that thermal fatigue is a viable mechanism for
generating these events and for, generally, producing asteroid activity.
Exfoliation is a geological process on Earth where layers of material break off the surface of boulders over time due to the temperature changes between winter and summer and day and night, usually related to the freezing and thawing of ice.
Another abstract [pdf] reported on radar observations on one of the four known asteroid binaries where the two objects are essentially of equal mass. The image below shows the radar images taken of asteroid 2005 UP156 on June 18, July 5, and July 7 in 2017.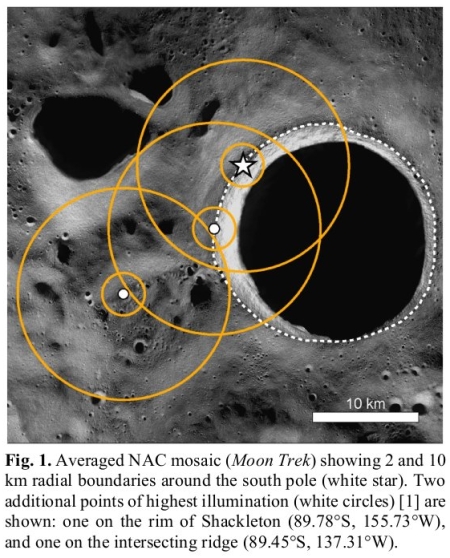 Finally, one abstract [pdf] reviewed the possibilities of moon walks during the proposed Artemis-1 manned mission to the Moon's south pole in 2024, mapping out several potential areas where the astronauts could explore.
The map to the right is taken from that abstract. The circled crater is Shackleton. The point on the crater's rim noted as a point of highest illumination is the same spot studied in an abstract yesterday of the daily illumination on Shackleton's rim.
This report also comments on the steep slopes surrounding the south pole, adding that "a rover would be a valuable asset to the Artemis mission."
Considering Congress has not yet appropriated money for the 2024 manned lunar mission, that Artemis is vastly over-budget and behind schedule, and that a rover was never included in any of this work or budget, I seriously doubt this recommendation will bear fruit, as necessary as it might be.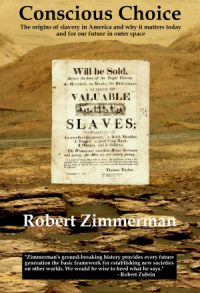 Now available in hardback and paperback as well as ebook!
From the press release: In this ground-breaking new history of early America, historian Robert Zimmerman not only exposes the lie behind The New York Times 1619 Project that falsely claims slavery is central to the history of the United States, he also provides profound lessons about the nature of human societies, lessons important for Americans today as well as for all future settlers on Mars and elsewhere in space.
Conscious Choice: The origins of slavery in America and why it matters today and for our future in outer space
, is a riveting page-turning story that documents how slavery slowly became pervasive in the southern British colonies of North America, colonies founded by a people and culture that not only did not allow slavery but in every way were hostile to the practice.
Conscious Choice
does more however. In telling the tragic history of the Virginia colony and the rise of slavery there, Zimmerman lays out the proper path for creating healthy societies in places like the Moon and Mars.
"Zimmerman's ground-breaking history provides every future generation the basic framework for establishing new societies on other worlds. We would be wise to heed what he says." —Robert Zubrin, founder of founder of the Mars Society.
All editions are available at Amazon, Barnes & Noble, and all book vendors, with the ebook priced at $5.99 before discount. The ebook can also be purchased direct from my ebook publisher, ebookit, in which case you don't support the big tech companies and I get a bigger cut much sooner.
Autographed printed copies are also available at discount directly from me (hardback $24.95; paperback $14.95; Shipping cost for either: $5.00). Just email me at zimmerman @ nasw dot org.