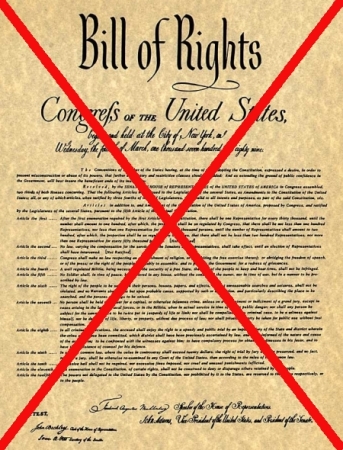 This document does not exist anymore. If you rely on its
words to defend your freedom you will lose.
This essay is not one I wish to write. In fact, I stalled for about an hour today before beginning. I am generally an optimistic person, but I also try to be an intellectually honest one. I do not shirk from bad news, but I also do not like reporting it.
Today's news is so bad it almost makes me physically sick.
On January 4, 2021, shortly before Joe Biden was officially installed as president, I wrote an essay describing that event as the "ultimate [in] Republican Party failure theater." Though that party controlled all the levels of government designed to control elections and prevent a steal, it had refused to use those tools and had allowed the very questionable election victory of Joe Biden to move forward. I concluded,
The problem will be that no future election will be trustworthy. If the Democrats had stolen the election with voter tampering, they will now know they can do it with impunity. Even if every American voted Republican, the Democrats will use this power to manipulate the totals to guarantee victory forever. They might allow some Republicans to win to create the illusion of a real election, but only for awhile. Power corrupts, and absolute power corrupts absolutely. Given such power the Democrats will eventually move to eliminate elections entirely. Why bother with the charade when they know they'll win anyway? [emphasis mine]

The election last week demonstrates we are now in the stage indicated by the highlighted words. In almost every single case nationwide this week the Democrat won the close votes, often several days later in a manner that suggested time was needed to figure out how many fake votes were needed to manufacture a victory.
In fact, for the past twenty years you could have made a lot of money betting on the Democrat in any election where the vote tally was either delayed or disputed (requiring a recount). Since Democrat Al Franken beat Republican incumbent Norm Coleman in Minnesota in 2008, when late in the recount enough Franken votes in Democratic Party strongholds were suddenly found to put Franken over the top, the pattern has been repeated over and over again. If the vote is close, suddenly a lot of questionable Democrat ballots are "discovered" and always counted. Or if the vote is close the counting process suddenly slows, or even stops, so that more time is gained to "find" more Democratic Party votes.
And in between elections the Democratic Party has aggressively resisted any reforms that would stop such abuse, with the Republicans only weakly fighting them. Thus, nothing gets fixed, and the abuse becomes more blatant and obvious from election to election, so that we have now reached a point where the Democrats always win these disputed elections. Always. Statistically, this is impossible. The results should go both ways in recounts. They haven't now for two decades.
In other words, the evidence points to Democratic Party malfeasance that is more and more in control of our government.
Worse, we are beginning to shift into the next stage, whereby elections will be abandoned entirely. The first signs occurred during this election season, when suddenly the Biden Justice Department realized it would suffer no consequence if it misused the FBI to arrest and harass its opponents. If they can do that and get away with it (as they have now apparently done), they can abuse their power to do almost anything.
However, this election tampering (and the increasing likelihood that future elections will become irrelevant) is not the worst news. The worst news is that it would not have worked if most Americans rejected it and the Democrats who are doing it. Stealing elections in a system where large numbers of people expect the results to be honest is very difficult. If the cheating becomes too large it becomes too evident, and will fail.
We must now recognize that a very large plurality of this nation's population is so enthusiastic about getting Democratic Party victories that they have no problem with election tampering. Instead, they are eager to name-call anyone who points it out as an "election denier," an ugly term expressly designed to squelch debate and any investigations.
That same plurality is also enthusiastic about blacklisting and censorship and even the arrest and imprisonment of their political opponents. In fact, many of them have made it clear that the vile misuse of the FBI by the Biden administration before the election had not gone far enough and considering its harassment of conservatives to have been too mild and wimpish.
And when election time came they enthusiastically vote in favor of such actions, thus making the cheating easier. Nor are their numbers small. In fact, in many parts of this nation these authoritarians are now the majority. The Bill of Rights is now irrelevant to them. They will ignore it now with impunity, as they did during the Wuhan panic in 2020 and 2021.
Does this mean we who love freedom and the rule of law and the essence of western civilization should give up? Should we no longer even bother voting?
No, what it means is we have to face the hard truth that we are now in a vicious war with some very vicious and vindictive people whose numbers are not small and who have many allies in power working to aid them. Good will and playing nice in any way will not work. Relying simply on legalities will not work either, as they have shown more and more that they do not think these laws apply to them.
If we wish to stop this large corrupt immoral part of our population that is all-in with dictatorship and oppression, we have to meet them on their terms, while also recognizing their strength.
Be prepared for violence. Be warned that if you speak out for freedom you now risk arrest.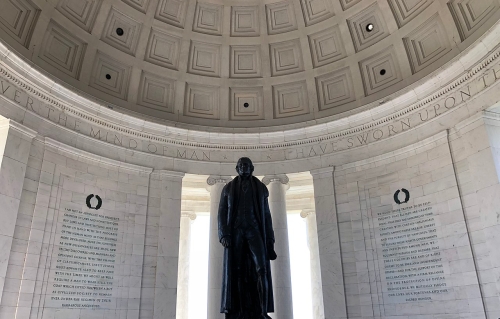 The words of Thomas Jefferson carved in the Jefferson Memorial: "I have
sworn upon the altar of God eternal hostility against every form of tyranny
over the mind of man."
But above all, be courageous and do not stay silent. Now more than ever we need people willing to yell loudly in defiance, even though the consequences might be horrible because the other side is quite willing to do evil to protect its power.
Looking the other way and going along to get along are no longer acceptable if you believe in freedom and the rule of law. No one can stand aside and say the fight is not their problem. It is everyone's problem. And if you agree with me in any way and you are still willing to look the other way or go along to get along, you are lying to yourself and instead allying yourself with the brownshirts. In fact, you are endorsing their victory.
As Thomas Jefferson said so wisely, "The tree of liberty must be refreshed from time to time with the blood of patriots & tyrants." We are fast approaching that time.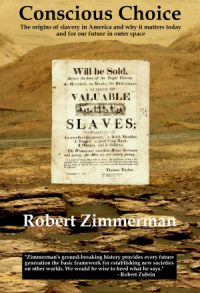 Now available in hardback and paperback as well as ebook!
From the press release: In this ground-breaking new history of early America, historian Robert Zimmerman not only exposes the lie behind The New York Times 1619 Project that falsely claims slavery is central to the history of the United States, he also provides profound lessons about the nature of human societies, lessons important for Americans today as well as for all future settlers on Mars and elsewhere in space.
Conscious Choice: The origins of slavery in America and why it matters today and for our future in outer space
, is a riveting page-turning story that documents how slavery slowly became pervasive in the southern British colonies of North America, colonies founded by a people and culture that not only did not allow slavery but in every way were hostile to the practice.
Conscious Choice
does more however. In telling the tragic history of the Virginia colony and the rise of slavery there, Zimmerman lays out the proper path for creating healthy societies in places like the Moon and Mars.
"Zimmerman's ground-breaking history provides every future generation the basic framework for establishing new societies on other worlds. We would be wise to heed what he says." —Robert Zubrin, founder of founder of the Mars Society.
All editions are available at Amazon, Barnes & Noble, and all book vendors, with the ebook priced at $5.99 before discount. The ebook can also be purchased direct from my ebook publisher, ebookit, in which case you don't support the big tech companies and I get a bigger cut much sooner.
Autographed printed copies are also available at discount directly from me (hardback $24.95; paperback $14.95; Shipping cost for either: $5.00). Just email me at zimmerman @ nasw dot org.