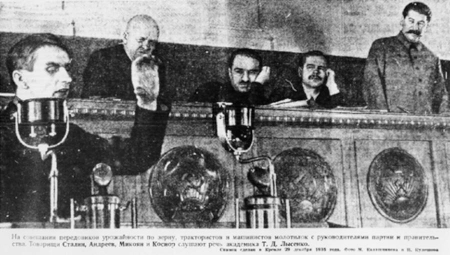 Trofim Lysenko preaching to Stalin. His policies destroyed
Soviet plant research, persecuted anyone who disagreed
with him, and caused famines that killed millions. And they are
all policies now being adopted by the American medical field.
Persecution is now cool! Last year, the University of Pittsburgh fired cardiologist Norman Wang because he wrote and published a peer-reviewed paper calling for race-neutral policies in medicine.
In addition, he was publicly denounced by the American Heart Association (AHA) and the journal retracted his paper, even though no one could cite any errors in his work.
As the criticism mounted, Wang was removed from his position as the director of a fellowship program in clinical cardiac electrophysiology at University of Pittsburgh Medical Center and was prohibited from making any contact with students. His boss reportedly told him that his classroom was "inherently unsafe" due to the views he expressed.
Unsafe, eh? Can't have those students hear any opinions or facts that might contradict the modern "woke" narrative!
Wang is suing both the AHA and the University of Pittsburgh for defamation and violating his first amendment rights. Whether he wins or not remains quite unknown, especially considering the increasingly intolerant nature of today's society.
The article at the link however goes far beyond simply telling Wang's story. First, it describes the cases of two other doctors who were forced to resign for similar reasons: they questioned the modern obsession with race and suggested that things would be far better if "race was taken out of the conversation." The mob immediately rose up against both, and their medical organization, the American Medical Association (AMA), then moved to get them fired or removed.
The article then however goes even farther, outlining how this evil oppressive blacklisting culture is beginning to have a much wider and very negative impact on the practice of medicine and the treatment of patients.

For example it cites examples where there is pressure not to focus on the treatment of a patients but to lecture them on their racial attitudes. It cites examples where in support of this new bigotry some doctors are actually declaring that
I'm not going to go treat that white guy, I'm going to treat the person of color instead because whatever happened to the white guy, he probably deserves it.
Similarly, it cites the many recent examples, especially in states controlled by the Democratic Party, where the distribution of vaccines was determined by race, with minorities getting favored treatment over whites.
In other examples it describes situations where medical students are no longer being properly educated because doctors are afraid that any criticism they make against a minority student will cause a mob to rise up against them and destroy their career.
Possibly the most frightening story however is how the medical community is beginning to mimic the academic community's decades-long blacklisting policies against anyone who dissents:
Some of these doctors say that there is a "purge" underway in the world of American medicine: question the current orthodoxy and you will be pushed out. They are so worried about the dangers of speaking out about their concerns that they will not let me identify them except by the region of the country where they work.

"People are afraid to speak honestly," said a doctor who immigrated to the U.S. from the Soviet Union. "It's like back to the USSR, where you could only speak to the ones you trust." If the authorities found out, you could lose your job, your status, you could go to jail or worse. The fear here is not dissimilar.

When doctors do speak out, shared another, "the reaction is savage. And you better be tenured and you better have very thick skin."

"We're afraid of what's happening to other people happening to us," a doctor on the West Coast told me. "We are seeing people being fired. We are seeing people's reputations being sullied. There are members of our group who say, 'I will be asked to leave a board. I will endanger the work of the nonprofit that I lead if this comes out.' People are at risk of being totally marginalized and having to leave their institutions."
Such a purge started in academia in the 1970s, and over several decades created a community of leftists that tolerated no alternative points of view. By the 2000s it was impossible to be a conservative on almost any American college campus, and if you tried you were certain to face blacklisting and eventual firing.
It now appears the left is targeting the medical community to accomplish the same thing. And it will succeed if doctors continue to bow their heads in fear and not fight back.
Readers!
My July fund-raising campaign for 2021 has now ended. Thank you all for your donations and subscriptions. While this year's campaign was not as spectacular as last year's, it was the second best July campaign since I began this website.
And if you have not yet donated or subscribed, and you think what I write here is worth your support, you can still do so. I depend on this support to remain independent and free to write what I believe, without any pressure from others. Nor do I accept advertisements, or use oppressive social media companies like Google, Twitter, and Facebook. I depend wholly on the direct support of my readers.
If you choose to help, you can contribute via Patreon or PayPal. To use Patreon, go to my website there and pick one of five monthly subscription amounts, or by making a one-time donation. For PayPal click one of the following buttons:

If Patreon or Paypal don't work for you, you can support Behind The Black directly by sending your donation by check, payable to Robert Zimmerman, to


Behind The Black
c/o Robert Zimmerman
P.O.Box 1262
Cortaro, AZ 85652