We are in a time of oppression. Make no mistake. If you publicly express an opinion that the left does not like, it is now considered perfectly reasonable among our smart set to destroy your business, dox your family, threaten your children, and have your very existence cancelled.
It is happening repeatedly now every moment of every day in communities across America. Dare to speak out against the accepted leftist mantras of the moment and you will be crushed.
Consider for example the orthodox Jewish community in New York. That city's leftist Democratic mayor, Bill De Blasio, has forbidden them to gather at funerals, has shut down their schools, and has now locked nearby playgrounds so that Jewish children cannot play safely, all in the name of supposedly saving them from the Wuhan flu.
At the exact same moment however that same leftist Democratic mayor had no objection to a gathering of tens of thousands in packed street demonstrations in favor of "Black Trans Lives Matters," a gay racist group that wants to impose its sexual and racist agenda on everyone. For some reason, De Blasio has decided that the Wuhan flu is no threat to that political movement.
Only Jews can get COVID-19, and must be protected from it, even if that protection is against their will.
The Orthodox Jews in New York have been fighting back. They have repeatedly cut the locks that De Blasio's police thugs have put on the parks, only to have De Blasio order the park gates welded shut.
Now they have gone to court to force this clear double standard to cease.

The unofficial Jewish #RESIST movement against de Blasio's seeming bigotry escalated even further on Monday with a new civil rights lawsuit, just filed against New York Gov. Andrew Cuomo, New York Attorney General Letitia James, along with de Blasio in federal court.

The NYC-based Algemeiner reports that the "lawsuit accuses the three top officials of an apparent double standard as it pertains to allowing protesters to exercise their First Amendment [rights] over the death of George Floyd." With plenty of evidence to back it up, the suit also claims that "Favored businesses, entities and activities, as well as favored mass demonstrations such as those over the death of George Floyd, are totally exempt from the challenged gathering limits." This, the suit says, "unduly burdens plaintiffs' sincerely held religious beliefs."
In a more sane America that honored our Bill of Rights, this court case would be a no-brainer, and these unconstitutional restrictions targeting specific people because of the political and religious beliefs would be stopped immediately.
But no, don't expect that. First, though the Orthodox Jewish community in New York is one of the most conservative in the city, and votes that way, they are also a tiny minority, surrounded by a vast sea of Democratic voters who approve of De Blasio's actions and who will vote for him and the Democrats again in November. Witness the size of that "Black Trans Lives Matter" protest. This tells you the size of De Blasio's support.
Second, I am pessimistic the courts will support the suit. We now have a Supreme Court, led by Trump-appointee Neil Gorsuch, which just decided by 6-3 that the word "sex" has no meaning, that anyone can assign any meaning to that word they wish. If you are born a man and want to compete against women in sports, you now can, and no one can stop you. If you are a man who likes to rape women, but declares you are really a woman who has the right to use the woman's bathroom, you now can, and no one can stop you.
This is the thinking now in our highest court, even after the appointment by Trump of two so-called conservatives who supposedly believed that it was not the place of the court to legislate.
Thus, I fully expect the courts to back De Blasio. If he wants to declare that leftwing protests are immune from COVID-19 but rightwing activities are not and should thus be banned, it is clearly within his rights. How dare anyone stop him from oppressing those he disagrees with?
And before anyone thinks my conclusion here is insane, be aware that this is exactly what has happened in Oregon. The governor there has, under her Wuhan flu emergency order, forbidden religious gatherings, and has done so even though by the very words of the state's constitution her emergency order cannot last more than 28 days. When a local judge dismissed her restrictions based on those plain words, the liberal state Supreme Court stepped in to allow her emergency order to remain in force, forever if necessary.
In Democratically controlled America today, leftwing politics always tops freedom and individual rights. Always. Freedom and rule by law is dead. We are in a time of oppression, and we wish to survive, we had better face up to that fact.
What makes this situation even more terrifying is the deep and unshakeable support this political oppression is getting from its Democratic base. For years I have pleaded with ordinary Democrats — sometimes in my writing, sometimes in person — to look honestly at their party. It is no longer the freedom-loving tolerant political movement they once thought. It is now an American-hating authoritarian monolith, striving to destroy American democracy and the Constitution for the sake of its own power.
And for years those ordinary Democrats, many of whom are personal friends or relatives, have refused to listen. Now, when the politicians of that Democratic Party are encouraging riots, looting, and even murder in the name of "Black Lives Matter," those Democratic voters are not only going along, many are going along with enthusiasm and joy.
Nor am I speaking rhetorically. I am saying this based on some very raw personal experience. Let me give you some recent examples.
In January I was considering doing a post on a cool image of some dunes on Mars. I contacted the scientist who requested the image, Matt Chojnacki of the Lunar and Planetary Laboratory at the University of Arizona, to ask him some questions. He had previously been very helpful, and had also been very pleased with my reporting, once published. I had every expectation that he would be glad to help again.
His response? "Go ahead and publish what you want. After reviewing some of the materials/links promoted on your site I am not interested in contributing." He clearly found he disagreed with my politics, and decided I must be blackballed. He has since refused to answer any emails, and I fear is likely working to get other scientists to blackball me as well.
Less than a week after this incident I received an email from a regular reader, who had for years been corresponding with Carolyn Porco, who for more than a decade had been head of the imaging team for the Cassini mission. For a planetary scientist, you can't get much higher than this.
The subject of manned space exploration, Elon Musk, and climate change came up. Porco was angered by my reader's opinion in support of Musk, commercial space, and manned space exploration. She opposed Musk's effort, and wrote, "I'm thinking about the BIG mess we have all around us and how those $$ are needed now down here on Earth."
He tried to reason with her. His words:
I work in environmental protection as a professional. If you want clean air and water, build a city on Mars where closed-loop recycling is mandatory. Almost all current treatment systems are open-loop. That technology will not stay rooted on Mars.
Her response? "Go #%*$ yourself, idiot!"
Recently, in my caving community, some high officials in the national organization had hijacked the national organization's letterhead and listserv to endorse the leftist political movement "Black Lives Matter." When several ordinary members rightly questioned the misuse of the organization's facilities, without approval, they were immediately accused of being bigoted racists, with the strong implication that they obviously wanted blacks killed by the police.
The slanders were not subtle, and it was clear that if the accusers, one of which I knew personally to be a loyal liberal Democrat, could have had their opponents kicked out of the organization and even arrested, I think they would have celebrated. How dare anyone challenge the actions or rightness of any leftwing person or political organization?
Last fall I wrote several posts critical of the movie "First Man," stating that it appeared to trivialize the Apollo 11 achievement while also apparently trying to minimize the role of America in making it happen.
I sent the link to my posts to fellow space authority Keith Cowing, who in the past I have defended when NASA tried to squelch his ability to report on the agency's bad management. I thought he might find it interesting, even though I figured he'd probably disagree based on my sense of his overall political beliefs.
His response? "Blocking you. Will complain to [my science journalist organization] if you try again."
With the Wuhan flu panic, I have had people I thought were friends accuse me of being disrespectful and willing to have people die because I do not believe a mask is useful, and in fact can be counterproductive. When I tried to present the data that backs up my position, I was immediately dismissed, and told to basically go to hell. They want nothing more to do with me, and would I think be happy if I was made a non-person.
These are only a small sampling of numerous personal experiences I've had over the past thirty years, or have been described to me by numerous other conservatives. Increasingly, the opposition to conservative and pro-American ideals has morphed from mere disagreement to outright hate and violent anger.
I face this reality every day. It is why the bulk of my writing is on this webpage, or self-published as ebooks, because doing things that way insulates me from this oppressive movement. When I have tried to work with others, I have found myself repeatedly stymied. Time after time, I have been told by others what my opinion should be, by them.
Here, they have trouble reaching me, because I am not dependent on their leftwing authoritarian surrogates at Google, Facebook, Twitter and in the editorial offices of publishers.
I also realize that my margin of safety is shrinking steadily. Without a social order that supports freedom, the ability of anyone to express dissent dies.
And while the ordinary Democrats I know personally have not yet transitioned to violence, they are clearly in support of the political movements that have made that transition. They would never commit violence, but they now have surrogates who will, and they are very committed to voting for them. Anything to get Trump out of office.
To them, persecution is now cool. It helps them obtain their political agenda, and that is all that matters. So what if the politicians they vote for run over people and destroy them along the way. They must get what they want, by any means necessary.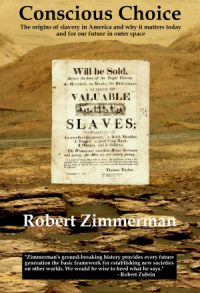 Now available in hardback and paperback as well as ebook!
From the press release: In this ground-breaking new history of early America, historian Robert Zimmerman not only exposes the lie behind The New York Times 1619 Project that falsely claims slavery is central to the history of the United States, he also provides profound lessons about the nature of human societies, lessons important for Americans today as well as for all future settlers on Mars and elsewhere in space.
Conscious Choice: The origins of slavery in America and why it matters today and for our future in outer space
, is a riveting page-turning story that documents how slavery slowly became pervasive in the southern British colonies of North America, colonies founded by a people and culture that not only did not allow slavery but in every way were hostile to the practice.
Conscious Choice
does more however. In telling the tragic history of the Virginia colony and the rise of slavery there, Zimmerman lays out the proper path for creating healthy societies in places like the Moon and Mars.
"Zimmerman's ground-breaking history provides every future generation the basic framework for establishing new societies on other worlds. We would be wise to heed what he says." —Robert Zubrin, founder of founder of the Mars Society.
All editions are available at Amazon, Barnes & Noble, and all book vendors, with the ebook priced at $5.99 before discount. The ebook can also be purchased direct from my ebook publisher, ebookit, in which case you don't support the big tech companies and I get a bigger cut much sooner.
Autographed printed copies are also available at discount directly from me (hardback $24.95; paperback $14.95; Shipping cost for either: $5.00). Just email me at zimmerman @ nasw dot org.