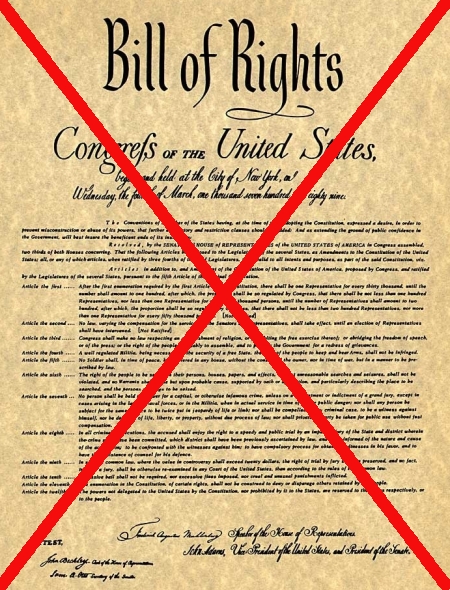 The now cancelled Bill of Rights.
They're coming for you next: The list of Americans whom the left and Democratic Party wish to blacklist just keeps getting longer. Now, in league with its chief slander organization, the Southern Poverty Law Center (SPLC), any Republican politician who wanted an investigation into the numerous and often very credible allegations of fraud and vote tampering in the November presidential election has been slated for cancelling and the destruction of their lives.
The SPLC, which has routinely slandered ordinary conservatives and organizations by falsely labeling them as a racists and hate groups merely because they believe in certain entirely mainstream positions, such as being against abortions and in favor of family rights, is now demanding the removal and deplatforming of more than half the Republicans in Congress, because they questioned that election.
The Southern Poverty Law Center (SPLC) has an answer, and it amounts to blacklisting more than half of the Republicans in Congress — if not expelling them altogether. For good measure, the SPLC also calls for the permanent social media "deplatforming" of every "public figure" who questioned the 2020 election results.

The SPLC's annual "Year in Hate and Extremism" report presented this cancel culture overdrive as the solution to "far-right and racist narratives." While the SPLC has long branded mainstream conservative and Christian organizations "hate groups," listing them alongside the Ku Klux Klan, and urging Big Tech to blacklist them, this latest cancel culture demand seems extreme, even for the SPLC.
To quote the report itself:

Hold former President Donald Trump and those who helped incite the deadly assault on the U.S. Capitol accountable. Action by the House of Representatives to impeach former President Trump was absolutely necessary to protect the future of our democracy. Now the Senate must have the courage and true patriotism to convict him and permanently disqualify him from holding public office. In addition, Congress should discipline, censure, or expel all of the 147 Senators and Representatives who supported the insurrection and baseless "Stop the Steal" lies by voting against Electoral College certification of President Biden's victory.
The above paragraph as well as the report is filled with lies, slanders, and libels against Republicans, accusing them of doing things they simply did not do, and demanded they be silenced forever for simply exercising their first amendment rights when they raised legitimate questions about the election, prompted by those allegations, none of which have yet been investigated properly.
Moreover, neither Trump nor any Republicans incited the invasion into the Capitol on January 6th. This is an outright lie. There is extensive evidence that the most aggressive attacks were planned well beforehand — plans that all mimicked standard Antifa and Black Lives Matter operations — and were irrelevant to anything Trump or any Republicans said.
More important, we are supposed to have a first amendment, which by law allows all Americans the right to say what they think, without threat or harm.
No matter. The left's effort to destroy its opponents now includes anyone who dares challenge them in any way. To their mind, if you have the nerve to express dissent, you are by definition now a hater, a racist, and a bigot. You must be hounded from public life, and if possible destroyed in every way possible.
Welcome to the future. It will only get worse, because it is clear that too many Americans don't care. The left isn't attacking them, so why should they be concerned?
Just give them time, however. They will come for you.
Readers!
Please consider donating to Behind the Black, by giving either a one-time contribution or a regular subscription, as outlined in the tip jar below. Your support will allow me to continue covering science and culture as I have for the past twenty years, independent and free from any outside influence.
Your support is even more essential to me because I keep this site free from advertisements and do not participate in corrupt social media companies like Google, Twitter, and Facebook. I depend wholly on the direct support of my readers.
You can provide that support to Behind The Black with a contribution via Patreon or PayPal. To use Patreon, go to my website there and pick one of five monthly subscription amounts, or by making a one-time donation. For PayPal click one of the following buttons:

If Patreon or Paypal don't work for you, you can support Behind The Black directly by sending your donation by check, payable to Robert Zimmerman, to


Behind The Black
c/o Robert Zimmerman
P.O.Box 1262
Cortaro, AZ 85652