They're coming for you next: In the past few days there has been a big uproar concerning the decision by Dr. Seuss Enterprises, the publisher of all of Dr. Seuss's books, to cease publication of six of Seuss's books — "And to Think That I Saw It on Mulberry Street", "If I Ran the Zoo", "McElligot's Pool", "On Beyond Zebra!", "Scrambled Eggs Super!", and "The Cat's Quizzer" — because of imagined "racist and insensitive imagery."
On its face this decision is ridiculous, especially because Dr. Suess, whose real name was Theodor Geisel, was an ardent defender of liberty who aggressively fought against bigots and Nazis and fascists his entire life.. As recently as a year ago the company that now manages his writing would have been laughed at and shamed so loudly and completely for this decision that it would have very quickly backed down.
No more. Rather than defy stupidity the world now embraces it, as indicated by Ebay's decision only two days later to ban the sale of any used copies of these books on its auction website.
Nor is this attack on great literature the only example. There are others that are not getting the same coverage that are as bad if not more egregious.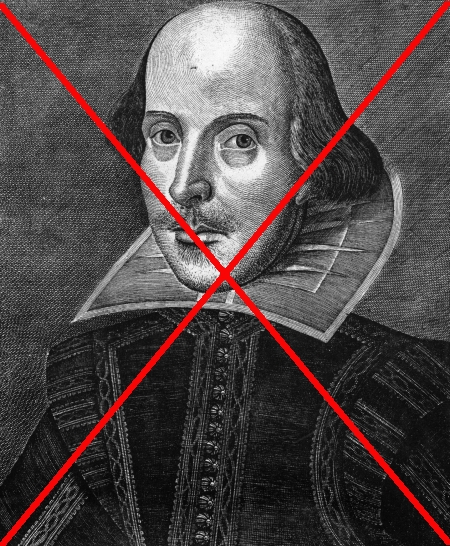 For example, there is a movement growing among leftist college professors to either ban the works of William Shakespeare or teach them solely focused on "his unwoke attitudes regarding race, sexuality, gender and class."
The School Library Journal, which describes itself as "the premier publication for librarians and information specialists who work with children and teens," joined the fight this year and offered young adult novels as alternatives to Shakespeare.

The librarians also showcased an essay questioning the contemporary value of the playwright responsible for classics such as "Hamlet," "Macbeth" and "King Lear."

"A growing number of educators are … coming to the conclusion that it's time for Shakespeare to be set aside or deemphasized to make room for modern, diverse, and inclusive voices," said the essay, titled "To Teach or Not to Teach: Is Shakespeare Still Relevant to Today's Students?"

"Educators grappling with these questions are teaching, critiquing, questioning, and abandoning Shakespeare's work, and offering alternatives for updating and enhancing curricula," it said.
All of these attacks on Shakespeare are clearly being done by people who either never read or saw any of his works performed, or if so looked at them with a closed-mind focused only on their own personal bigoted or deviant worldview.
In teenage literature reviews this year, the School Library Journal often features books wrapped up in race and "queer" or "lesbian" stories. Shakespeare alternatives celebrated by these liberal teachers and critics offer "something for all teen readers and fans of the Bard," such as a "retelling of Macbeth for the #MeToo generation," according to an article in the librarian journal.
"Educators" such as these should be fired immediately. Instead, they are now being touted as our most important literary experts.
Nor is this all. Other comparable close-minded bigots are working to eliminate the teaching of "F. Scott Fitzgerald, William Golding and other dead white male writers who long dotted high school syllabuses." This movement of prejudiced hate-mongers is also working to discredit some of Hollywood's greatest movies, forcing anyone who watches them to watch them solely from the perspective of race and gender and the evils of white oppression.
Turner Classic Movies (TCM), the WarnerMedia-owned cable channel dedicated to the loving presentation of Hollywood's cinematic heritage right from the beginning of the medium to now, has also jumped into the fray, announcing it will be dedicating primetime programming every Thursday for the month of March beginning tonight with a new series called "Reframed: Classic Films In The Rearview Mirror."

The network puts it this way: "All of the films in this series are legendary classics, but when we watch them today, we're seeing them in a different cultural context. We often see problems now that we might not have seen when they were made, whether it's about race, gender or LGBT issues. TCM's five hosts will take turns doing roundtable introductions of each of the films where they will discuss these 20th century films with a 21st century perspective. The goal is never to censor, but simply provide rich historical context to each classic."
No, the goal is not to provide rich historical context but to lay the groundwork for eventually making it entirely unacceptable to even present these movies, out of fear someone else will accuse the presenter of being a racist.
The real long term goal (now not so long term) is to create a new generation entirely ignorant of the greatness of Western Civilization, the first culture ever in human history to celebrate the freedom of the individual to independently follow his or her dreams to achieve greatness, regardless of his or her race, religion, creed, or background. Instead, these bigots want to create more bigots like them, focused only on race and sex and politics, thus unable to do anything out of fear that others might disapprove.
The danger with banning Shakespeare however remains the same as it is with banning Dr. Seuss or any great Hollywood movie of the past. It isn't that these demands for censorship are foolish and wrong, it is that our present society seems unable, unwilling, or too timid to boldly say so. Instead, it bows in fear and acquiesces eagerly to the foolishness.
For years I have written about a coming dark age, trying in vain to get Americans to recognize the trend and do something to stop it. That work was all in vain. The dark age has arrived, and can only get worse in the coming years, since there appears few who have the education or courage to withstand it.
Instead, the population is gung-ho for it. Bring on the book burnings! Ignorance is knowledge!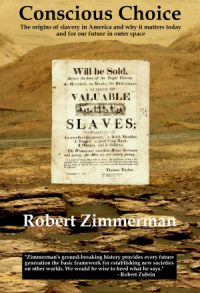 Now available in hardback and paperback as well as ebook!
From the press release: In this ground-breaking new history of early America, historian Robert Zimmerman not only exposes the lie behind The New York Times 1619 Project that falsely claims slavery is central to the history of the United States, he also provides profound lessons about the nature of human societies, lessons important for Americans today as well as for all future settlers on Mars and elsewhere in space.
Conscious Choice: The origins of slavery in America and why it matters today and for our future in outer space
, is a riveting page-turning story that documents how slavery slowly became pervasive in the southern British colonies of North America, colonies founded by a people and culture that not only did not allow slavery but in every way were hostile to the practice.
Conscious Choice
does more however. In telling the tragic history of the Virginia colony and the rise of slavery there, Zimmerman lays out the proper path for creating healthy societies in places like the Moon and Mars.
"Zimmerman's ground-breaking history provides every future generation the basic framework for establishing new societies on other worlds. We would be wise to heed what he says." —Robert Zubrin, founder of founder of the Mars Society.
All editions are available at Amazon, Barnes & Noble, and all book vendors, with the ebook priced at $5.99 before discount. The ebook can also be purchased direct from my ebook publisher, ebookit, in which case you don't support the big tech companies and I get a bigger cut much sooner.
Autographed printed copies are also available at discount directly from me (hardback $24.95; paperback $14.95; Shipping cost for either: $5.00). Just email me at zimmerman @ nasw dot org.