Much of the reporting about the war in the Ukraine has been either based on individual anecdotal events, or propaganda being churned out by both sides in an effort to influence events and public opinion to their cause.
All of this information is generally useless in determining what is really happening.
A better way to understand the actual state of the war, who is winning and who is not, is to find sources that don't look at individual events, but try to compile all the reliable and confirmed stories into an overall whole.
One source that does this routinely and with great success is the Institute for the Study of War. I have relied on their maps and reports for a clear understanding of the various Middle Eastern conflicts now for years. One week ago I posted a link to the Institute's March 9, 2022 update on the Ukraine War, because I believed it provided the best review, well documented and sourced, covering Russia's entire military operation in the Ukraine, as well as the effort of the Ukraine to fight back. At that time, the known data strongly suggested that though Russia appeared to be very slowly capturing territory, it was also meeting heavy resistance everywhere. Furthermore, Russia's effort was hampered by a lagging logistics and supply operation. All told, this data suggested that Russia's take-over of the Ukraine was going to take a lot longer than expected by Putin and his generals, and might even get bogged down into a long quagmire similar to what the Soviet Union experienced in Afghanistan in the late 1970s.
A week has passed, and the Institute has issued several updates since. By comparing today's March 17th update with last week's we can quickly get a sense of what has happened in that week.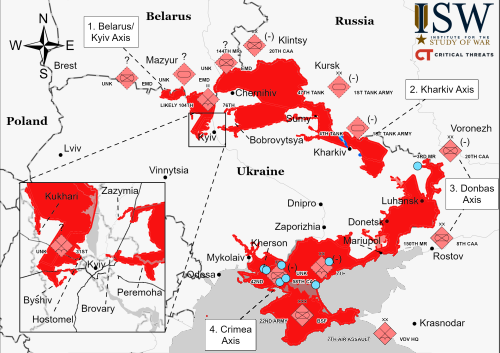 The Ukraine War as of March 9, 2022. Click for full map.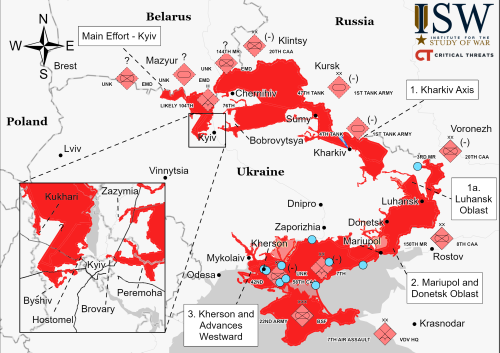 The Ukraine War as of March 17, 2022. Click for full map.
The two maps to the right are based on the Institute's "critical theater" maps included with each update. I have cropped and reduced them to post them here, as well as simplified the colors. Red indicates regions captured by the Russians. Light red are territories the Russians claim to have capture that have not yet been confirmed. Blue indicates areas of Ukrainian counteroffensives.
By comparing both, you can quickly see the Russian gains in the past week. All told, these gains have been small, and mostly confined to the southeast part of the country. Though Russia has made some tiny gains near Kiev (Kyiv), those gains have been not been significant, and suggest the battle to capture the Ukrainian capital has bogged down into house-to-house street fighting. In fact, the Institute's analysis of the Kiev battles reinforces this conclusion:
The Ukrainian General Staff reported that Russian forces unsuccessfully attempted to regain unspecified territory northwest of Kyiv on March 17 that it claimed Russian forces previously lost to Ukrainian counterattacks. [The Institude] cannot confirm the exact location of these claimed Ukrainian counterattacks. The Ukrainian General Staff additionally stated that Russian forces focused their main efforts on reconnaissance and organizing counter-battery fire on March 17—the first Ukrainian mention of counter-battery fire as an explicit Russian priority. Ukrainian forces inflicted heavy casualties on Russian forces northwest of Kyiv on March 17, forcing the 36th Combined Arms Army (CAA) to "mobilize reserves prematurely" and conducted an artillery strike on a command post of the 35th CAA roughly 35 kilometers from the Ukrainian-Belarusian border.
These maps also illustrate the most important aspect of this conflict: It is similar to most other previous European wars in that it is entirely territorial, with the conflict along somewhat distinct front lines and the status of the war determined mostly by the territory gained or lost by either side. This fact makes understanding the overall situation much simpler, despite the propaganda and the normal disinformation put forth by both sides.
Based on the front line changes in the past week, it increasingly appears that Russia's effort to conquer the Ukraine will be long, difficult, and very painful. The trend suggests that in the end Russia will achieve that take-over, but the cost might be far higher than Putin can really afford. And the strong Ukrainian resistance suggests that even if Russia ends up in charge, it will be an occupation force that will face constant opposition in all things.
All in all, a classic Pyrrhic victory. Though the war is horrible for the Ukrainians, the pain Russia will feel for its unprovoked attack on a neighbor will be well deserved. Hopefully this pain will act as a future deterrent to other authoritarian governments like China, which will likely face a similar fate if it decides to invade Taiwan.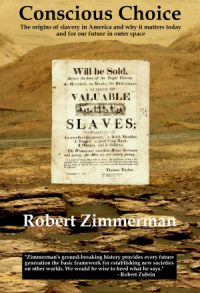 Now available in hardback and paperback as well as ebook!
From the press release: In this ground-breaking new history of early America, historian Robert Zimmerman not only exposes the lie behind The New York Times 1619 Project that falsely claims slavery is central to the history of the United States, he also provides profound lessons about the nature of human societies, lessons important for Americans today as well as for all future settlers on Mars and elsewhere in space.
Conscious Choice: The origins of slavery in America and why it matters today and for our future in outer space
, is a riveting page-turning story that documents how slavery slowly became pervasive in the southern British colonies of North America, colonies founded by a people and culture that not only did not allow slavery but in every way were hostile to the practice.
Conscious Choice
does more however. In telling the tragic history of the Virginia colony and the rise of slavery there, Zimmerman lays out the proper path for creating healthy societies in places like the Moon and Mars.
"Zimmerman's ground-breaking history provides every future generation the basic framework for establishing new societies on other worlds. We would be wise to heed what he says." —Robert Zubrin, founder of founder of the Mars Society.
All editions are available at Amazon, Barnes & Noble, and all book vendors, with the ebook priced at $5.99 before discount. The ebook can also be purchased direct from my ebook publisher, ebookit, in which case you don't support the big tech companies and I get a bigger cut much sooner.
Autographed printed copies are also available at discount directly from me (hardback $24.95; paperback $14.95; Shipping cost for either: $5.00). Just email me at zimmerman @ nasw dot org.