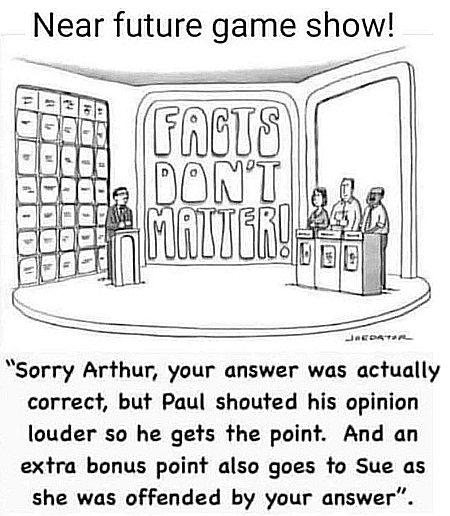 How our governments determined policy against COVID during
the past two years.
Now that the crisis of the day has shifted to the Ukraine War, bringing with it new demands by our so-called rulers to once again panic in order to begin a world war, it pays to look back at the last fake panic, what I like to call the lie that was COVID.
Below are a only few examples of the never-ending new stories daily that illustrate starkly the foolishness and the over-reaction to COVID. Take some time to read them all.
First, was COVID the deadly disease that could kill you, as claimed by our academic and political leaders? In a word, no. The two stories below simply show its harmlessness to children, something that was obvious almost from the beginning of the panic.
In the past two years anyone with any interest in the truth could have easily found and read similar stories. The threat was routinely exaggerated, sometimes to the point of faking data. These two stories are merely the tip of the iceberg. If I wanted I could add twenty, thirty, fifty more and still not list them all.
Both of these stories however illustrate the evil of the next two:
The New York petty tyrant in the first story is not alone. Democratic Party politicians nationwide, from President Joe Biden down to local school boards, have repeatedly shown themselves obsessed with putting masks on little kids, sometimes even by physical and vicious force.
As for the second story, note that it occurred two days ago in Chicago, the first day that Chicago schools had shifted to a "mask-optional" policy. Yet the teacher smacked a mask of the toddler, who ended up coming home crying. His father's reaction:

I am writing this as neutrally as I possibly can because I don't think merely posting an unbroken string of expletives will explain much to anybody, but…I am not in a congenial mood.
Read the thread at the link and you will feel the same way.
This irrational demand for the last two years to make little helpless children wear masks, when there was no chance the Wuhan flu was any threat to them, is nothing more than outright and vicious child abuse. For teachers and government officials, such as the examples above, to impose these mask mandates now, when it is clear to everyone there is no reason, is also insane.
But wait, there's more! It also appears that the masks themselves, which number now in the billions, are incredibly harmful to the environment.
The story comes from the American Geophysical Union, hardly a right wing news outlet.
The researchers observed altered behaviors in tide pool animals that appear to be associated with the chemicals leaching from disposable masks. The behavioral effects include signs of stress and reduced ability to detect mates and reproduce.

The effects could have repercussions in the marine food chain, potentially cascading up to affect the seafoods humans consume, according to the researchers who will report results from their ongoing experiments on 3 March at the 2022 Ocean Sciences Meeting, being held online from 24 February through 4 March.

"We're seeing more and more masks in rocky pools," said Laurent Seuront, a marine ecologist at the French Centre National de la Recherche Scientifique, who will present the new research. "This could cascade up the food chain and up to us."
And then there is the solid evidence from many studies that the "vaccines", mandated by governments and corporations because they supposedly protected people from getting COVID, have been completely useless in protecting anyone.
The article reviewed all 44 research papers, and concluded as follows:
What these studies show are that vaccines are important to reduce severe disease and death, but unable to prevent the disease from spreading and eventually infect most of us. That is, while the vaccines provide individual benefits to the vaccinee, and especially to older high-risk people, the public benefit of universal vaccination is in grave doubt. As such, Covid vaccines should not be expected to contribute to eliminating the communal spread of the virus or the reaching of herd immunity. This unravels the rationale for vaccine mandates and passports.
None of this should be a surprise, especially because the shots were developed quickly, were experimental, and a very big unknown. These factors should have made any vaccine mandates, from the beginning, not only irrational, but morally wrong. The decision to have such a drug injected into anyone's body must belong that individual, not some government official or corporate CEO.
Furthermore, the government's blind love affair with these experimental COVID shots made it blind and even hostile to other options, even those options that have shown solid evidence of working. Rather than look for all possible avenues to ease the epidemic, the petty dictators who now rule us picked their favorite (vaccines), and then did everything possible to outlaw the use of anything else.
All in all, the evidence continues to build that not only was COVID never the threat claimed by those who panicked over it, their response to that imagined threat was counter-productive and actually harmful, in every way that can be imagined.
This bankrupt leadership should be fired, forthwith. I wonder if Americans have the courage to do so.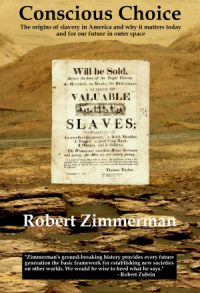 Now available in hardback and paperback as well as ebook!
From the press release: In this ground-breaking new history of early America, historian Robert Zimmerman not only exposes the lie behind The New York Times 1619 Project that falsely claims slavery is central to the history of the United States, he also provides profound lessons about the nature of human societies, lessons important for Americans today as well as for all future settlers on Mars and elsewhere in space.
Conscious Choice: The origins of slavery in America and why it matters today and for our future in outer space
, is a riveting page-turning story that documents how slavery slowly became pervasive in the southern British colonies of North America, colonies founded by a people and culture that not only did not allow slavery but in every way were hostile to the practice.
Conscious Choice
does more however. In telling the tragic history of the Virginia colony and the rise of slavery there, Zimmerman lays out the proper path for creating healthy societies in places like the Moon and Mars.
"Zimmerman's ground-breaking history provides every future generation the basic framework for establishing new societies on other worlds. We would be wise to heed what he says." —Robert Zubrin, founder of founder of the Mars Society.
All editions are available at Amazon, Barnes & Noble, and all book vendors, with the ebook priced at $5.99 before discount. The ebook can also be purchased direct from my ebook publisher, ebookit, in which case you don't support the big tech companies and I get a bigger cut much sooner.
Autographed printed copies are also available at discount directly from me (hardback $24.95; paperback $14.95; Shipping cost for either: $5.00). Just email me at zimmerman @ nasw dot org.