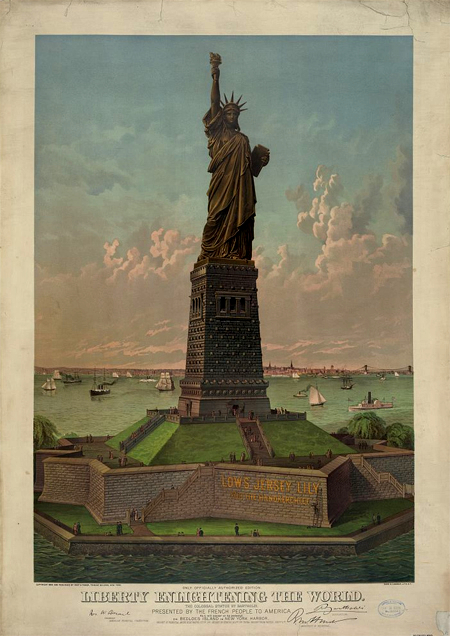 Liberty and freedom enlightening not only the world,
but the entire solar system.
Bumped: I will be out on a cave trip for most of today, September 15, 2021, so I've moved this post to the top of the page, as it clearly will be the most important space news today. I should be back before launch, but if not, enjoy!
Original post:
————————
Capitalism in space: Let's begin by underlining one fundamental fact about the Inspiration4 manned Dragon orbital space mission, targeted for a September 15th launch tomorrow evening, that makes it different from every other orbital space mission ever flown since Yuri Gagarin completed the first manned mission in 1961:
The government has nothing to do with it.
The launch facilities, the rocket, the capsule, the drone ship where the rocket's first stage will land, and the entire recovery operation in the ocean are all controlled and owned by SpaceX. The passengers are private citizens, one of whom purchased the flight directly from SpaceX.
It is was organized by 38-year-old billionaire and entrepreneur Jared Isaacman, who is also a highly-capable jet warbird aircraft pilot. When he found out from SpaceX he could be the first to fly an all-commercial mission in Crew Dragon, he fronted $100 million to $200 million required and partnered with St Jude Children's Research Hospital in a campaign to give away two of the missions seats and raise $200 Million for children's cancer research.
Every person you will see in mission control, at the launchpad, and on the recovery ships are also private citizens, working for a private company that just happens to be in the business of flying rockets, spaceships, and humans into space. None are government employees, and I would suspect that most don't want to be.
Not only is this mission privately run, its goals are completely different. While all past space launches were flown for purposes decided by the government, this mission's goals have been determined by the free participants themselves. SpaceX is making money on the flight, Isaacman and his passengers are getting the chance to fulfill their long-held personal dream of going into space, and Isaacman is also using this flight to raise money for cancer research, a personal passion of his.
The flight itself will be unusual. It will be the first manned mission in more than a decade, since the last shuttle repair mission to the Hubble Space Telescope, to not go to an orbiting space station. Instead, the capsule will spend three days free-flying in orbit around the Earth. To enhance the flight for the passengers, SpaceX removed the docking port on Resilience (the capsule) and replaced it with a viewing port with large windows.
The orbit itself will in a sense push the envelope, as SpaceX plans to loft the capsule to an altitude of about 370 miles, considerably higher than ISS's orbit of about 260 miles and about 35 miles higher than the mission to Hubble. In fact, the Inspiration4 crew will be the farthest from the Earth's surface than any human in decades, possibly going back as far as the Apollo era.
For watching this flight I have embedded SpaceX's live stream below, which you can also find here. You will also be able to find that stream at SpaceX's YouTube page, where the company is also airing preflight videos.
This mission illustrates the fundamentals that built the United States of America. Give humans freedom, don't try to tell them what to do, and they will do astonishing and magnificent things, on their own.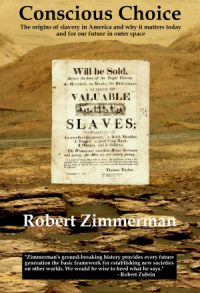 Now available in hardback and paperback as well as ebook!
From the press release: In this ground-breaking new history of early America, historian Robert Zimmerman not only exposes the lie behind The New York Times 1619 Project that falsely claims slavery is central to the history of the United States, he also provides profound lessons about the nature of human societies, lessons important for Americans today as well as for all future settlers on Mars and elsewhere in space.
Conscious Choice: The origins of slavery in America and why it matters today and for our future in outer space
, is a riveting page-turning story that documents how slavery slowly became pervasive in the southern British colonies of North America, colonies founded by a people and culture that not only did not allow slavery but in every way were hostile to the practice.
Conscious Choice
does more however. In telling the tragic history of the Virginia colony and the rise of slavery there, Zimmerman lays out the proper path for creating healthy societies in places like the Moon and Mars.
"Zimmerman's ground-breaking history provides every future generation the basic framework for establishing new societies on other worlds. We would be wise to heed what he says." —Robert Zubrin, founder of founder of the Mars Society.
All editions are available at Amazon, Barnes & Noble, and all book vendors, with the ebook priced at $5.99 before discount. The ebook can also be purchased direct from my ebook publisher, ebookit, in which case you don't support the big tech companies and I get a bigger cut much sooner.
Autographed printed copies are also available at discount directly from me (hardback $24.95; paperback $14.95; Shipping cost for either: $5.00). Just email me at zimmerman @ nasw dot org.