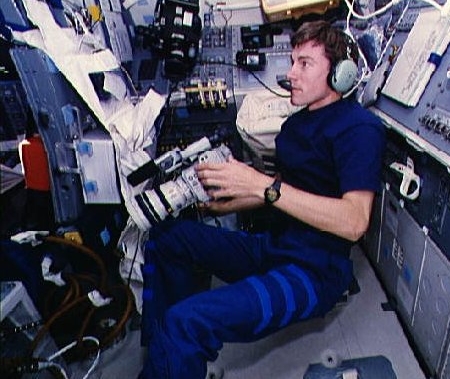 Russian Sergei Krikalev on the space shuttle, February 1994.
When in 2002 I was writing my space history, Leaving Earth, I spent more than a month interviewing Russian astronauts in Moscow. Many of those individuals had also flown on the American space shuttle during the initial Mir-Shuttle joint missions followed by the start of the assembly of ISS, which had given them a unique opportunity to get an outsider's perspective on American culture.
One man Sergei Krikalov, was especially unique. He not only was the first Russian to train at the Johnson Space Center in Houston, he was the first Russian to fly on the space shuttle, and the first to enter ISS's first module after launch. Because of that experience, he also spoke excellent English, which meant he could describe his experiences to me directly, and not through an interpreter.
When it came to American culture, he noted how as a Russian, he was appalled at the empty nature of American friendships.

To Krikalev, as well as many other Russians who came to the United States as part of the joint space program, the most negative aspect of American life was what they considered its almost superficial and shallow friendships. While Russians considered friendship intensely important, and spent years developing trust before they were willing call someone their friend, Americans could say howdy to each other, drink a beer, and consider themselves lifelong buddies. [Leaving Earth, p. 351-352]
There are some fundamental reasons for this difference, and we in America are presently finding them out, much to our grief.
In Soviet-era Russia, as well as during the rule of the Czars, you couldn't make friends easily because you didn't know who you could trust. Anyone you met could very well be an agent of the government, whose thirst for unopposed rule was unending. Or they could be a lowly snitch willing to use that information against you for their personal gain. Say the wrong thing to the wrong person and your career, your family, and your life could be destroyed.
So Russians took care who they spoke to. They spent time carefully and gingerly testing the waters with each new acquaintance, making sure this person was of like mind and, more importantly, not one to snitch. Friendships made under these conditions were therefore few, but they were firm, long-lasting, and dependable to a fault.
Americans however had no such fears. Raised in a free society where they, the citizens, were the rulers, meant that snitches had no power over them. Moreover, no one they met desired to rule over them. Everyone was free and equal, and recognized they had no right to dictate how others lived their lives. To try to do so was fundamentally immoral.
Friendships were therefore easy and quick to form. Everyone knew that they could generally trust everyone they met, on these very basic levels.
Sadly this situation in American appears to be ending. We are no longer citizens in a free society. We now have masters, a leftist ruling class of totalitarians. They do not tolerate dissent. They do not permit opposition. If you have a job and must keep it in order to feed your family, you must be very careful who you express your political ideas to, because if you say something wrong to the wrong person, that livelihood could quickly vanish as a leftist Twitter mob descends upon you and your employers.
I've already seen this happening among my own friends. Where we once had happy get-togethers to talk about life, caving, even politics, without fear, it now appears that this is really no longer possible, even if the Wuhan flu did not exist. Too many of my friends are afraid, and now will no longer speak their minds freely, because they have no idea who will report them to the wrong people.
Maybe they are right. Maybe it makes sense to from now on pick our friends carefully, like the Russians did. Otherwise we will not survive. The petty but oh-so-powerful dictators who rule us — along with the sneaks that work for them — will not abide such wrong-speak and the people who speak it. They will immediately take action to squelch it.
Or maybe we are not yet in that dictatorship. Maybe we can still forestall it. To do so however it will take courage and a willingness to take terrible risks, because we are now so close to having such a totalitarian society. It will require ignoring the snitches and bullies who are now temporarily in charge. Ignore them when they scream at you for not wearing a mask. Ignore them when they conjure up a Twitter mob to get you fired or have your business shut down. Ignore them by doing exactly the opposite of what they demand.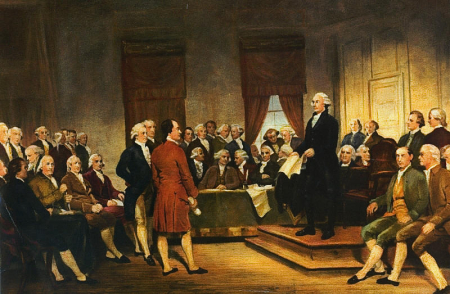 A few guys willing to stand up for freedom.
Don't apologize to them. Don't bow to them. Don't cower in fear of them. Tell them to their face that they are fascist bullies, and you will not obey them. Let them scream.
Do what you think is right, and to hell with them.
If more of us exhibit this courage, then maybe they will finally begin to back off and let us live free again. More important, we shall find out quickly who our real friends are. And making reliable allies in this time of trouble is a very good thing.
If we continue to cower in fear and not stand up for our rights, however, the future looks quite dim. We will all face a dark narrow future, where are friends are few, our options are limited, and our enemies many. And freedom will then surely die.
That's not what I want. I pray that others agree.
Stand up for freedom, now. It really is the most precious possession you have.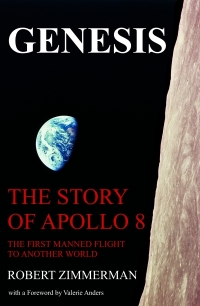 On Christmas Eve 1968 three Americans became the first humans to visit another world. What they did to celebrate was unexpected and profound, and will be remembered throughout all human history. Genesis: the Story of Apollo 8, Robert Zimmerman's classic history of humanity's first journey to another world, tells that story, and it is now available as both an ebook and an audiobook, both with a foreword by Valerie Anders and a new introduction by Robert Zimmerman.
The ebook is available everywhere for $5.99 (before discount) at
amazon
, or direct from my ebook publisher,
ebookit
. If you buy it from
ebookit
you don't support the big tech companies and the author gets a bigger cut much sooner.
The audiobook is also available at all these vendors, and is also
free with a 30-day trial membership to Audible.
"Not simply about one mission, [Genesis] is also the history of America's quest for the moon... Zimmerman has done a masterful job of tying disparate events together into a solid account of one of America's greatest human triumphs."--San Antonio Express-News