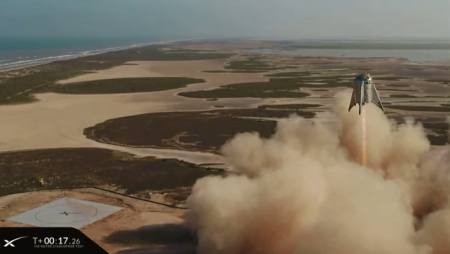 Click for full image.
Captalism in space: While most news reports (including mine yesterday) have focused on the spectacular 150-meter flight of Starhopper, the real story here is the Raptor engine. As one of my readers said most succinctly in a comment:
As impressive as the flight was, there is so much more going on here. This is the most efficient rocket engine ever, with all fuel and LOX running through the combustion chamber – including exhaust from the turbopumps. The Russians tried it, and NASA tried it, but this is the first time such a design has flown. It's also the first major engine using methane, so SpaceX is learning all the ground support processes for storing, fueling, and detanking methane (mostly) safely. (Still causing grass fires at launch…) They're aiming for production cost below $2M per Raptor, and they're about ready to go full production on the engines, around 500 engines per year.
In fact, Musk himself reveals the truth of Diane Wilson's comment in a tweet, found in this news story about yesterday's flight:
Starhopper's flying days may be done, but the stubby prototype will be retasked rather than put out to pasture.

"Yes, last flight for Hopper. If all goes well, it will become a vertical test stand for Raptor," Musk said via Twitter on Saturday.
In a sense, yesterday's flight was no different. Starhopper was essentially a flying test stand for Raptor, which is in itself an incredible concept, when you think about it. Now it will continue to be used as a test stand, but will no longer fly.
I have been told by rocket engineers more than once that you need to build and test your engine before you can really start your rocket design. Once you know its capabilities you can then design and construct the rocket.
This is why Virgin Galactic's SpaceShipTwo has generally been a failure. They built the ship before the engine, and when the engine had issues they had to improvise redesigns that have limited the ship's capability and seriously delayed its launch.
SpaceX now has its engine ready. Construction on its two prototype Starships, in Boca Chica and Florida, will now proceed quickly. Based on how quickly it took SpaceX to do the first Starhopper test flights (announced in late 2018 and flying in about eight months), expect test flights within six to eight months. (Note that in this last link I expressed doubt they could get those Starhopper flights off in 2019. SpaceX proved me wrong.)
Finally, a minor news note: SpaceX today successfully brought a Dragon cargo capsule back to Earth after a month at ISS, completing its third flight in space. That this multi-use flight is hardly mentioned in the news illustrates how far SpaceX has reshaped space engineering in only a few years.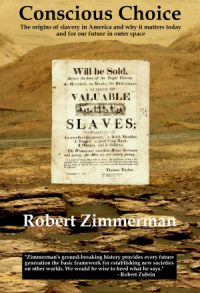 Now available in hardback and paperback as well as ebook!
From the press release: In this ground-breaking new history of early America, historian Robert Zimmerman not only exposes the lie behind The New York Times 1619 Project that falsely claims slavery is central to the history of the United States, he also provides profound lessons about the nature of human societies, lessons important for Americans today as well as for all future settlers on Mars and elsewhere in space.
Conscious Choice: The origins of slavery in America and why it matters today and for our future in outer space
, is a riveting page-turning story that documents how slavery slowly became pervasive in the southern British colonies of North America, colonies founded by a people and culture that not only did not allow slavery but in every way were hostile to the practice.
Conscious Choice
does more however. In telling the tragic history of the Virginia colony and the rise of slavery there, Zimmerman lays out the proper path for creating healthy societies in places like the Moon and Mars.
"Zimmerman's ground-breaking history provides every future generation the basic framework for establishing new societies on other worlds. We would be wise to heed what he says." —Robert Zubrin, founder of founder of the Mars Society.
All editions are available at Amazon, Barnes & Noble, and all book vendors, with the ebook priced at $5.99 before discount. The ebook can also be purchased direct from my ebook publisher, ebookit, in which case you don't support the big tech companies and I get a bigger cut much sooner.
Autographed printed copies are also available at discount directly from me (hardback $24.95; paperback $14.95; Shipping cost for either: $5.00). Just email me at zimmerman @ nasw dot org.