Today's blacklist column is a follow-up of an earlier column from August 2022, when I provided a detailed list of the various legal non-profit firms that now take on cases to defend the blacklisted. The number of such firms has grown, and I decided it was time to provide a new more complete list.
These non-profit law firms are all dedicated to fighting the left's shameless effort to illegally and immorally blacklist, blackball, censor, and destroy its opposition, and have been increasingly successfully in winning their cases. The list, though obviously not all inclusive, describes what appear to be the most active and successful non-profit law firms presently winning first amendment cases nationwide. (Note too that the ACLU is not on the list, as that organization a long time ago abandoned its foundational goal of protecting free speech and has instead become an agent acting to increase the left's power over ordinary citizens.)
In choosing among these law firms, make sure you review their entire website and the many cases they are handling. Some firms might be less appropriate for your situation, and it is necessary on your part to do the due diligence to figure this out.


The Alliance Defending Freedom (ADF)
The ADF appears to be the most active of all these new organizations. Time after time in my reports it shows up as either the law firm handling a new lawsuit, or as the winner of a new victory. It also appears willing to take the widest range of cases. From its website:
ADF is the world's largest legal organization committed to protecting religious freedom, free speech, the sanctity of life, parental rights, and God's design for marriage and family.

We were launched in 1994 by leaders in the Christian community. While many of our clients are Christians, we've also defended the rights of Jews, Muslims, Mormons, Jehovah's Witnesses, and people of no faith. Religious freedom is for everyone. In our campus free speech work, we've represented students of varied religious faiths as well as libertarian, conservative, pro-life, pro-conservationist, and LGBT students. And outside the United States, ADF International has worked to stop genocide against Christians, Yazidis, Shia Muslims, and other religious minorities.
If you think after reviewing ADF's webpage it can help you, you can submit a request for help here.

First Liberty has also been quite successful and aggressive in winning cases involving violations of the First Amendment specifically focused on religious liberty. From its website:
First Liberty Institute is the largest legal organization in the nation dedicated exclusively to defending religious liberty for all Americans. We believe that every American of any faith—or no faith at all—has a fundamental right to follow their conscience and live according to their beliefs.

Our nation's Founding Fathers established this right as our First Freedom nearly two and a half centuries ago, and we intend to keep it that way.
You can submit a request for help here.

The Institute for Free Speech (IFS)
IFS is specifically focused on defending free speech, essentially taking the place of the ACLU, which abandoned that cause decades ago. From its website:
The Institute for Free Speech promotes and defends the First Amendment rights to freely speak, assemble, publish, and petition the government through strategic litigation, communication, activism, training, research, and education. Our dedicated professional staff works tirelessly to protect political speech under these freedoms guaranteed by the First Amendment. We are the nation's largest organization dedicated solely to protecting First Amendment political speech rights.

Free political speech guaranteed by the First Amendment is the most important right. It is the right that allows citizens to criticize, challenge, and ultimately improve their government. Despite its importance, the Institute for Free Speech is the only organization with a dedicated professional staff and mission seeking to promote and defend American citizens' First Amendment political speech rights.
If this firm is appropriate to your case, you can submit a request for help here.

The Thomas More Society is one of the older of these law firms, founded in 1997 to successfully fight a class action lawsuit by NOW and others in the abortion industry that attempted to block the release of documentary against abortion. Since then it has widened its focus. From its website:
The Thomas More Society is a not-for-profit, national public interest law firm dedicated to restoring respect in law for life, family, and religious liberty. Based in Chicago, the Thomas More Society defends and fosters support for these causes by providing high quality pro bono legal services from local trial courts all the way to the United States Supreme Court.
For example, the society now has departments specifically dedicated to fighting the COVID mandates.
Requests of legal representation can be submited here.

Liberty Counsel was the law firm that recently won the $10 million lawsuit for 500 fired healthcare workers. Its main focus is that of a Christian ministry dedicated to advocating that view to the world. However, it also considers that advocacy to include the strong defense through litigation of religious liberty. From its website:
Natural laws are laws that transcend time, cultures and political institutions. The Declaration of Independence recognizes those laws as "laws of nature and of nature's God." The first rights recognized by the First Amendment of the United States Constitution are the freedom of religion and speech.

Religious freedom, often referred to as the free exercise of religion, is a natural right and is part of the inalienable rights affirmed by the constitutions of the United States and every one of the states. Liberty Counsel advances these liberties on behalf of pastors, churches, ministries, corporations, students, teachers, parents, and others.

Liberty Counsel advances religious freedom by advocating, supporting advancing and defending the good news about Jesus Christ. Liberty Counsel works collaboratively with churches and provides counsel and legal representation on issues consistent with our mission and values.

Liberty Counsel attorneys have represented clients before the United States Supreme Court, federal courts of appeal, federal district courts, state supreme, appellate, and trial courts, and administrative agencies, and have spoken or testified before Congress, state legislative committees, and in local government meetings.
The submission form for requested help is found here.

The Wisconsin Institute for Law and Liberty (WILL)
Though dedicated to a wide range of issues defending "the rule of law, individual liberty, constitutional government, and a robust civil society," unlike the other law firms above WILL is mostly focused on defending those rights within the state of Wisconsin. That focus however has made it extremely successful in shifting the policy and government of Wisconsin away from the left's oppressive policies. From its website:
Before the formation of the Wisconsin Institute for Law & Liberty ("WILL") in 2011, conservatives and libertarians in Wisconsin were severely outnumbered in the legal arena. One report estimated that the left could call upon the services of five public-interest law firms with estimated annual budgets of $7 million. Those forces were opposed by only one conservative organization with a part-time lawyer and a budget of less than $60,000.

…After our first decade, we have become one of the largest state-based litigation centers in the country, with a lengthy string of victories in state and federal court. In addition, we are now the most active and influential free market policy organization in the state of Wisconsin. These groups are commonly known as "think tanks" – and we certainly believe that thought is important. But reflection must lead to action, and based on our litigation, policy output, and ability to move the needle, we might more accurately be called a "do tank."
Despite the localized nature of its focus, WILL has repeatedly shown up in nationally covered stories. Its ability to shift the debate across the entire U.S. has been quite astonishing.
You can submit your request for help here.

New Civil Liberties Alliance (NCLA)
Like the other law firms above, NCLA is focused on defending the constitutional freedoms of Americans, though its focus appears aimed more at what it calls "the administrative state." From its website:
NCLA views the Administrative State as an especially serious threat to constitutional freedoms. No other development in contemporary American law denies more rights to more Americans. Although Americans still enjoy the shell of their Republic, there has developed within it a very different sort of government—a type, in fact, that the Constitution was designed to prevent. This unconstitutional administrative state within our U.S. government is the focus of NCLA's concern. NCLA urges Americans to recognize the administrative threat and join our civil liberties movement against it.

NCLA files original lawsuits and amicus curiae briefs asking judges in state and federal courts to overturn unlawful and unconstitutional actions by federal agencies that violate people's civil liberties. These cases cut across multiple state and federal agencies and fall into one of seven problem areas where administrative power tends to evade the U.S. Constitution's permitted avenues of control: (1) Administrative controls on free speech; (2) Agencies operating outside the scope of their statutory authority or using improperly divested legislative power (Nondelegation); (3) Judicial deference to administrative agencies (Chevron and its ilk); (4) Unlawful administrative searches; (5) Due process violations, especially in administrative adjudications; (6) Guidance abuse; (7) Spending conditions that purport to bind conduct.
Its website does not appear to have a page to submit an application for legal help. If you think your case fits NCLA's focus, contact information however can be found here.

Speech First, is a bit different than legal firms on this list. Instead of being simply a law firm dedicated to fighting constitutional violations, it is a member organization designed to bring together like-minded people freedom-lovers, providing them aid and support, including legal help. It does not appear there is any fee to join. If you are a college student and a member of Speech First, it will act as your representative should you find your free speech rights under attack on campus. From its website:
By coming together, we've created a nationwide community of free speech supporters to reassure students that they won't fight these cases alone and that they'll be supported every step of the way: on campus, in the media, and in court. We're a membership association of students, parents, faculty, alumni, and concerned citizens who've had enough of the toxic censorship culture on college campuses, and who want to fight back.

We believe that free and open discourse is an essential component of a comprehensive education. We are committed to restoring the freedom of speech on college campuses because we believe that by exposing students to different and challenging ideas, they will emerge stronger, smarter, and more resilient.

Speech First will protect students' free speech rights on campus. Through advocacy, litigation, and education, we will put colleges and universities on notice that shutting down unwanted speech will no longer be tolerated.
The organization has also gone to court to defend students' rights on campus. I suspect if you are not a member but have found your free speech rights violated on campus, it will still be very interested in hearing from you. A tip line is provided here.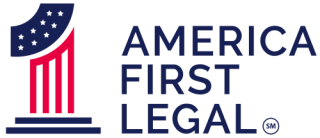 America's First Legal (AFL) appears to have a more wide-ranging purpose than many of the other law firms on this list, using lawfare to fight the blacklisting culture on a number of political fronts. From its mission statement:
The radical left is using its power inside and outside of the government to destroy our country. It is opening America's borders, shutting down American energy, trying to take over American elections, and violating the fundamental civil rights of the American People.

At America First Legal, we are building a team of some of the nation's best legal, political, and strategic thinkers to challenge this lawlessness at every turn. We will use every legal tool at our disposal to defend our citizens from unconstitutional executive overreach. We will also stand up against corporations that restrict free speech and violate our citizens' civil rights.

We are committed to fighting for all Americans–regardless of race, color, religion, or creed. We will defend the rights of all Americans from attacks by anyone, in any party, who would seek to attack their freedom, their dignity, and their equal rights under the law.
If you think after reviewing AFL's webpage it can help you, you can send them a description of your situation here.

The Liberty Justice Center is similar to the ADF, in that it takes on a wide range of cases involving violations of the rights of Americans, covering as its website outlines "government overreach, free speech, school choice, and workers' rights." From its about page:
Our groundbreaking lawsuits stake out Americans' constitutional rights. In 2018, Liberty Justice Center restored the First Amendment rights of more than 5 million public employees in the landmark U.S. Supreme Court victory in Janus v. AFSCME. This decision determined that government employees no longer have to pay union dues or fees to government unions they don't believe in and which take positions with which they disagree.

Our talented attorneys also fight to protect students, families, entrepreneurs and other Americans whose fundamental constitutional rights have been violated.
If you think LJC is right for you, you can submit a request for help here.

Health Freedom Defense Fund (HFDF)
Though the Health Freedom Defense Fund (HFDF) is focused on defending the rights of Americans to have freedom of choice when it comes to health issues, there is a great deal of overlap between the legal cases it takes on and those defended by other legal firms on this list. From its mission statement:
At Health Freedom Defense Fund, we stand for freedom, we stand for choice, and we stand for the most basic of human rights, bodily autonomy.

HFDF asserts that no person, business, institution, organization, or government has the right to force a person to put something into their body against their will. If any of those entities have or claim that power, we are not free and we do not live in a decent, moral, or just society. As has been agreed by all free nations for decades, the practice of ethical medicine requires prior, voluntary, and informed consent. Period.
Thus, many of HFDF'S recent cases have focused on fighting the various COVID jab and mask mandates. If you have found yourself blacklisted because of your personal health choices, HFDF might be the right the legal firm for you. You can contact them here.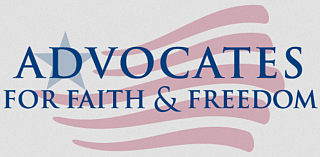 Advocates for Faith & Freedom (AFF)
Advocates for Faith & Freedom is very similar to First Liberty, in that its focus is religious freedom and defending those whose ability to practice their faith has been threatened. From its website:
Advocates for Faith and Freedom's purpose from its founding has been to serve as a nonprofit legal ministry dedicated to protecting religious liberty in the courts. This firm subsequently engages in cases that deal with important religious liberty issues that deserve to be heard by our nation. Our attorneys and staff are dedicated to the mission of the organization, regularly teaming up with allied attorneys nationwide to achieve this mission.
You can contact them here.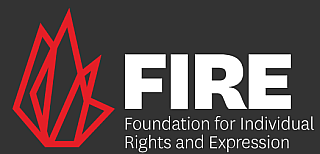 Foundation for Individual Rights and Expression (FIRE)
Last but not least is the Foundation for Individual Rights and Expression (FIRE) (previously called the Foundation for Individual Rights in Education). Founded in 1999 to defend free speech on college campuses, in 2022 it changed its name to expand "its mission to include the defense of free expression across the United States." In many ways FIRE was the first organization to replace the ACLU when that non-profit law firm stopped defending the First Amendment and became a partisan leftist advocate in the 1990s. From FIRE's mission statement:
Freedom of speech is a fundamental American freedom and human right. It is essential for democracy, scientific progress, artistic expression, social justice, peace, and our ability to live as authentic individuals.

Yet, across our nation, this cornerstone of our free society is under serious threat. Far too many of us fear sharing our views or challenging those that seem to dominate. Nearly 6-in-10 Americans believe our nation's democracy is threatened because people are afraid to voice their opinions.

FIRE therefore defends and promotes the value of free speech for all Americans in our courtrooms, on our campuses, and in our culture. Our vision is an America in which people overwhelmingly believe in the right of others to freely express views different from their own, and expect their laws and educational institutions to reflect and teach this belief.
You can submit your case to them here. Because it has been around the longest, FIRE has in many ways had the most impact in this battle. That so other non-profit free speech law firms now exist simply illustrates that it is no longer possible for one organization to fight the battle. The freedom of Americans is being abused on too many fronts, which is why today's fight for freedom requires many legal warriors.
Summary
If any of my readers know of other non-profit law firms that are defending freedom in similar ways, please provide that information in the comments below. I will make sure to include them in future updates, as this list is certain to grow in the coming years, as the rise of today's illegal blacklist culture makes the need for such legal firms a growth industry.
That growth also tells us that Americans are increasingly willing to fight, and fight hard, for their rights. The bullies who decided since 2020 that those rights no longer existed are only beginning to find out the cost of that arrogance. These law firms, combined with the courage of many Americans, can make that cost high in the coming years.
I will say it again: Americans have got to stop running and begin fighting. The reason the blacklist culture of the left has been so fearless in its oppression in the past few years is because it has not been challenged much by ordinary Americans. Too often Americans have looked the other way — out of fear or apathy — when these thugs moved in to destroy someone less.
This fear and apathy must end. If you are involved in a situation that might be applicable to any of the goals of any of these law firms, don't sit home, do nothing, and accept defeat. Let them know. Because these freedoms are so thoroughly enshrined in American jurisprudence, the odds of winning in court is very very high.
But you can't win if you don't fight. It is time to fight, at all levels.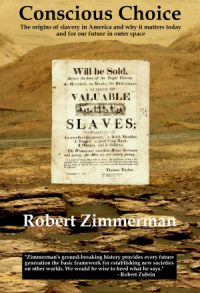 Now available in hardback and paperback as well as ebook!
From the press release: In this ground-breaking new history of early America, historian Robert Zimmerman not only exposes the lie behind The New York Times 1619 Project that falsely claims slavery is central to the history of the United States, he also provides profound lessons about the nature of human societies, lessons important for Americans today as well as for all future settlers on Mars and elsewhere in space.
Conscious Choice: The origins of slavery in America and why it matters today and for our future in outer space
, is a riveting page-turning story that documents how slavery slowly became pervasive in the southern British colonies of North America, colonies founded by a people and culture that not only did not allow slavery but in every way were hostile to the practice.
Conscious Choice
does more however. In telling the tragic history of the Virginia colony and the rise of slavery there, Zimmerman lays out the proper path for creating healthy societies in places like the Moon and Mars.
"Zimmerman's ground-breaking history provides every future generation the basic framework for establishing new societies on other worlds. We would be wise to heed what he says." —Robert Zubrin, founder of founder of the Mars Society.
All editions are available at Amazon, Barnes & Noble, and all book vendors, with the ebook priced at $5.99 before discount. The ebook can also be purchased direct from my ebook publisher, ebookit, in which case you don't support the big tech companies and I get a bigger cut much sooner.
Autographed printed copies are also available at discount directly from me (hardback $24.95; paperback $14.95; Shipping cost for either: $5.00). Just email me at zimmerman @ nasw dot org.