Faced with a gigantic $1.6 billion budget deficit, last month Alaska's Republican governor, Mike Dunleavy, used his line item power to veto about $444 million from the state's total budget of $8.3 billion. Among those cuts included an unprecedented almost 41% cut in the state's university system.
Understanding the background for these cuts is not something easy to pin down in today's partisan press. I first came across the story today in this Nature article, clearly written to lament the cuts and the harm they will do to education and science. This quote will give you the flavor:
Researchers are waitivng anxiously to see how university administrators will apply the cuts, which could fundamentally reshape science in the state — including UA's world-class Arctic and climate research programmes. The first hint came on 30 July, when the university's governing board voted to consolidate the system's three main branches — in Anchorage, Fairbanks and Juneau.

"It's awful," says Milligan-Myhre. "I had to turn away a student planning on starting in the fall because I just don't know what the department or his degree would look like in a year or two." She's also encouraging her current students to graduate as soon as possible.
The problem with the article is that it gave literally no background into the cuts, and Dunleavy's reasoning for doing them, a example of today's typically bad journalism. We might justly oppose these education cuts, but before we as sane citizens can do that we must at least understand why they are being made. Nature failed to give us that information, and instead spent its time propagandizing for the blind spending of money for education.
I started doing searches on the internet to find out some background information. (More on that experience later.) Most of the articles were very superficial, though this article at least outlined the difficult budget situation faced by Dunleavy.
After a lot of searches on two different search engines requiring me to dig down several pages on both, I finally found this article at U.S. News & World Report that outlined in a very non-partisan way the issues.

Non-partisan is important here, because this battle isn't a typical big-spending Democrat vs fiscally conservative Republican story. In fact, practically everyone here is being driven by irresponsible greed, including the voters.
It seems that since the 1980s the state government has used the money it was getting from the state's oil revenues to give every citizen a yearly check, called the Permanent Fund Dividend (PFD). In recent years however that oil revenue has plummeted. Alaskan politicians were thus faced with a choice of either reducing/ending the PFD, raising taxes, or cutting services. In 2014 Governor Bill Walker, an independent, choice the first option.
Most notably, Walker reduced the amount Alaskans received from the Alaska Permanent Fund Dividend in 2016, 2017 and 2018, enraging many Alaskans and inviting a state Supreme Court challenge from a Democratic state senator. That challenge failed, leading to the backlash that brought Dunleavy to office in November 2018.

And it's the PFD that is driving Gov. Dunleavy now. He campaigned on a promise to restore the full PFD and pay $3,000 this year. That's an appealing promise to Alaskans who feel as if they have been deprived of their rightful dividend for three years in a row.

The problem is that by paying a dividend of $3,000 to Alaskans, major spending reductions or eliminations to basic services must be imposed, despite rebounding oil prices and a $65 billion savings account. [emphasis mine]
So, the situation is actually being driven by the greedy desire of Alaskans to keep getting paid off by their government, even if the government can't afford it. And they are being encouraged in this by the newly elected Republican governor.
It would be a mistake to blame the Republicans entirely, however. Many Republicans oppose Dunleavy. The bottom line remains however that it is the public that has chosen this short-sighted position. Moreover, they want their cake and eat it too. The protests and demands right now appear to want both education spending and that yearly government check, a clearly unsustainable option that will bankrupt the state.
If this isn't another sign of what I call the coming dark age I don't know what is. It also acts as a perfect mirror of the entire country, as Americans nationwide have been making this same choice now for decades. Give us big spending government programs that give us lots of money, but don't cut the spending on anything!
As I say, the coming dark age.
One more side detail: In doing my web searches to get this background, I used two different search engines, Startpage and DuckDuckGo. Both are privacy oriented, which is why I use them.
In both cases, the only news stories I could find on the first few search pages were from mainstream and generally liberal sources. Though I know that the conservative press had covered this last month (I had seen the articles but at the time did not follow up and read them), none of those articles appeared in my searches. The search engine results had been very clearly tilted to favor mainstream leftist outlets.
Since Startpage uses Google's search algorithms, imposing itself between the user and Google to protect the user, I can understand why this leftwing bias might have happened there. The evidence that Google is working to cut off access to conservative websites is extensive and continues to build.
Why DuckDuckGo however would show the same results is more disturbing, and suggests that this effort is more widespread, and is based on deep cultural forces that cannot be stopped. The modern liberal culture is very intolerant, is very dominant, and it wants to squelch conservative thought, by any means necessary.
More evidence I'd say of that coming dark age. Intolerance is the watchword of today's generation. Oppression is certain to follow.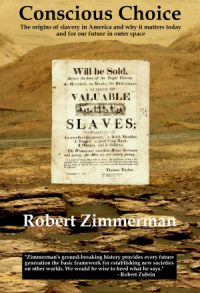 Now available in hardback and paperback as well as ebook!
From the press release: In this ground-breaking new history of early America, historian Robert Zimmerman not only exposes the lie behind The New York Times 1619 Project that falsely claims slavery is central to the history of the United States, he also provides profound lessons about the nature of human societies, lessons important for Americans today as well as for all future settlers on Mars and elsewhere in space.
Conscious Choice: The origins of slavery in America and why it matters today and for our future in outer space
, is a riveting page-turning story that documents how slavery slowly became pervasive in the southern British colonies of North America, colonies founded by a people and culture that not only did not allow slavery but in every way were hostile to the practice.
Conscious Choice
does more however. In telling the tragic history of the Virginia colony and the rise of slavery there, Zimmerman lays out the proper path for creating healthy societies in places like the Moon and Mars.
"Zimmerman's ground-breaking history provides every future generation the basic framework for establishing new societies on other worlds. We would be wise to heed what he says." —Robert Zubrin, founder of founder of the Mars Society.
All editions are available at Amazon, Barnes & Noble, and all book vendors, with the ebook priced at $5.99 before discount. All editions can also be purchased direct from the ebook publisher, ebookit, in which case you don't support the big tech companies and the author gets a bigger cut much sooner.
Autographed printed copies are also available at discount directly from me (hardback $24.95; paperback $14.95; Shipping cost for either: $5.00). Just email me at zimmerman @ nasw dot org.