California building "army" to track those infected with COVID-19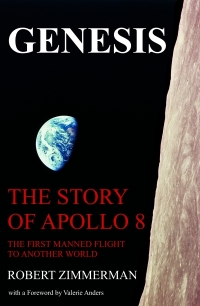 On Christmas Eve 1968 three Americans became the first humans to visit another world. What they did to celebrate was unexpected and profound, and will be remembered throughout all human history. Genesis: the Story of Apollo 8, Robert Zimmerman's classic history of humanity's first journey to another world, tells that story, and it is now available as both an ebook and an audiobook, both with a foreword by Valerie Anders and a new introduction by Robert Zimmerman.
The ebook is available everywhere for $5.99 (before discount) at
amazon
, or direct from my ebook publisher,
ebookit
.
The audiobook is also available at all these vendors, and is also
free with a 30-day trial membership to Audible.
"Not simply about one mission, [Genesis] is also the history of America's quest for the moon... Zimmerman has done a masterful job of tying disparate events together into a solid account of one of America's greatest human triumphs." --San Antonio Express-News
They're coming for you next: The California government is now building an "army of tracers" to track those infected with COVID-19 and restrict their future movements.
Gov. Gavin Newsom addressed the concern about inadequate contact tracing on [April 22], announcing plans to train 10,000 people to help local health departments. "The good news is we believe we have the capacity to build an army of tracers," Newsom said, although he did not say when they'd be ready to deploy.
More on that "army" and its goals here.
"As people move more, we increase the risk for people to get sick," Sonia Angell, California Department of Public Health director and State Health Officer, said in a live stream. "If people get sick, we want to identify those individuals very early, and then make sure that all of their contacts are also identified."

…The new contact-tracing platform the state announced today will sync up with California's existing digital disease surveillance platform, and contact tracers can use it to check in on people's symptoms through texts, chat, emails, and phone automation, according to Angell. Angell emphasized that the database will focus on health information and will be kept confidential. [emphasis mine]
If you believe the last two words of that quote, I have a bridge in Brooklyn I'd like to sell you.
The second link admits that for this whole plan to work, under present privacy laws "people must be willing to cooperate." I can tell you this: If I am tested for the Wuhan flu, the very last people I will tell my results to will be these fascist thugs. They aren't really interested in stopping the virus, which is impossible for them to do. No, what they want is to build up a database of people whom they will then have the right to oppress, by law.
And if you don't believe me, I still have that bridge in Brooklyn for sale. Make you a good deal, too!
Readers!
My July fund-raiser for Behind the Black is now over. The support from my readers was unprecedented, making this July campaign the best ever, twice over. What a marvelous way to celebrate the website's tenth anniversary!

Thank you! The number of donations in July, and continuing now at the beginning of August, is too many for me to thank you all personally. Please forgive me by accepting my thank you here, in public, on the website.

If you did not donate or subscribe in July and still wish to, note that the tip jar remains available year round.
Regular readers can support Behind The Black with a contribution via paypal:
If Paypal doesn't work for you, you can support Behind The Black directly by sending your donation by check, payable to Robert Zimmerman, to

Behind The Black
c/o Robert Zimmerman
P.O.Box 1262
Cortaro, AZ 85652