In the midst of Mars' volcano country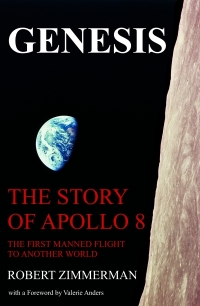 On Christmas Eve 1968 three Americans became the first humans to visit another world. What they did to celebrate was unexpected and profound, and will be remembered throughout all human history. Genesis: the Story of Apollo 8, Robert Zimmerman's classic history of humanity's first journey to another world, tells that story, and it is now available as both an ebook and an audiobook, both with a foreword by Valerie Anders and a new introduction by Robert Zimmerman.
The ebook is available everywhere for $5.99 (before discount) at
amazon
, or direct from my ebook publisher,
ebookit
.
The audiobook is also available at all these vendors, and is also
free with a 30-day trial membership to Audible.
"Not simply about one mission, [Genesis] is also the history of America's quest for the moon... Zimmerman has done a masterful job of tying disparate events together into a solid account of one of America's greatest human triumphs." --San Antonio Express-News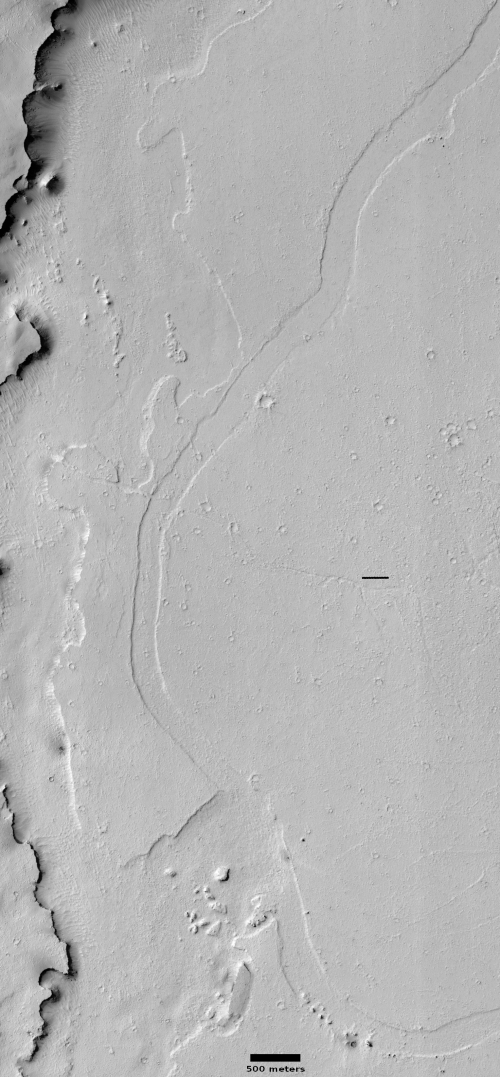 Click for full image.
Cool image time! While the rest of the world is entirely focused on panic and disease, I am going to go on with my life. The photo to the right, rotated, cropped, and reduced to post here, was taken by the high resolution camera on Mars Reconnaissance Orbiter (MRO) on December 26, 2019. I suspected this channel was lava, and when I asked Colin Dundas of the U.S. Geological Survey's Astrogeology Science Center in Arizona, he confirmed my suspicion.
Yes, that surface appears to be lava–it is part of the Elysium plains, which have many geologically-young lava flows. It's likely that the channel is a lava channel, and the surrounding plains may be from an earlier stage of the same eruption.
The entire surface of the channel and the surrounding plains appear very fresh, mostly because of their smoothness and lack of many craters. You can also see what looks like a recent impact (the small dark splotch near the left edge about two-thirds from the top).
The fresh and smooth look of Elysium Planitia generally has led scientists to conclude that much of this region is formed from lava flows, some relatively recently. Thus, this particular lava channel is smack dab in the middle of Mars' volcano country, quite vast and extensive. The context map below illustrates this.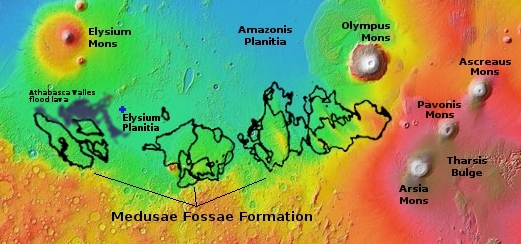 The blue cross on the overview map below shows this image's location. The Medusae Fossae Formation, indicated by the areas outlined by black lines, is an area covered by volcanic ash, thought to have been released during one or more violent volcanic eruptions. It covers an area comparable to the size of India or Kazakhstan. The bluish splotch to the west of the cross and just north of the western Medusae ash deposits is what some scientists believe [pdf] is the youngest lava field on Mars, dubbed the Athabasca Valles flood lava. To quote this linked paper's abstract:
Careful mapping finds that the Athabasca Valles flood lava is the product of a single eruption, and it covers 250,000 [square kilometers] of western Elysium Planitia with an estimated 5000–7500 [cubic kilometers] of mafic or ultramafic lava. Calculations utilizing topographic data enhanced with MRO observations to refine the dimensions of the channel system show that this flood lava was emplaced turbulently over a period of only a few to several weeks. [emphasis mine]
That's a flood plain as large as the entire United Kingdom, laid down in only a few weeks.
As this channel and Elysium Planitia are located between the giant volcanoes Elysium Mons and Olympus Mons, it isn't surprising that we find both lava flows and vast ash deposits here. The Athabasca Valles lava flood however is not directly linked to either volcano, but to a specific lava upwelling at this location. In fact, the research suggests that there are several similar large lava flows all across Elysium Planitia.
Moreover, Elysium Planitia is also where we find the cracks of Cerberus Fossae, created by the upward pressure of magma. This region is also where the seismometer on the InSight lander has pinpointed the location of several earthquakes.
These facts suggest that new volcanic activity in Elysium Fossae might still be possible. We have no evidence of this so far, though the young estimated age of this flood plain (anywhere from half a million to ten million years ago) certainly does not preclude it.
Readers!
My July fund-raiser for Behind the Black is now over. The support from my readers was unprecedented, making this July campaign the best ever, twice over. What a marvelous way to celebrate the website's tenth anniversary!

Thank you! The number of donations in July, and continuing now at the beginning of August, is too many for me to thank you all personally. Please forgive me by accepting my thank you here, in public, on the website.

If you did not donate or subscribe in July and still wish to, note that the tip jar remains available year round.
Regular readers can support Behind The Black with a contribution via paypal:
If Paypal doesn't work for you, you can support Behind The Black directly by sending your donation by check, payable to Robert Zimmerman, to

Behind The Black
c/o Robert Zimmerman
P.O.Box 1262
Cortaro, AZ 85652