The Milky Way's most distant stars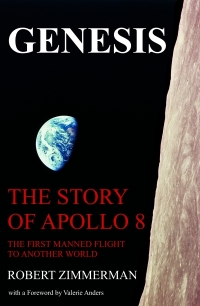 On Christmas Eve 1968 three Americans became the first humans to visit another world. What they did to celebrate was unexpected and profound, and will be remembered throughout all human history. Genesis: the Story of Apollo 8, Robert Zimmerman's classic history of humanity's first journey to another world, tells that story, and it is now available as both an ebook and an audiobook, both with a foreword by Valerie Anders and a new introduction by Robert Zimmerman.
The ebook is available everywhere for $5.99 (before discount) at
amazon
, or direct from my ebook publisher,
ebookit
.
The audiobook is also available at all these vendors, and is also
free with a 30-day trial membership to Audible.
"Not simply about one mission, [Genesis] is also the history of America's quest for the moon... Zimmerman has done a masterful job of tying disparate events together into a solid account of one of America's greatest human triumphs." --San Antonio Express-News
Astronomers have discovered the two most distant stars of the Milky Way.
Both stars are red giants, aging suns that shine so brightly observers can see them from afar. One star is about 890,000 light-years from Earth in the constellation Pisces—33 times farther from the Milky Way's center than we are and well beyond the edge of the galactic disk. The only other Milky Way member at a comparable distance is a small galaxy named Leo I, which orbits ours at a distance of 850,000 light-years. If the star in Pisces revolves on a circular path as fast as we do, it takes some eight billion years to complete a single orbit around the galaxy. That's more than half the age of the universe.

The other newfound star is about 780,000 light-years distant in the constellation Gemini and more than a million light-years from the other star. For comparison, the previous record-breaking individual star was only about half a million light-years from Earth.
Both stars are so far outside the galaxy's disk that it is quite possible that they are not part of the Milky Way at all.
Readers!
My July fund-raiser for Behind the Black is now over. The support from my readers was unprecedented, making this July campaign the best ever, twice over. What a marvelous way to celebrate the website's tenth anniversary!

Thank you! The number of donations in July, and continuing now at the beginning of August, is too many for me to thank you all personally. Please forgive me by accepting my thank you here, in public, on the website.

If you did not donate or subscribe in July and still wish to, note that the tip jar remains available year round.
Regular readers can support Behind The Black with a contribution via paypal:
If Paypal doesn't work for you, you can support Behind The Black directly by sending your donation by check, payable to Robert Zimmerman, to

Behind The Black
c/o Robert Zimmerman
P.O.Box 1262
Cortaro, AZ 85652