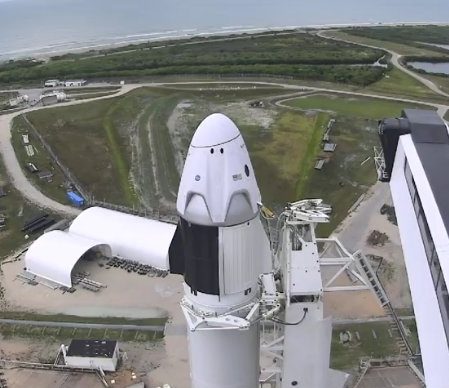 The first manned Dragon capsule, on the launchpad
Capitalism in space: During the post-launch press briefing after launch of its second manned Dragon mission on November 15, SpaceX CEO Gwynne Shotwell revealed the company's plans to build and fly a fleet of Dragon cargo and crew capsules, and reuse them repeatedly over the coming years..
Specifically, Shotwell revealed that SpaceX intends to build three reusable Cargo Dragon 2 capsules, one of which is already completed and in Florida preparing for its December 2nd CRS-21 launch debut. On the crew side of things, SpaceX will build "three more" Crew Dragon capsules on top of the flight-proven Demo-2 and currently orbital Crew-1 capsules. It's unclear if this means that the new Crew Dragon capsule flown on SpaceX's January 2020 In-Flight Abort (IFA) test will be refurbished for additional flights.

Excluding IFA Crew Dragon capsule C205, SpaceX thus intends to operate a fleet of at least three Cargo Dragon 2 and five Crew Dragon capsules, representing eight reusable spacecraft each capable of at least five orbital missions.
She also hinted that the company has plans to fly its own missions, using these spacecraft, in addition to its contracted flights for NASA and the private company Axiom.
This private capability, which far exceeds anything ever built by NASA or any government worldwide, is entirely because Elon Musk had the freedom and the will to push for his particular vision. He had a bold idea, and with courage he pursued it.

It also occurred because Musk refused to let the naysayers in both the government and the moribund old big rocket industry stop him. And they tried, believe me, they tried. When Musk realized that using subcontractors to build his rockets put him at their mercy (a fact that has killed other new space companies in the past), he decided not to do it, and instead had everything built in house.
When NASA's corrupt bureaucracy attempted to slow down development of the manned Dragon capsule, sometimes for ridiculous reasons, he and SpaceX refused to back down, and instead applied enough strong pressure on the agency to force them to back down instead.
When Congress tried to starve NASA's commercial space budget, favoring instead its bloated still-unlaunched SLS rocket, Musk turned to private investment to supplement SpaceX's profits to finance the company. More importantly, he made sure the company remained lean and mean, so that this tight funding did not slow down development of this fleet, as some people hoped.
Isn't freedom wonderful? I wonder how many people in the United States now understand this. The social trends appear that at least half do not, and would rather depend on government for everything, while using it as a tool to squelch that freedom.
We can only hope that SpaceX's success in the coming years will help change those trends, and once again make freedom the watchword, so that it may once again proclaim liberty throughout the land.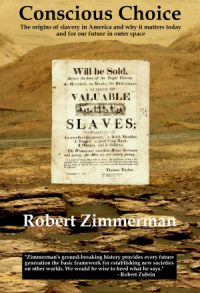 Now available in hardback and paperback as well as ebook!
From the press release: In this ground-breaking new history of early America, historian Robert Zimmerman not only exposes the lie behind The New York Times 1619 Project that falsely claims slavery is central to the history of the United States, he also provides profound lessons about the nature of human societies, lessons important for Americans today as well as for all future settlers on Mars and elsewhere in space.
Conscious Choice: The origins of slavery in America and why it matters today and for our future in outer space
, is a riveting page-turning story that documents how slavery slowly became pervasive in the southern British colonies of North America, colonies founded by a people and culture that not only did not allow slavery but in every way were hostile to the practice.
Conscious Choice
does more however. In telling the tragic history of the Virginia colony and the rise of slavery there, Zimmerman lays out the proper path for creating healthy societies in places like the Moon and Mars.
"Zimmerman's ground-breaking history provides every future generation the basic framework for establishing new societies on other worlds. We would be wise to heed what he says." —Robert Zubrin, founder of founder of the Mars Society.
All editions are available at Amazon, Barnes & Noble, and all book vendors, with the ebook priced at $5.99 before discount. The ebook can also be purchased direct from my ebook publisher, ebookit, in which case you don't support the big tech companies and I get a bigger cut much sooner.
Autographed printed copies are also available at discount directly from me (hardback $24.95; paperback $14.95; Shipping cost for either: $5.00). Just email me at zimmerman @ nasw dot org.