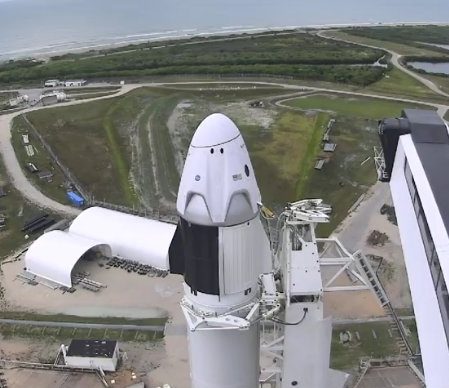 The first manned Dragon capsule, on the launchpad
Capitalism in space: During the post-launch press briefing after launch of its second manned Dragon mission on November 15, SpaceX CEO Gwynne Shotwell revealed the company's plans to build and fly a fleet of Dragon cargo and crew capsules, and reuse them repeatedly over the coming years..
Specifically, Shotwell revealed that SpaceX intends to build three reusable Cargo Dragon 2 capsules, one of which is already completed and in Florida preparing for its December 2nd CRS-21 launch debut. On the crew side of things, SpaceX will build "three more" Crew Dragon capsules on top of the flight-proven Demo-2 and currently orbital Crew-1 capsules. It's unclear if this means that the new Crew Dragon capsule flown on SpaceX's January 2020 In-Flight Abort (IFA) test will be refurbished for additional flights.

Excluding IFA Crew Dragon capsule C205, SpaceX thus intends to operate a fleet of at least three Cargo Dragon 2 and five Crew Dragon capsules, representing eight reusable spacecraft each capable of at least five orbital missions.
She also hinted that the company has plans to fly its own missions, using these spacecraft, in addition to its contracted flights for NASA and the private company Axiom.
This private capability, which far exceeds anything ever built by NASA or any government worldwide, is entirely because Elon Musk had the freedom and the will to push for his particular vision. He had a bold idea, and with courage he pursued it.

It also occurred because Musk refused to let the naysayers in both the government and the moribund old big rocket industry stop him. And they tried, believe me, they tried. When Musk realized that using subcontractors to build his rockets put him at their mercy (a fact that has killed other new space companies in the past), he decided not to do it, and instead had everything built in house.
When NASA's corrupt bureaucracy attempted to slow down development of the manned Dragon capsule, sometimes for ridiculous reasons, he and SpaceX refused to back down, and instead applied enough strong pressure on the agency to force them to back down instead.
When Congress tried to starve NASA's commercial space budget, favoring instead its bloated still-unlaunched SLS rocket, Musk turned to private investment to supplement SpaceX's profits to finance the company. More importantly, he made sure the company remained lean and mean, so that this tight funding did not slow down development of this fleet, as some people hoped.
Isn't freedom wonderful? I wonder how many people in the United States now understand this. The social trends appear that at least half do not, and would rather depend on government for everything, while using it as a tool to squelch that freedom.
We can only hope that SpaceX's success in the coming years will help change those trends, and once again make freedom the watchword, so that it may once again proclaim liberty throughout the land.
Readers!
I must unfortunately ask you for your financial support because I do not depend on ads and rely entirely on the generosity of readers to keep Behind the Black running. You can either make a one time donation for whatever amount you wish, or you sign up for a monthly subscription ranging from $2 to $15 through Paypal or $3 to $50 through Patreon.
Your support will allow me to continue covering science and culture as I have for the past twenty years, independent and free from any outside influence.
Your support is even more essential to me because I not only keep this site free from advertisements, I do not use the corrupt social media companies like Google, Twitter, and Facebook to promote my work. I depend wholly on the direct support of my readers.
You can provide that support to Behind The Black with a contribution via Patreon or PayPal. To use Patreon, go to my website there and pick one of five monthly subscription amounts, or by making a one-time donation. For PayPal click one of the following buttons:

If Patreon or Paypal don't work for you, you can support Behind The Black directly by sending your donation by check, payable to Robert Zimmerman, to


Behind The Black
c/o Robert Zimmerman
P.O.Box 1262
Cortaro, AZ 85652


Or you can donate by using Zelle through your bank. You will need to give my name and email address (found at the bottom of the "About" page). The best part of this electronic option is that no fees will be deducted! What you donate will be what I receive.