Weird central peak in Martian crater

echo do_shortcode( '[xyz-ihs snippet="post-header-html-snippet"]' ); ?>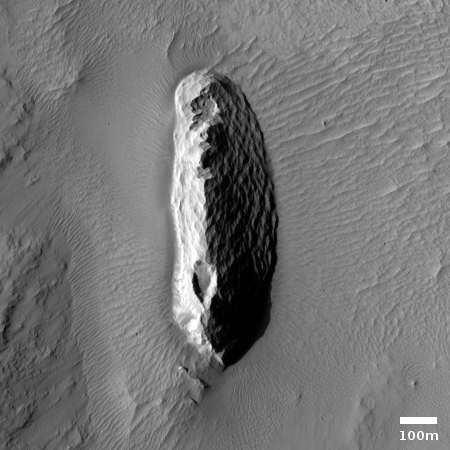 Click for full image.
Cool image time! The photo to the right, cropped to post here, was taken by the high resolution camera on Mars Reconnaissance Orbiter on March 18, 2020. It shows a very strange central peak in a crater on Mars. Not only does this peak stick out like a sore thumb in a relatively flat crater floor, its surface is strangely textured, patterned with what look like scallops.
The overview map below shows the area covered in the crater by the full image.
My guess is that the peak is the final impact melt from the original impact. Think of a pebble thrown into a pond. You get ripples (the crater rim) as well as an upward drop of water (the central peak). Unlike pond water, the material in a crater freezes quickly, leaving both the ripple and the upward drop frozen in place.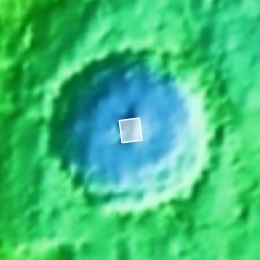 This peak however also reminds me of volcanic cones found in the American southwest, the remnant cone of a much larger volcano that has long ago eroded away.
The textures might be evidence of that erosion process, as they resemble scallops that wind and water erosion can cause on rock faces.
We also could be seeing dunes on the slopes themselves, though I think this is unlikely. This crater is on the edge of the vast Medusae Fossae Formation, the largest volcanic ash deposit field on Mars, as shown by the white cross on the overview map below. Thus, being on the edge of this ash field there is a lot of available dust and sand that can pile up on these slopes.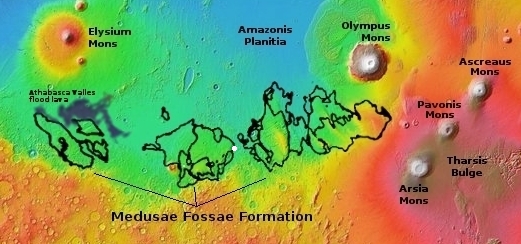 Still, the sunlight side of the ridge suggests the scallops are in bedrock, not sand dunes. And to assign their origin to either wind or water or ice erosion I think is a stretch.

So while the peak is probably the frozen melt remains of the original impact, the scallops are a geological mystery that needs unraveling.

echo do_shortcode( '[xyz-ihs snippet="post-above-comments-html-snippet"]' ); ?>