An evening pause: This pause was first posted by me back in 2011. As tonight is the fiftieth anniversary of that grand moment, I post it again, if only to remind the jaded and pessimistic youth of today that miracles really can happen. As I wrote then,
In 1969 the lowly New York Mets, doormats in the National League from the moment the team was created in 1962, came out of nowhere to win the pennant and the World Championship of baseball. … I and my friend Lloyd attended the game in which the Mets clinched first place in the National League Eastern Division. Below is video showing highlights of the game plus the final out, with the crowd pouring onto the field. Though you can't see me, I am in that crowd, jumping for joy at this most unlikely sports miracle. There was no rioting, only happy fans chanting "We're number one!" in exuberant disbelief.

And I still have that small piece of turf from Shea Stadium, collected on that night, proof that the unexpected and improbable is always possible.
The unlikeliness of the Mets championship in 1969 cannot be overstated. Before 1969, the team had never finished higher than next to last, each season losing more games than they won. Then, in 1969 they posted a 100-62 record, while coming from far back to overtake the favored Chicago Cubs for the pennant. Moreover, during that 1969 season all kinds of unusual things kept happening. To give just one example, they won a double header by scores of 1-0, with the pitcher in both games driving in the winning run.
As their first manager and Hall-of-Famer Casey Stengel would say, "You could look it up!"
In 1973 the Mets won the pennant again, following the motto "You gotta believe!" pushed by their relief pitcher Tug McGraw. McGraw was so right. Combine talent, dedication, hard work, and an unwavering belief that all things are possible, humans can sometimes do amazing things.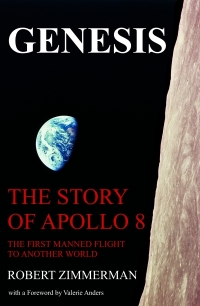 On Christmas Eve 1968 three Americans became the first humans to visit another world. What they did to celebrate was unexpected and profound, and will be remembered throughout all human history. Genesis: the Story of Apollo 8, Robert Zimmerman's classic history of humanity's first journey to another world, tells that story, and it is now available as both an ebook and an audiobook, both with a foreword by Valerie Anders and a new introduction by Robert Zimmerman.
The ebook is available everywhere for $5.99 (before discount) at
amazon
, or direct from my ebook publisher,
ebookit
. If you buy it from
ebookit
you don't support the big tech companies and the author gets a bigger cut much sooner.
The audiobook is also available at all these vendors, and is also
free with a 30-day trial membership to Audible.
"Not simply about one mission, [Genesis] is also the history of America's quest for the moon... Zimmerman has done a masterful job of tying disparate events together into a solid account of one of America's greatest human triumphs."--San Antonio Express-News