An evening pause: On this anniversary of D-Day, it is worthwhile to go back in time and relive that time to understand better what our country then stood for. Below is President Roosevelt's radio speech to the nation, announcing the D-Day invasion and its apparent initial success. What is striking is that he spends little time talking about what happened, nor does he spend any time extolling the triumph of his administration. Instead, he humbly turns his speech into his heartfelt prayer for the lives of the soldiers, the people at home, and the people in Europe who are suffering under Hitler's rule, reminding everyone of the nation's real goal: "A peace that will let all men to live in peace, reaping the just rewards of their honest toil." He then ends the prayer with these words, "Thy will be done, almighty God. Amen."
This speech tells us as much about the nation that Roosevelt lived in as it does about Roosevelt himself. He knew his audience, and he knew they believed deeply in freedom, truth, human rights, and moral commitment. He also knew they would be honored to join him in this prayer, with the same humbleness as he was expressing. He knew they would not be offended, whatever their faith, because the important thing was to have good will and to strive for a just conclusion of the war.
If only such things could happen today.
Hat tip Wayne DeVette.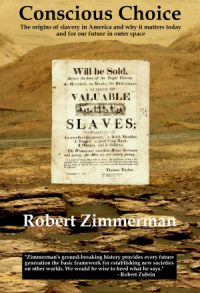 From the press release: In this ground-breaking new history of early America, historian Robert Zimmerman not only exposes the lie behind The New York Times 1619 Project that falsely claims slavery is central to the history of the United States, he also provides profound lessons about the nature of human societies, lessons important for Americans today as well as for all future settlers on Mars and elsewhere in space.
Conscious Choice: The origins of slavery in America and why it matters today and for our future in outer space
, is a riveting page-turning story that documents how slavery slowly became pervasive in the southern British colonies of North America, colonies founded by a people and culture that not only did not allow slavery but in every way were hostile to the practice.
Conscious Choice
does more however. In telling the tragic history of the Virginia colony and the rise of slavery there, Zimmerman lays out the proper path for creating healthy societies in places like the Moon and Mars.
"Zimmerman's ground-breaking history provides every future generation the basic framework for establishing new societies on other worlds. We would be wise to heed what he says." —Robert Zubrin, founder of founder of the Mars Society.
Available everywhere for $3.99 (before discount) at Amazon, Barnes & Noble, and all ebook vendors, or direct from the ebook publisher, ebookit. And if you buy it from ebookit you don't support the big tech companies and I get a bigger cut much sooner.