An evening pause: On this anniversary of D-Day, it is worthwhile to go back in time and relive that time to understand better what our country then stood for. Below is President Roosevelt's radio speech to the nation, announcing the D-Day invasion and its apparent initial success. What is striking is that he spends little time talking about what happened, nor does he spend any time extolling the triumph of his administration. Instead, he humbly turns his speech into his heartfelt prayer for the lives of the soldiers, the people at home, and the people in Europe who are suffering under Hitler's rule, reminding everyone of the nation's real goal: "A peace that will let all men to live in peace, reaping the just rewards of their honest toil." He then ends the prayer with these words, "Thy will be done, almighty God. Amen."
This speech tells us as much about the nation that Roosevelt lived in as it does about Roosevelt himself. He knew his audience, and he knew they believed deeply in freedom, truth, human rights, and moral commitment. He also knew they would be honored to join him in this prayer, with the same humbleness as he was expressing. He knew they would not be offended, whatever their faith, because the important thing was to have good will and to strive for a just conclusion of the war.
If only such things could happen today.
Hat tip Wayne DeVette.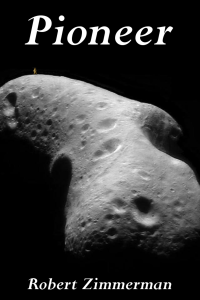 From the press release: From the moment he is handed a possibility of making the first alien contact, Saunders Maxwell decides he will do it, even if doing so takes him through hell and back.
Unfortunately, that is exactly where that journey takes him.
The vision that Zimmerman paints of vibrant human colonies on the Moon, Mars, the asteroids, and beyond, indomitably fighting the harsh lifeless environment of space to build new societies, captures perfectly the emerging space race we see today.
He also captures in Pioneer the heart of the human spirit, willing to push forward no matter the odds, no matter the cost. It is that spirit that will make the exploration of the heavens possible, forever, into the never-ending future.
Available everywhere for $3.99 (before discount) at
amazon
,
Barnes & Noble
, all ebook vendors, or direct from the ebook publisher,
ebookit
. And if you buy it from
ebookit
you don't support the big tech companies and I get a bigger cut much sooner.