An evening pause: Sung by Shirley Jones, from one of the greatest American musical films ever made, The Music Man (1962).
Diane and I have been watching a lot of those '40s, 50s, and 60s American musicals. To today's bitter and cynical youth, these films might seem to portray a too-perfect world filled with too much happiness and wealth. And while there is some truth to that cynical view, it is mostly wrong. The America portrayed in these films was actually quite like this. People were free, they were generally happy, and they lived a life of prosperity that no one before had ever seen. Nor are future generations likely to see such a life again during the coming dark centuries. These musicals provide a window into that time.
These musicals as well as most of the Hollywood movies prior to the 1960s are also quite unique in the history of literature and art in that they told stories not of kings or rulers or nobility, but of ordinary people. Such stories were rarely told before the coming of America. This fact also tells us much about the culture that then existed. It was ruled by those ordinary people, and thus the art and literature catered to them.
Which is why the Marxist power-driven culture that now dominates this country is desperate to ban the viewing of such art and the learning of that history. It tells a tale they cannot stomach.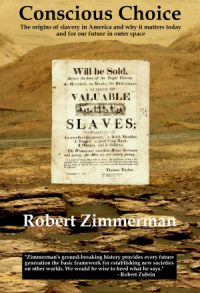 Now available in hardback and paperback as well as ebook!
From the press release: In this ground-breaking new history of early America, historian Robert Zimmerman not only exposes the lie behind The New York Times 1619 Project that falsely claims slavery is central to the history of the United States, he also provides profound lessons about the nature of human societies, lessons important for Americans today as well as for all future settlers on Mars and elsewhere in space.
Conscious Choice: The origins of slavery in America and why it matters today and for our future in outer space
, is a riveting page-turning story that documents how slavery slowly became pervasive in the southern British colonies of North America, colonies founded by a people and culture that not only did not allow slavery but in every way were hostile to the practice.
Conscious Choice
does more however. In telling the tragic history of the Virginia colony and the rise of slavery there, Zimmerman lays out the proper path for creating healthy societies in places like the Moon and Mars.
"Zimmerman's ground-breaking history provides every future generation the basic framework for establishing new societies on other worlds. We would be wise to heed what he says." —Robert Zubrin, founder of founder of the Mars Society.
All editions are available at Amazon, Barnes & Noble, and all book vendors, with the ebook priced at $5.99 before discount. The ebook can also be purchased direct from my ebook publisher, ebookit, in which case you don't support the big tech companies and I get a bigger cut much sooner.
Autographed printed copies are also available at discount directly from me (hardback $24.95; paperback $14.95; Shipping cost for either: $5.00). Just email me at zimmerman @ nasw dot org.