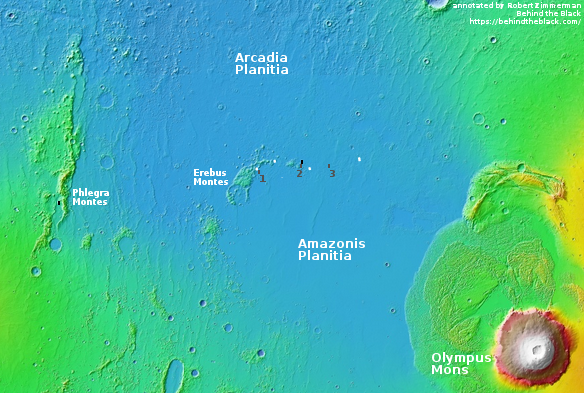 On August 28, 2019 I broke the story that SpaceX is beginning to obtain images of candidate Starship landing sites from Mars Reconnaissance Orbiter (MRO).
Many news sources, skilled in their ability to rewrite press releases, saw my article and immediately posted stories essentially repeating what I had found, including my geological reasoning. Some did some more digging and, because they came out a few days later they were able to take advantage of the next MRO team image release, issued on August 30th, to find a few more candidate site images.
Those additional images included the remaining stereo images for all the images in my August post, indicated by the white boxes in the overview map above. They also included two new locations, indicated by the black boxes. One was of one more location in the easternmost hills of Erebus Montes. The other was a stereo pair for one entirely different landing location, farther to the west in the mountains dubbed Phlegra Montes, a location that SpaceX had previously been considering, but until this image had not been included in its MRO image requests.
The grey boxes in the map above show the approximate locations of images not yet officially released by MRO. Though unreleased, their existence is still public knowledge, as they are listed as already acquired images in the HiWish database. Below are links to the three upcoming new images (the second stereo images for locations #1 and #2 are not included)
Both the Phlegra Montes location and #3 above appear to be looking at soft slushy material that might have a lot of water just below the surface.
» Read more