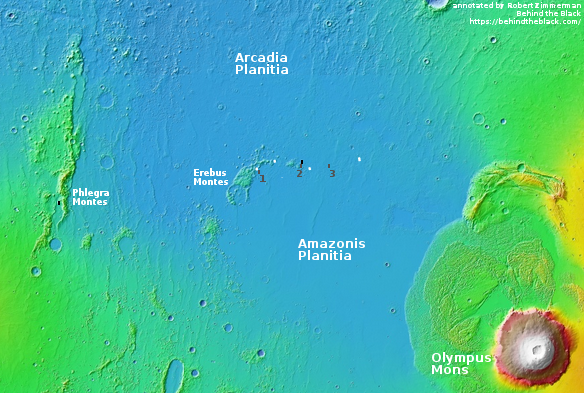 On August 28, 2019 I broke the story that SpaceX is beginning to obtain images of candidate Starship landing sites from Mars Reconnaissance Orbiter (MRO).
Many news sources, skilled in their ability to rewrite press releases, saw my article and immediately posted stories essentially repeating what I had found, including my geological reasoning. Some did some more digging and, because they came out a few days later they were able to take advantage of the next MRO team image release, issued on August 30th, to find a few more candidate site images.
Those additional images included the remaining stereo images for all the images in my August post, indicated by the white boxes in the overview map above. They also included two new locations, indicated by the black boxes. One was of one more location in the easternmost hills of Erebus Montes. The other was a stereo pair for one entirely different landing location, farther to the west in the mountains dubbed Phlegra Montes, a location that SpaceX had previously been considering, but until this image had not been included in its MRO image requests.
The grey boxes in the map above show the approximate locations of images not yet officially released by MRO. Though unreleased, their existence is still public knowledge, as they are listed as already acquired images in the HiWish database. Below are links to the three upcoming new images (the second stereo images for locations #1 and #2 are not included)
Both the Phlegra Montes location and #3 above appear to be looking at soft slushy material that might have a lot of water just below the surface.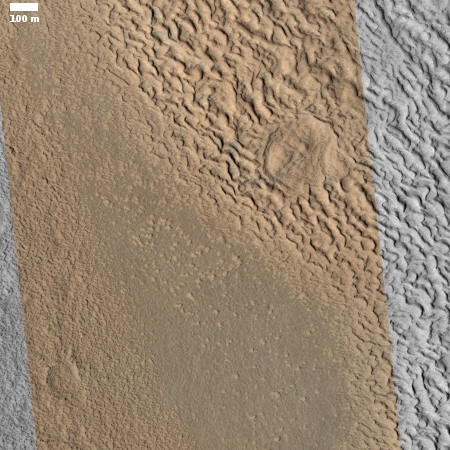 Click for full image.
For #3, the low resolution image at the link above looks directly at a white mound that might be a buried glacier. Since no other high resolution images for this site had previously been taken, we will have to wait for its release in a month or so to get a better view. To the right however is a cropped section of the Phlegra Montes location, showing the typical terrain there.
The location is in a wide valley to the west of the mountains. The mottled terrain on the right is material that seems to be coming off those mountains. This could be what geologists call alluvial fill, debris that over long periods falls from mountains to fill the adjacent slopes and bottom lands. On Mars that fill might have a lot of buried frozen water, especially because this location is in the northern band where buried glaciers are thought to exist in abundance. Moreover, the softness of the flat terrain to the left suggests it to might also contain buried ice. In the full image the soft and eroded look of all the nearby impact craters reinforce this speculation.
Both of these images illustrate that SpaceX's requests are not just gathering information about where to land Starship, but are providing planetary geologists a justification to get high resolution images for new and intriguing areas on Mars. The data will help them better determine how much ice really exists underground at these locations.
Meanwhile, I fully expect there to be at least a handful of new MRO Starship candidate landing site images every month for many years to come. It will take time and many photographs to get full coverage of this region using the orbiter's high resolution camera.
Readers!
In order to remain completely independent and honest in my writing, I accept no sponsorships from big space companies or any political organizations. Nor do I depend on ads.
Instead, I rely entirely on the generosity of readers to keep Behind the Black running. You can either make a one time donation for whatever amount you wish, or you sign up for a monthly subscription ranging from $2 to $15 through Paypal, or $3 to $50 through Patreon, or any amount through Zelle.
The best method to donate or subscribe is by using Zelle through your internet bank account, since it charges no fees to you or I. You will need to give my name and email address (found at the bottom of the "About" page). What you donate is what I get.
To use Patreon, go to my website there and pick one of five monthly subscription amounts, or by making a one-time donation.

For PayPal click one of the following buttons:

If these electronic payment methods don't work for you, you can support Behind The Black directly by sending your donation by check, payable to Robert Zimmerman, to


Behind The Black
c/o Robert Zimmerman
P.O.Box 1262
Cortaro, AZ 85652