Fake science: Two articles yesterday from the so-called science journals Nature and Science today illustrate once again how pervasive the corruption in the climate field has now spread to almost anything that relates to climate.
Both articles refer to a paper published this week in Science, though the Nature article is far more detailed and longer. Researchers had tracked 9 polar bears during the spring months in three separate years, and had found that 5 of them had lost weight during this time period. From the Nature article: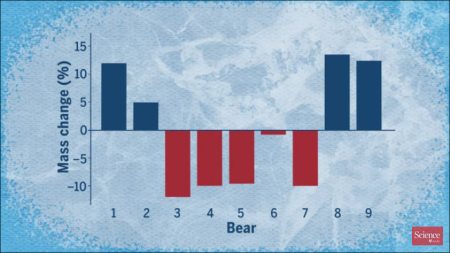 On average, the bears needed nearly 12,325 kilocalories per day — 1.6 times more energy than previously thought. To meet such energy demands, a female bear on the spring sea ice should eat either one adult or 19 newborn ringed seals every 10 to 12 days, the scientists concluded.

But nearly half of the bears didn't catch enough food — and were forced to fast or scavenge carcasses. These animals lost 10% of their body mass over about 10 days. "That's dramatic," says physiologist John Whiteman at the University of New Mexico in Albuquerque. It's as if a person weighing 80 kilograms shed 8 kilograms in just over a week, he says.

Catching enough to eat isn't the only challenge polar bears face. As rising temperatures thin the sea ice, wind and currents make it drift faster on the ocean surface. "Think about a treadmill," says Merav Ben-David, a wildlife ecologist at the University of Wyoming in Laramie. If the sea ice moves faster under their paws, polar bears have to walk faster — or for longer — to remain in the same spot3, which forces them to expend more energy, she says. [emphasis mine]
Oh my god! The polar bears are dying! And global warming is killing them!
What a joke. A quick look at the graph above, captured from the Science video, reveals that what the researchers really found is that four bears lost weight, four bears gained weight, and one stayed about the same. The bears studied weren't "starving," they represented what looks like an ordinary cross-section of population.
Moreover, this study is incredibly uncertain in that it only studied 9 bears, and only during the spring months during three years. What happens during the rest of the year? What would happen if they studied a larger population? While the data here teaches us something about the polar bear's diet, calorie intake and calorie requirements, it is absolutely insufficient to provide any conclusions about the future of the bear population.
Worse, while both articles were quick to mention the threat from global warming, neither mentioned that the polar bear population continues to thrive, and has been doing so for the past decade, with no declines in almost all Arctic regions.
Further compounding the bad reporting here, while both articles repeated their religious belief in global warming and the impending disappearance of the Arctic icecap, there remains zero evidence in all data gathered of the ice pack by satellites and ground research that the icecap is shrinking significantly. In fact, while it had shown a steady decline through the first decade of the 21st century, in the past few years there has been a marked recovery. While these scientists might want the ice cap to disappear for political reasons, it simply isn't doing so.
This is junk journalism and fake science. In fact, it is downright pitiful. That the reporting at such important science journals as these has become so slipshod speaks badly for the future of science in general.