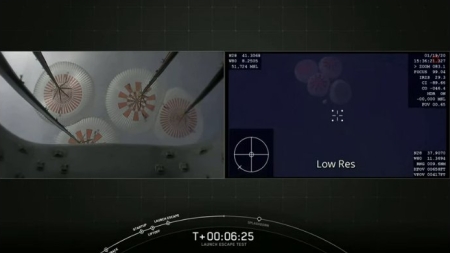 Crew Dragon soon after its parachutes had deployed
during the launch abort test.
The successful unmanned launch abort test by SpaceX of its crew Dragon capsule today means that the first manned flight of American astronauts on an American rocket in an American spacecraft from American soil in almost a decade will happen in the very near future. According to Elon Musk during the press conference following the test, that manned mission should occur sometime in the second quarter of 2020.
The ramifications of this manned mission however far exceed its success in returning Americans to space on our own spacecraft. NASA administrator Jim Bridenstine touched upon this larger context with his own remarks during the press conference:
We are doing this differently. NASA is going to be customer, one of many customers. I want SpaceX to have lots of customers.
Bridenstine is underlining the real significance of the entire commercial program at NASA. Unlike every previous manned space project at the space agency, NASA is not doing the building. Instead, as Bridenstine notes (and I recommended in my 2017 policy paper Capitalism in Space), it is merely a customer, buying a product built entirely by a private company. And while NASA is involving itself very closely with that construction, it is doing so only as a customer, making sure it is satisfied with the product before putting its own astronauts on it.
NASA also does not own this product. As Bridenstine also notes (and I also recommended in Capitalism in Space), SpaceX owns the product, and once operational will be free to sell seats on crew Dragon to private citizens or other nations.
This different approach also means that NASA is not dependent on one product. From the beginning its commercial crew program has insisted on having at least two companies building capsules — Dragon by SpaceX and Starliner by Boeing — so that if there is a launch failure with one, the second will provide the agency with redundancy.
Bridenstine was very clear about these points. He wants multiple manned spacecraft built by competing American capsules, both to provide the government with redundancy but also to drive innovation and lower costs.
SpaceX of course is the quintessential example of how to lower costs.
» Read more