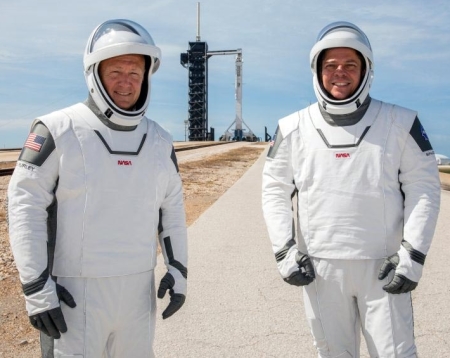 Dragon astronauts Douglas Hurley and Robert Behnken
with their Falcon 9/Dragon in the background
This week we shall once again see a demonstration of the power of freedom, and it will not be a demonstration by protesters in Hong Kong or Michigan or New York against the petty dictators who rule them.
No, it will simply be the launch of an American rocket, owned by an American company, putting two Americans in space. While most reports of the manned Dragon launch on SpaceX's Falcon 9 rocket will properly focus on the new engineering and the specific achievement — the first American manned space mission in almost a decade — few will recognize how it is freedom, that forgotten word, that more than anything made it possible.
And it has always been this way, since the very beginnings of the space age. As John Kennedy expounded in his 1961 speech committing the U.S. to a lunar landing, that commitment was to demonstrate that a free people and nation could do it better:
» Read more