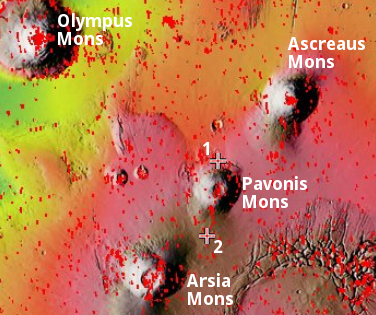 Cool image time! In continuing my exploration of this month's Mars Reconnaissance Orbiter (MRO) image release, I found two interesting images of small craters, one as part of that image release, the other found completely by accident.
The map on the right, taken from the MRO HiRISE archive page, shows the locations of these two images. Both are located in the lava plains that surround the giant volcano Pavonis Mons, the central volcano of the three volcanoes to the east of Olympus Mons. Previously, I have done posts focusing specifically on both Pavonis Mons and Arsia Mons. Not only is the geology of these gigantic volcanoes fascinating, there is evidence that ancient glacial ice lurks in lava tubes on their slopes, making them potentially prime real estate for future explorers.
The first image, labeled #1 on the image above, was taken in January 2018 to get a better look at a small crater on the surrounding lava plains, and was part of the MRO March image release. I have cropped it to post here, focusing on the crater itself.
My first reaction on seeing the image was, "Did this impact not go splat when it hit?"
» Read more