Please consider donating to Behind the Black, by giving either a one-time contribution or a regular subscription, as outlined in the tip jar below. Your support will allow me to continue covering science and culture as I have for the past twenty years, independent and free from any outside influence.
Regular readers can support Behind The Black with a contribution via paypal:
If Paypal doesn't work for you, you can support Behind The Black directly by sending your donation by check, payable to Robert Zimmerman, to

Behind The Black
c/o Robert Zimmerman
P.O.Box 1262
Cortaro, AZ 85652


Cool image time! Yesterday the Mars Reconnaissance Orbiter team released 460 images taken by the spacecraft's high resolution camera, HiRISE, as part of their normal and routine image release program. Obsessed with space exploration as I am, I like to scan through these new images to see if there is anything interesting hidden there that will show up eventually in a press release. For example, the first image in this release is a look at Vera Rubin Ridge and Curiosity. I would not be surprised if there is a press release soon using this image, probably aimed at outlining the rover's future route up Mount Sharp. (The present overview traverse map is getting out of date.)
Sometimes however I find images that might never get a press release but probably deserve it. The image on the right, reduced in resolution to show here, is one such example. It is a strip taken from rim to rim across an unnamed crater located in the mid-northern latitudes of Mars, west of Olympus Mons. A review of past images by other Mars orbiters/probes suggests that no good high resolution image of this crater had ever been taken before.
If you click on the image on the right, or go to the actual image site, you can see the original in full resolution. It is definitely worthwhile doing this, because the strip shows some strange and inexplicable geology on the floor of the crater as well in its confusing central peak region. Numerous features appear to have been exposed by later erosion. The many small craters for example are I think what planetary geologists call pedestal craters. The surrounding terrain is less erosion-resistant, so as that terrain erodes away it leaves the crater behind, with its floor actually sitting higher than the surrounding flats.
What makes these craters even weirder however is that their rims appear to have eroded away even more than the surrounding terrain, so that all of these small craters (assuming that is what they are) have ringlike depressions surrounding a circular platform.
In the crater's central peak region the terrain is even more strange. Sticking up out of the ground are some arched short ridgelines, which appear to have been exposed by erosion. That peak area however also has many strange flow features that I find completely baffling. It almost appears to me that as the molten peak area started to solidify after impact, someone went in with a stirring spoon and did some mixing!
The map below the fold provides the location context for this crater, with the crater's location indicated by the arrow.

The red squares indicate other HiRISE images. The terrain colors indicate altitude, with the significant altitude differences indicated by me. These elevation numbers are critical, because they show that the crater is located in the transition zone between Mars's cratered southern highlands and its smooth and flat northern plains, a region that some scientists believe might have once been a shallow ocean. It is this transition zone where we would find the ocean shoreline, if such a thing ever existed on Mars.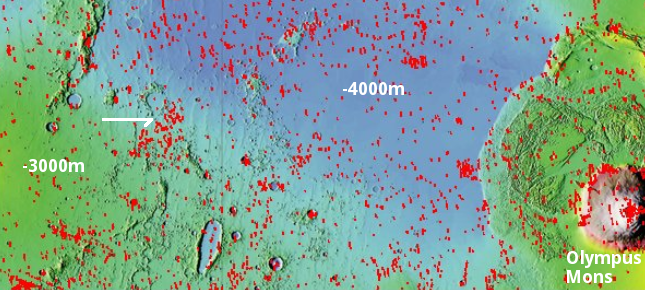 The geology exhibited here, however, does not indicate a shoreline. Instead, it suggests a gradual change in the past from the high dry south to the low wet north. Ice is very likely buried here, and its properties in the low Martian gravity and cold climate and low atmospheric pressure probably contributed in creating these strange geological features. And if there was an ocean to the north, I would not be surprised if its edge shifted with time, kind of like the changes we see on a beach as the tide comes in and out. With each shift in and out the change in water and ice properties will leave geological changes that to our eye now, from this distance and with our presently limited knowledge of Mars, remain puzzling and difficult to explain.
In writing up this post, I was originally going to crop out some of these strange features from the full resolution image and highlight them. I have changed my mind. You should click on the image and explore it for yourself, I would be very interested in some serious speculation by my readers as to the geological processes that might have caused these features to form.