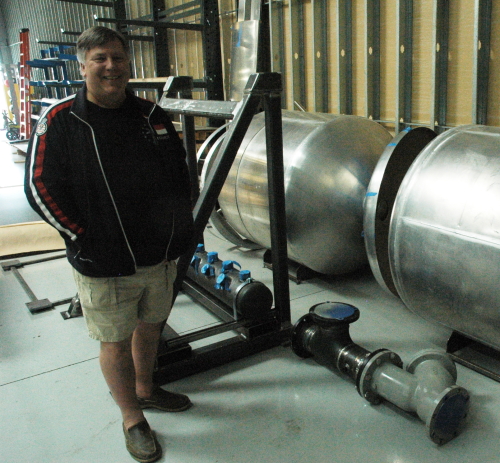 Creating a new rocket company is not something anyone can do. Nor is it something that even smart people can do, nonchalantly. The history of rocketry is littered with hundreds of attempts, almost all of which failed.
Jim Cantrell, pictured on the right standing next to one of the first test prototypes for a new rocket being made by his new company, Phantom Space, is one such person. In the mid-2010s Cantrell partnered with a number of others to found the company Vector, hoping to be one of the first smallsat rocket companies to launch a cheap and efficient rocket placing tiny satellites into orbit. At the time, Cantrell and Vector were racing neck and neck with Rocket Lab for the honor of being the first to do so.
While Rocket Lab succeeded in 2018, and has since completed more than twenty launches, Vector ended up on the ash heap of history, going bankrupt in 2019. The company's failure was mostly due to problems with its rocket engine, which in turn caused one of its major investors to back out.
Cantrell however is apparently someone who does not take defeat quietly. Using what he had learned at Vector, in 2021 he started a new rocket company, Phantom Space, with a target date for its first test launch the summer of 2023.
Today Cantrell gave me a quick tour of Phantom's operations here in Tucson.
» Read more