Summary: Curiosity confirms clay in the clay unit. Yutu-2 begins its sixth day on the far side of the Moon. Three other rovers move towards completion and launch.
For the updates in 2018 go here. For a full list of updates before February 8, 2018, go here.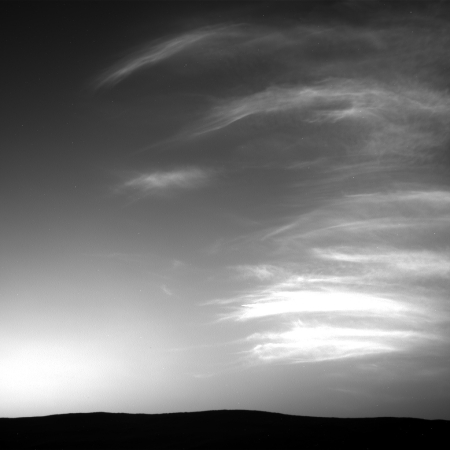 Clouds over Gale Crater
Curiosity
For the overall context of Curiosity's travels, see my March 2016 post, Pinpointing Curiosity's location in Gale Crater.
Curiosity's journey up the slopes of Mount Sharp in Gale Crater goes on! On the right is one of a number taken by the rover in the past week, showing water clouds drifting over Gale Crater.
These are likely water-ice clouds about 19 miles (31 kilometers) above the surface. They are also "noctilucent" clouds, meaning they are so high that they are still illuminated by the Sun, even when it's night at Mars' surface. Scientists can watch when light leaves the clouds and use this information to infer their altitude.
While these clouds teach us something about Martian weather, the big rover news this week was that the data obtained from the two drill holes taken in April show that the clay formation that Curiosity is presently traversing is definitely made of clay, and in fact the clay there has the highest concentration yet found by the rover.
This clay-enriched region, located on the side of lower Mount Sharp, stood out to NASA orbiters before Curiosity landed in 2012. Clay often forms in water, which is essential for life; Curiosity is exploring Mount Sharp to see if it had the conditions to support life billions of years ago. The rover's mineralogy instrument, called CheMin (Chemistry and Mineralogy), provided the first analyses of rock samples drilled in the clay-bearing unit. CheMin also found very little hematite, an iron oxide mineral that was abundant just to the north, on Vera Rubin Ridge. [emphasis mine]
That two geological units adjacent to each other are so different is significant for geologists, because the difference points to two very different geological histories. The formation process for both the clay unit and Vera Rubin Ridge must have occurred at different times under very different conditions. Figuring out how that happened will be difficult, but once done it will tell us much about both Gale Crater and Mars itself.
With the success of their clay unit drilling campaign, the Curiosity science team has had the rover begin its trek back from the base of the cliff below Vera Rubin Ridge to its planned travel route up the mountain.
An updated description of that route was released by the Curiosity science team last week, while I was in Wales. Below is their image showing that route, with additional annotations by me and reduced to post here.
» Read more