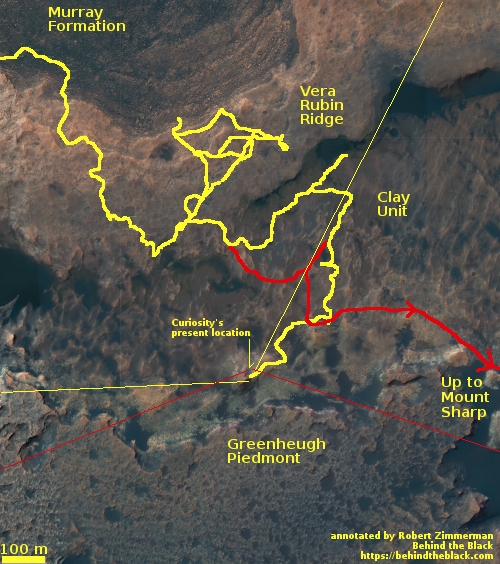 [For the overall context of Curiosity's travels, see my March 2016 post, Pinpointing Curiosity's location in Gale Crater.
For the updates in 2018 go here. For a full list of updates before February 8, 2018, go here.]
Since my last Curiosity update on November 6, 2019, the science team has sent the rover climbing up what they call Western Butte, the butte directly to the west of Central Butte and part of the slope/escarpment that separates the clay unit from the Greenheugh Piedmont and the sulfate unit above that.
The overview map to the right gives a sense of the journey. The thick yellow line indicates its route since it climbed up from the Murray Formation onto Vera Rubin Ridge in 2017. The thick red line indicates their planned route, which they have only vaguely been following since their arrival in the clay unit.
Below the fold are two panoramas that I created from a sequence of images taken by Curiosity's left navigation camera from the high point on Western Butte, the first looking north across the crater floor to the Gale Crater rim approximately 30 miles away and indicated by the thin yellow lines on the overview map. The second looks south, up hill towards Mount Sharp, and is indicate by the thin red lines.
» Read more