Summary: Curiosity finally on the move after several months drilling two adjacent holes in the clay unit. Yutu-2 continues roving west, has it now operates during its eleventh lunar day on the far side of the Moon.
For the updates in 2018 go here. For a full list of updates before February 8, 2018, go here.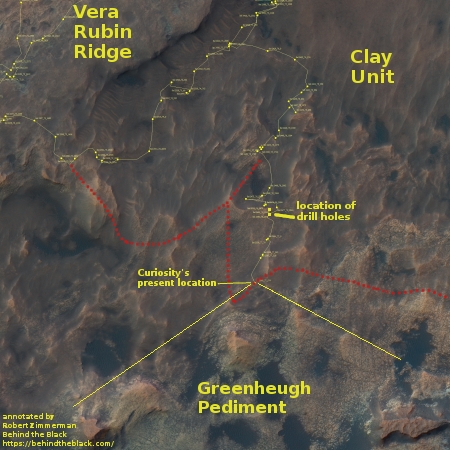 Click for original full image.
Curiosity
For the overall context of Curiosity's travels, see my March 2016 post, Pinpointing Curiosity's location in Gale Crater.
I have not done any of my regular rover updates since May 30, 2019 because it was simpler to do individual updates for both Curiosity and Yutu-2, the only working rovers presently on other worlds. (If things had gone well, which they did not, we would have had two other lunar rovers in the past six months, one from Israel and one from India, but both crashed during landing.)
However, since Curiosity is finally on the move after spending several months at one location, where it drilled two holes in the clay unit (the material from one used in a wet cup experiment to look for organic life) it is time to update my readers on where Curiosity is and where it is heading.
The first image above and to the right is an annotated overview of Curiosity's present position, moving south to a line of buttes which scientists have determined delineates the transition from the clay unit to a new geological layer they have dubbed the Greenheugh Pedimont. The yellow lines indicate the area seen in the panorama below, created from two photographs (here and here) taken by the rover's navigation camera.
» Read more